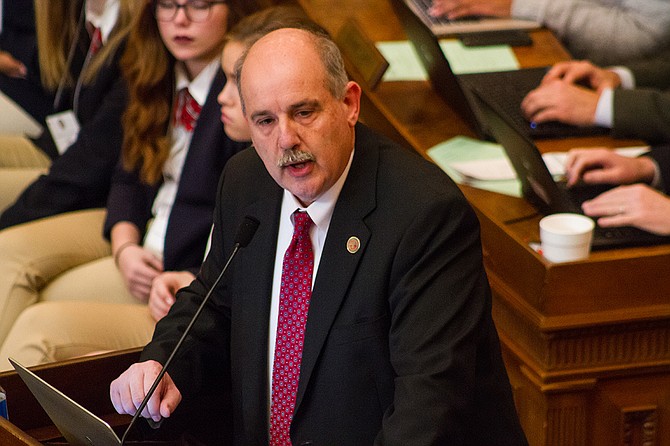 JACKSON — After four hours of debate and 17 rejected Democratic amendments, the Mississippi House of Representatives voted mainly along partisan lines to scrap the Mississippi Adequate Education Program in favor of a new funding formula House Speaker Philip Gunn, R-Clinton, wrote and then revealed less than a week ago.
The proposal, called the "Mississippi Uniform Per Student Funding Formula," or UPS, incorporates some of EdBuild's recommendations to the Legislature but not all of them—a decision that the education nonprofit had warned against. At full funding, UPS will provide less money to public schools than MAEP does. The Legislature has only twice fully funded MAEP, which is two decades old.
After a couple hours of debate, Democrats introduced 17 amendments, but House Education Chairman Richard Bennett, R-Long Beach, rejected all of them, saying he wanted to keep the bill "clean."
The UPS formula bases school funding on student weights, and Bennett emphasized that the proposal is "student-centered." School districts have full autonomy within federal and state regulations, however, to spend the funds however they choose. The UPS formula proposes a base student cost of $4,800. Currently, MAEP includes a formula to determine the base student cost. Rep. Bryant Clark, D-Pickens, noted this in debate on Wednesday.
"There's nothing in this bill that will ensure that this body will come back at any time in the future and make an adjustment to the base student cost," he said, noting that MAEP requires the base student cost to be re-calculated every four years.
Bennett agreed that the State will need to re-evaluate the base student cost down the road and gave lawmakers his word to look at it. But he resisted any amendments from Clark and other Democrats that would have addressed what Clark called "the heart and soul" of any funding mechanism for schools.
"I won't be open to any amendments today," Bennett said. "I don't think we need a knee-jerk reaction."
Democrats wore the new chairman down with questions, and Bennett repeatedly admitted that he does not understand MAEP, praising the new formula's simplistic nature.
Rep. Jay Hughes, D-Oxford, questioned Bennett about several parts of the bill. Hughes said he met with EdBuild representatives and found out that some of New Jersey nonprofit's numbers given to lawmakers are based on 2015 poverty estimates—not 2016 estimates, indicating that districts might receive more or less money than they know about currently. Bennett acknowledged this difference in numbers to be true.
Several Democrats focused questions on a key recommendation from EdBuild that Gunn did not include in his proposal: eliminating the "27 Percent Rule." The rule allows property-rich districts in the state, like Madison County, Pascagoula and Rankin County, to only contribute 28 mills in ad valorem funds for their public schools, despite their ability to pay much more. Eliminating the rule would produce almost $120 million, EdBuild estimated.
Rep. Jarvis Dortch, D-Jackson, asked how not eliminating the 27 Percent Rule was equitable. "One of the things (EdBuild) pointed out was that a district like Madison County was being subsidized by the state, to the tune of $13 million, that we were providing them with too much money and now with this plan, we're going to provide them with an additional $1 million in state funding—is that not buying us a federal lawsuit?" Dortch asked.
Bennett said anyone can file a lawsuit but that taking away the "27 Percent Rule" would hurt several districts. "I think it's (too) drastic of a cut to penalize a community that have worked to build the economy in their town, and now all of a sudden we're going to penalize them," he said. "I do think it needs to be looked at ...."
Speaker Gunn hinted to reporters about why the "27 percent rule" was not included in the proposal. "(The 27 Percent Rule) will be a subject of ongoing study, so that is something that is in MAEP right now. ... I think part of it right now would result in some tax increases, which obviously we try to avoid," Gunn told reporters.
Pascagoula School District keeps more than $17 million as a result of the "27 Percent Rule"; Madison County keeps more than $13 million. If those districts had to make their full local contribution to schools, with the state making up the difference, the communities might have to raise local taxes to maintain their school districts as they are now.
No Republicans offered amendments, but a handful voted against the bill ultimately. The final vote on the bill was 66-54, with the majority of Democrats voting no, joined by nine Republicans whose districts would lose funding under the new proposal. Two Democrats joined Republicans in the majority vote to move the proposal over to the Senate.
Email state reporter Arielle Dreher at [email protected].
More stories by this author
Support our reporting -- Follow the MFP.