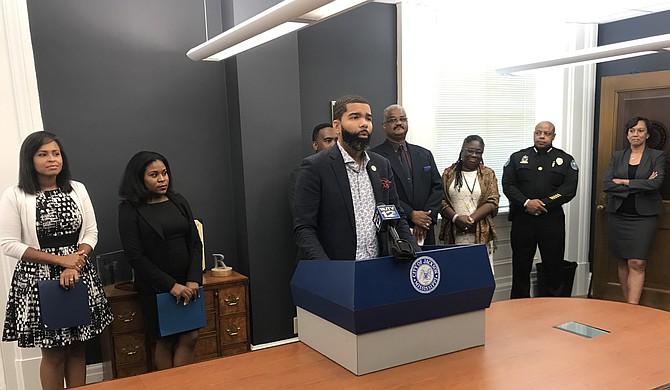 JACKSON — The City of Jackson will employ "returning citizens" re-entering the community after serving time to establish the Jackson's forthcoming 100GB high-speed broadband network. At the City's regular Monday press briefing on Aug. 6, Mayor Chokwe A. Lumumba announced the "Path Out of Poverty Workforce Development Pilot Program," a partnership between Oxfam America Inc. and New Way Mississippi Inc., to prepare returning citizens for success, as the mayor put it.
"We are happy for our partnership with Oxfam and happy for our partnership with New Way Mississippi," Mayor Lumumba said. "This creates the opportunity for returning citizens to be able to find employment. As we speak about the concept of dignity economies (and) moving away from cycles of humiliation we have seen time and time again."
Candice Cole, the City's communications manager, said the faster Internet is part of the redevelopment plan for the city's fiber-optic infrastructure that would deliver high-speed broadband access to educational institutions, hospitals, museums, tech companies and more.
Jackson's chief administrative officer, Robert Blaine, said selected returning citizens will enter a fiber-optic job bootcamp to "identify any barriers or any workforce training needs that will help returning citizens successfully enter the workforce and meet the needs of the city."
Larry Perry, president and CEO of New Way Mississippi, which has provided re-entry services in Jackson since 1998, said that returning citizens of all backgrounds are housed in his program, with the exception of sex offenders. Everyone in his program, both violent and non-violent offenders, will be afforded the opportunity to work for the City based on screening for behavior issues and random drug testing, Perry said.
"(W)hen we refer people to a position with the City of Jackson, we want them to have quality employees," Perry said. "We believe that sometimes your problem can be your solution. We have a lack of labor resources in the city of Jackson. I tell people that ex-offenders are one of our largest untapped labor resources."
Joi Owens, policy officer for Mississippi for Oxfam America, said this initiative is possible in part from a grant from the W.K. Kellogg Foundation that funds job training in Mississippi and Louisiana.
"While Mississippi has one of the highest rates of poverty in the country, it is not because people do not work. It is because so many jobs here pay low wages," Owens said.
"As families move out of poverty, the impact is dramatic. We've seen better housing, nutrition, health, education that are all directly linked ... to improving economic security," she added later.
The mayor and others were careful to refer to what many label as "ex-offenders" or "ex-cons" as "returning citizens" throughout the press conference.
"Scripture tells us the power of life and death is in the tongue," Lumumba said. "So how you refer to someone has everything to do with the expectations we have for them, the expectations they may have for themselves. So a much more sensitive phrase to be used is "returning citizens."
Although the Jackson City Council still must approve this measure for it to officially begin, but the mayor feels "overly optimistic" that it will clear with that body, thus becoming what the he sees as part of his vision for Jackson.
"It has been stated before that poverty is the greatest form of violence," Lumumba said. "... So we are very happy for this partnership. We feel that this is consistent with our radical agenda for the city. We feel this is consistent with a progressive ideal that we feel is necessary at this time."
Email city reporter Ko Bragg at [email protected]. Read related coverage at jfp.ms/preventingviolence.
Support our reporting -- Follow the MFP.