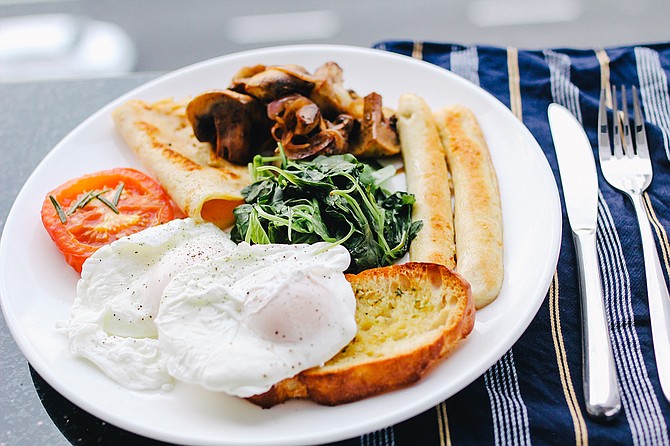 Weekend brunch has really come into its own in recent years in the capital city. Now that spring has sprung, it's the perfect time to enjoy a leisurely late weekend break.
The Manship Wood Fired Kitchen (1200 N. State St., Suite 100, 601-398-4562, themanshipjackson.com)
When: Saturday, 9 a.m. to 2 p.m.
What: Main dishes such as biscuits and gravy, sausage biscuits, fried French toast, and duck leg or pork belly and eggs; and sides such as house maple sausage, polenta, smashed hash browns and home fries.
Babalu Tapas & Tacos (622 Duling Ave., Suite 106, 601-366-5757, eatbabalu.com)
When: Sunday, 11 a.m. to 3 p.m.
What: Dishes such as torrijas (Babalu's version of French toast) and Baba-tine (the restaurant's take on poutine with housecut fries, Chihuahua cheese, Fresno peppers, green onions, braised beef short rib, jus and a sunny-side-up egg); desserts such as cayenne chocolate truffles and cinnamon bread pudding; and drinks such as the Bloody Maria (spicy bloody Mary mix with blue agave tequila, jalapenos, candied bacon and a Tajin-spiced rim).
BRAVO! Italian Restaurant & Bar (4500 Interstate 55 N., Suite 244, 601-982-8111, bravobuzz.com)
When: Sunday, 11 a.m. to 5 p.m.
What: Dishes such as breakfast pizza with a bechamel sauce, mozzarella, smoked bacon, Italian sausage caramelized onions and scrambled eggs, shrimp and grits, and crab cakes with tomato-tarragon beurre blanc, crispy shoestring potatoes and seasonal vegetables; a cocktail menu with drinks such as a screwdriver with Cathead vodka and orange juice; the Mississippi red dress with Cathead vodka, muddled strawberries, lemon juice, simple syrup and a splash of soda; and a bubbly menu with drinks such as the 1994 with chilled sparkling wine, limoncello, Cointreau and a lemon twist.
Estelle Wine Bar & Bistro (The Westin Jackson, 407 S. Congress St., 769-235-8400, estellejackson.com)
When: Sunday, noon to 3 p.m.
What: Dishes such as omelets, fried chicken biscuits, the butcher burger with bacon heirloom tomatoes, red onions and fried egg, pancakes, sweet potato pancakes, chicken and waffles, and a Lox bagel; sides such as cheddar grits and potato hash; and a special cocktail menu for brunch.
Saltine Restaurant (622 Duling Ave., Suite 201, 601-982-2899, saltinerestaurant.com)
When: Saturday-Sunday, 11 a.m. to 3 p.m.
What: Dishes such as a quiche, Scotch egg (an egg that's wrapped in maple breakfast sausage and then deep fried); cinnamon roll and pancakes with seasonal fruit, maple syrup and candied pecans; and drinks such as a mimosa, nitro cold-brew coffee and Saltine's blood Mary.
The Iron Horse Grill (320 W. Pearl St., 601-398-0151, theironhorsegrill.com)
When: Sunday, 10:30 a.m. to 3 p.m.
What: Waffle bar that includes toppings such as maple syrup, blueberries, strawberries, pecans and powdered sugar; and an omelet bar with toppings such as sausage, bacon, crab meat, mushrooms and bell peppers.
Table 100 (100 Ridge Way, Flowood, 601-420-4202, tableonehundred.com)
When: Saturday, 11 a.m. to 2 p.m.; Sunday, 10:30 a.m. to 2 p.m.
What: Brunch dishes such as buttermilk fried chicken, slow-roasted angus prime rib, Table 100 signature eggs Benedict (buttermilk biscuit, hickory-smoked pulled pork, poached eggs and a smoked-tomato-barbecue hollandaise sauce; entrees such as the Table 100 burger, fried jumbo Gulf shrimp and Ashley Farms chicken breast; and more.
Char Restaurant (4500 Interstate 55 N., Suite 142, 601-956-9562, charrestaurant.com)
When: Saturday, 11 a.m. to 3 p.m.; Sunday, 10 a.m. to 3 p.m.
What: Appetizers such as the "Sin City" barbecue shrimp with cheddar stone grits, mushrooms and a spicy creole garlic butter, and spinach crisp with a flour tortilla, spinach, bacon, mozzarella, baby greens and a tomato-basil relish; main courses such as croquet Madame with country ham, gruyere cheese, sunny-side-up egg, griddled bread and house-cut fries, and chicken and waffles; desserts such as pecan pie and a pecan-caramel butter crunch; and more.
See and add more at jfp.ms/brunch. For more food coverage, visit jfp.ms/food. Email [email protected] about ideas for food stories.
More stories by this author
Support our reporting -- Follow the MFP.