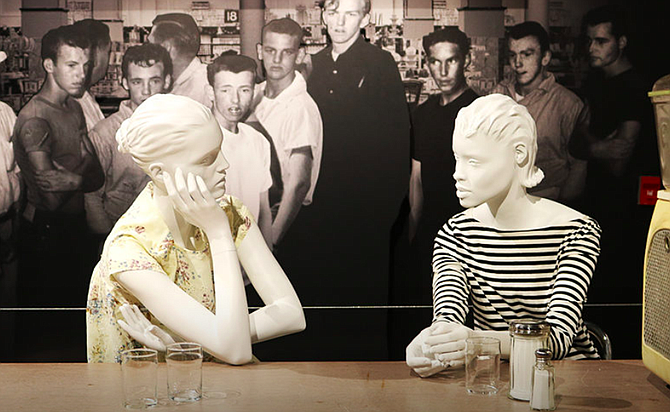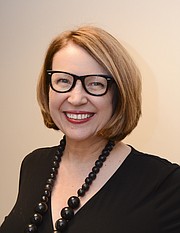 Last summer, I walked in on a diverse group of teenagers recording a haunting a capella version of the black spiritual "Wade in the Water." They had decided to record themselves singing the song as their soundtrack to their short documentary, "Woolworth's Sit-In: Protesting for Life, Freedom and Dignity."
The team of Mississippi Youth Media Project students chose the Woolworth Sit-in as a subject after we read about the sit-in in Anne Moody's seminal book on race in the state: "Coming of Age in Mississippi." Most had never heard of the Woolworth sit-in in 1960 a couple blocks from where we were in downtown Jackson. A handful then visited the sit-in exhibit at the Smith Robertson Museum nearby, where they saw the actual lunch counters.
That inspired the documentary on the sit-in as well as a long-form story exploring the parallels between activism then and now in the Black Lives Matter movement.
The haunting Woolworth doc is one of three YMP films included in the Crossroads Film Festival this week. You can see it at 1 p.m. on Thursday at Malco during the "Mississippi Student Showcase of Films."
On Friday night, the powerful "Digging Deeper: Confronting Youth Crime's Causes and Solutions" will screen at 6:15 p.m. during the "Afro-Centric Cinema: International Black Film Collective" block at Malco. The seeds for the 10-minute doc were planted when a group of Wingfield High School students decided to write the many causes of youth crime on paper to create a "crime wall" in the YMP office in spring 2016. Several students had witnessed or experienced violent crime in one way or another and felt deeply about the issue.
Then after Leslyn Smith, a student from Callaway High School, enrolled in the summer project, she stood staring at the wall, then telling me she wanted to continue the project. A group of the students chose youth crime as their focus, creating the documentary and writing a seriously impressive long-form story filled with causes and solutions for youth crime, along with strong narrative. They interviewed an amazing line-up, from a former gang leader to the head of the Jackson FBI.
YMP's third festival film, "Minor Setback, Major Comeback: Supporting Black Dollars and Businesses in Jackson, Mississippi," is a beautifully filmed short documentary focusing on the rise and fall of Farish Street, the historic black business district in Jackson that started failing after integration. The young African American team feel deeply about the need for black-owned businesses to survive and thrive and wanted to figure out why they didn't.
The long-form story for this project is also super-impressive, even delving into problems of "redlining"—a loan discrimination practice that kept black Americans from building generational wealth. It screens in Saturday's 7:45 p.m. block, opening for "Lindy Lou, Juror Number 2."
It's hard to express how hard these and other YMP students worked to do top-level work on these projects. Like most adults, they struggled with time and project management; navigated stress and grumpiness; got over fear of making phone calls and doing interviews; greeted interviewees at the door; did deep research on causes and solutions; wrote and edited multiple drafts; and factchecked the heck out of their work.
Honestly, I've known plenty of adult journalists who don't work this hard, or produce work this impressive. Their work goes far beyond easy he-said-she-said politics that passes for journalism these days; it's deep and transcends ideology.
Oh, and these students are determined to help our community with information, not just complain about problems. (Ahem, adults.) It tickled me no end, as I expect it would the Solutions Journalism Network approach that guides us, that the most-asked question around YMP was, "So, what is the solution?" They don't want to just hear about problems; they want to find and implement solutions.
Many of you know that excellence is my personal goal in everyday life, and for our city and state (that aren't often known for it). Little pleases me more than seeing teenagers from all parts of Jackson achieve great things and be recognized for them such as their inclusion this week in the Crossroads Film Festival. Last year, they had one film in it, "HB 1523: Growing Up LGBT in Mississippi"; this year three.
I launched the Mississippi Youth Media Project as a full-time summer training project in 2016 with the help of a W.K. Kellogg Foundation fellowship. Since then, I and my collaborators over at Mississippi Public Broadcasting and various other mentors have worked with close to 100 students to help them create solutions-driven journalism and writings about issues that matter the most to them and their communities, and we plan to again this summer.
Our goal is to assemble the tools, outfit an inspiring space (next door to the JFP in Capital Towers), provide professional mentoring and project guidance, expose young people to working professionals and creatives, have deep discussions about issues that inspire them to choose their own topics, hand them the leadership reins, and then step back and allow them to create. Yes, we're there to keep them on track and give guidance, but it is their work.
At this year's Crossroads Film Festival, you will see a lot of these young filmmakers running around with badges and looking mighty proud of what they've accomplished. What I hope you will do is come out, pack the theaters for their films, cheer them on, and then tell them afterward how proud you are of every one of them.
I've said it many times: Our young people can do anything if they believe they can and have the tools. And they can and will do it on behalf of our community if enough adults step up to really listen to them—face it, grown-ups talk more than listen to young people, typically—and help facilitate the changes and opportunities.
In fact, Leslyn, Ruben Banks and other students, along with teenager from the Kappa League, are volunteering to host a series of youth-crime dialogues around the city. I hope you will attend at least one and be heard; email [email protected] to get on the mailing list.
Meantime, the students and I will see you at the movies this week.
Support our reporting -- Follow the MFP.