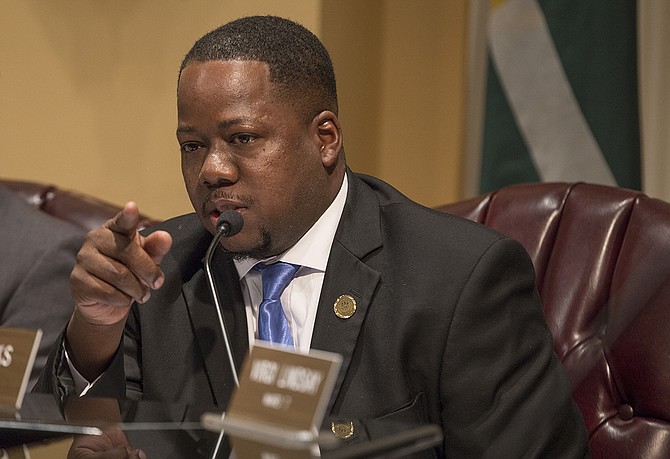 JACKSON — Although new Ward 6 Councilman Aaron Banks is a new kid on the City Hall block, he is not new to Jackson. He served as a crime prevention officer for the Hinds County Sheriff's Department, a constituent services representative under Mayor Chokwe Lumumba Sr., a city clerk under Mayor Harvey Johnson Jr. and as deputy chief administrative officer of quality of life under Mayor Tony Yarber for eight months.
Banks, 39, was born in Cincinnati, Ohio, to Barron Banks, a Presbyterian pastor from Tchula, Miss., and Patricia Banks, an educator and Jackson native. He graduated from Forest Hill High School and attended Jackson State University. Around his junior year, he traveled to colleges such as Alcorn State University and University of Southern Mississippi to host Bible studies.
Banks left JSU and took some prerequisite courses for pastoral studies at Wesley Bible College. He was certified as a Christian counselor by the American Association of Christian Counselors in 2007. After the birth of his third child, he continued his education online at Walden University and received a bachelor's degree in political science. He began working on a master's in public administration and public policy but decided to postpone his studies, due to time constraints from the 2017 election season.
He talked to the JFP about the new mayor, the city budget, crime and more.
How is it to work with the new mayor so far?
Well, I see my position as a council person may be somewhat different than how others may have traditionally viewed it. I understand the legislative authority, that we are checks and balances, and we help set the appropriation, or set the budget, or approve the budget for this mayor. However, I understand that the people ... supported him because of the vision he had. So, I am of the opinion that we need to give the mayor the space and the room to implement what he sees is necessary that will get this city on the right track.
Now, that does not mean that I'm OK with waste. That does not mean that I'm OK with fraud. That does not mean that I'm OK with any type of abuse. That does not mean that I'm OK with just frivolous spending. We gone put a check on it. And it has to make sense. When you look at him wanting to pay Dr. (Robert) Blaine what I feel is a worthy salary ($111, 538 a year), we have to keep in mind that the previous administration didn't pay the previous CAO at a CAO's level. He was paid at a director's level. I think that's why this council approved it—because we have to get him the space and the room to implement what he feels is best. Now, if things don't work out, then that's another discussion.
Are you more of a vocal councilman or an observer?
As time progressed and as I got my feet really settled with it, then I began to become more verbal. Not only that, I began to look at research and find issues.
For example, our zoo board, that we give a generous amount of money to—they've been meeting, and their meetings are not open to the public. And nobody knew that. So, I have a problem personally when we give (a requested) $1.5 million of our money to a board to help run the zoo, and they do not allow the public to (attend) the meetings. I think that anything that's government-oriented ought to be open to the public and as transparent as can be.
So, I raised that issue in the council meeting this week because I think Jackson has fallen victim to a lot of instances just like that. Where you have certain people that are making decisions in the room and then they get into the general public and act like nobody knows what happened.
What feedback are you getting in your ward?
Coming in, my focus was really going to be on blighted and dilapidated properties. I wanted to attack that head-on and be very aggressive. I was meeting with (Ward 2 Councilman Melvin) Priester so that we can work out a payment in lieu of taxes until we can address some of those issues.
But it's like as soon as we got in, issues of crime started just happening just like that ... . It really hit home and got personal for me because I have a church member, Tyler. Tyler's 11, and he was with his brother, and they saw a friend ... . He tried to rob them. They got into a tussle, and he ended up shooting the older brother in the foot, and he took off in the car with the younger brother in the backseat and the other one in the backseat, and they jumped out the vehicle. Luckily they were over there by Wingfield (High School), and the first house that he knocked on was actually a police officer... . When all that started happening, I had to take a turn in my priorities, and I said, 'We've got to be serious about addressing crime."
What is the council doing to respond to crime and blight?
The first thing we did was approve the budget ($366,186,588), which gives the mayor the authority to do what's necessary with public safety. Chief (Lee) Vance said that what he needed was to be able to increase the amount of officers that he had on the street, which would increase the amount of officers per beat (and) per shift.
In Ward 6, our biggest asset is our community. It's the property the people have abandoned, and we have a lot of blighted and dilapidated properties. And not just individual properties but business properties. And so, our aim is to continue to partner with faith-based community churches, nonprofits such as Habitat for Humanity, that are doing good work in south Jackson to rehab a lot of those houses and areas in my ward that could look like a war zone.
Both Councilmen Priester and (Charles) Tillman said good things about you and (new Ward 7 Councilwoman) Virgi Lindsay.
Sometimes I second-guess if I'm gone speak out on something because I don't know if I know everything that needs to be known. So, I appreciate people like Priester who's well versed on what's been going on. He turns to us and says, "So I want y'all to understand as newer council ..." that helps me get a bigger grasp of what's going on.
If I was to classify, I would say Priester is the brains of the council. I would say that Ashby Foote (Ward 1) is somewhat of the reason(er) of the council. (Ward 3's Kenneth) Stokes is like the German Shepherd of the council, and (Ward 5's De'Keither) Stamps is like the bulldog of the council. And Virgi is like the big sister (and) mother of the council. And I don't know, I guess I'm just there.
Bio Info:
Family: Wife: Latona Banks. Children: Tariana Furlough, 19; Briana Banks, 15; Kaylyn Banks, 13; Caleb Banks, 7
Education: Forest Hill High School, 1995; Certification in Christian Counseling through Liberty University, 2007; Bachelor's of Science in Political Science at Walden University, 2015
Employment: Pastor at Glory Empowerment Center; Vision Strategies, LLC
More stories by this author
Support our reporting -- Follow the MFP.