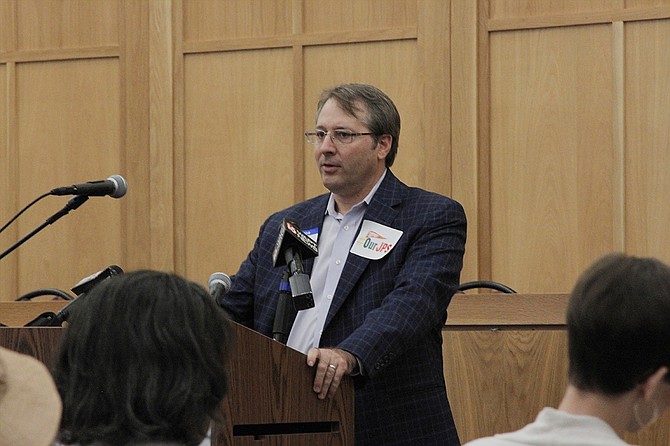 JACKSON — Monday, Sept. 18, 2017, update: Tonight, attorney and Jackson Public Schools parent Dorsey Carson filed the parents' lawsuit for injunctive relief against the JPS takeover as he promised in the story below last week. You can read the PDF here.
Jackson attorney Dorsey Carson says the state's process to take over school districts violates his child's and all parents' due-process rights. This week the Commission on School Accreditation deliberated behind closed doors and then found "an extreme emergency situation" to exist in Jackson Public Schools. The next day, the Mississippi Board of Education deliberated and agreed, voting for the state to take over JPS. That also happened out of public view.
"Every child in Mississippi and every child in the nation where a state provides public education, they have due-process rights in that education," Carson told the Jackson Free Press today. "It's considered a property interest ... how do you take away their property right to a public education in a process that completely shuts out the parents?"
Consequently, Carson plans to file a federal lawsuit later today or Monday along with 23 other JPS parents, alleging that the state takeover process violates both procedural and substantive due-process rights outlined in the 14th Amendment in the U.S. Constitution.
Carson sat in the second-floor auditorium at the Mississippi Department of Education this week, watching both the Commission and Board vote to take away local control from JPS, where his daughter attends McWillie Elementary School. Carson, who normally focuses on commercial and contractual litigation, was astounded at what he witnessed.
"Anyone who watched that hearing would know that was a criminal prosecution," he said. "In fact, I've never in my 21 years of practicing law, I've never seen that kind of adversarial atmosphere in a courtroom, and I deal with a lot of adversarial clients."
Carson, who also does legal work for the Jackson Free Press, believes that both the Commission and the Mississippi Board of Education also violated the state's Public Meetings Act. The Board did not vote on the takeover publicly or even announce the vote count during the meeting. Board Chairwoman Rosemary Aultman read a resolution with the decisions she said the board made in executive session. Only later, when reporters asked, did MDE release the vote count: 5-2. Aultman did not vote; she said she usually only votes to break a tie. Johnny Franklin of Bolton and Charles McClelland, the only board member from Jackson, voted no.
Aultman, speaking to reporters after the board meeting ended on Sept. 14, said any time a public board discusses personnel or sensitive issues, including safety issues, it is typically done in executive session.
"Doesn't state law say the vote is supposed to take place in open session?" the Associated Press reporter asked.
"Typically, the vote is made in executive session, and then you come out and announce the vote," Aultman said.
"I've never seen it done that way before," the reporter said.
"That's the way it's been done here ever since I've been here," Aultman responded.
The board also approved a contract to install Dr. Margie Pulley as the interim superintendent, if Gov. Phil Bryant signs the takeover resolution. Pulley was the acting conservator up in Tunica County School District after the State took it over.
Aultman told reporters they got the recommendation to hire Pulley on that day, but also said the board was acting on recommendations from the state superintendent and the leadership team.
"Our board acts on recommendations from the state superintendent and the leadership team, so that was the recommendation," Aultman said. "And this was treated just like any other recommendation for an employee of the department or a contract employee."
The board had not publicly announced Pulley as a possible candidate in open session or mentioned that they would be considering hiring a superintendent, however, until they came out of executive session with their decision and announced it in front of JPS's interim superintendent, Freddrick Murray.
Carson's lawsuit is federal—not a state lawsuit—but he did not rule out the option of amending his lawsuit to include violations he thinks were made pertaining to the state's public meetings act.
"We're going to hit what we can fast because it's so important to get this thing filed rather than include everything, but it may be that we amend our complaint afterwards to include those violations," he said.
Correction: A previous version of this story listed Mississippi Board of Education member Charles McClelland's first name as Michael. We apologize for the error. Email state reporter Arielle Dreher at [email protected] and follow her on Twitter @arielle_amara for breaking news.
More stories by this author