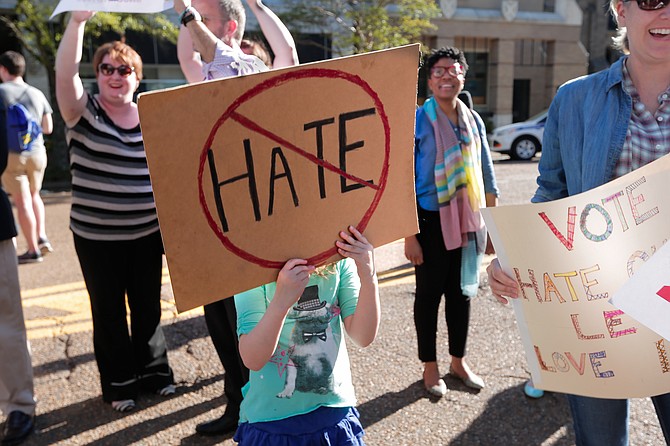 The "Protecting Freedom of Conscience from Government Discrimination" Act is state law in Mississippi, after the 5th U.S. Circuit Court of Appeals denied the request of plaintiffs in the Barber v. Bryant lawsuit to block it while they appeal to the U.S. Supreme Court.
House Bill 1523 says the state government will "not discriminate" against businesses or individuals who refuse service or speak out according to their "sincerely held religious belief or moral conviction" that marriage is between a man and a woman, sex relations are reserved for such a marriage and the terms "male" or "female" refers to the biological sex assigned at birth.
Several advocacy organizations, including the ACLU of Mississippi and the Campaign for Southern Equality, called the legislation the "nation's most extreme anti-LGBTQ law," in a press release and this week, the law garnered national attention from national LGBT advocacy organizations and celebrities.
"Right now in Mississippi, gay people can be refused service, and trans people can be refused treatment. Mississippi, you deserve better," talk-show host Ellen DeGeneres tweeted last week.
GLAAD, the national advocacy organization for LGBT representation in media, released a statement from its president, too.
"America was founded on the freedom of religion and this shared value continues to be critical to our nation's success, but it does not give people the right to impose their beliefs on others, to harm others, or to discriminate," said Sarah Kate Ellis, President and CEO of GLAAD.
The Williams Institute at the UCLA School of Law estimates that Mississippi is home to 60,000 LGBT adults and more than 11,000 transgender youth and adults. The state also has the highest rate of same-sex couples raising children.
Attorneys representing the plaintiffs in the Barber v. Bryant case, which challenged the constitutionality of HB 1523 in the first place, asked the U.S. Supreme Court to review the case this week. The petition shows how HB 1523 was Mississippi lawmakers' response to the U.S. Supreme Court's ruling in the Obergefell case, which legalized same-sex marriage nationally. The 5th Circuit has only ruled that the plaintiffs did not have standing—without touching whether or not the rest of the legislation is constitutional or not.
"The standing question is an important and recurring one: in the wake of Obergefell, many other state legislatures have introduced similar proposals intended to privilege religiously motivated refusals to serve same-sex couples and transgender individuals," the petition says. "The court of appeals' decision will likely embolden still others."
Indeed, the language used in HB 1523—"sincerely held religious beliefs or moral convictions"—is found in an executive order President Trump issued late last week, which allows employers to not cover birth control for women in their businesses based on their own religious belief or moral conviction against contraceptive coverage.
"The United States has a long history of providing conscience protections in the regulation of health care for entities and individuals with objections based on religious beliefs or moral convictions," the unpublished IRS rule change says. "These interim final rules expand exemptions to protect moral convictions for certain entities and individuals whose health plans are subject to a mandate of contraceptive coverage through guidance issued pursuant to the Patient Protection and Affordable Care Act."
The IRS contraceptive rule change will be published on Friday, Oct. 13.
The Alliance Defending Freedom, a conservative legal advocacy organization, helped influence the language and writing of HB 1523, as well as defended Gov. Phil Bryant in his appeal to the 5th Circuit after U.S. District Judge Carlton Reeves ruled the legislation unconstitutional. The U.S. Supreme Court is scheduled to hear arguments in another ADF case, Masterpiece Cakeshop v. Colorado Civil Rights Commission, in December. The plaintiff is a cake baker maintains he is allowed to refuse to bake cakes for same-sex weddings because of his religious beliefs.
Read more about House Bill 1523 at jfp.ms/hb1523. Email state reporter Arielle Dreher at [email protected].
More stories by this author
Support our reporting -- Become a JFP VIP.
The news business has changed dramatically in the past year, and we need your help more than ever to keep bringing you important stories about Jackson and the Metro. Become a JFP VIP with an annual membership or you can Sign up as a monthly supporter. Thanks for anything you can do to empower our journalism!