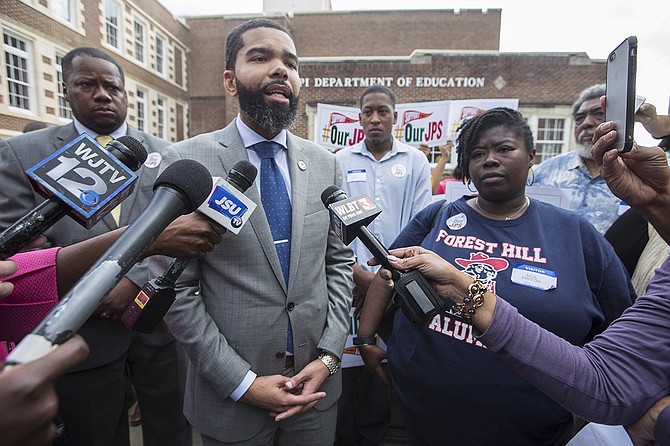 JACKSON — This story has been updated with accurate numbers from the latest contract issued between JPS and the Bailey Education Group.
When the Mississippi Board of Education recommended a takeover of Jackson Public Schools, the district was almost finished implementing a corrective action plan that the department of education approved in December 2016.
The district is now more than 90 percent finished addressing the issues listed in the limited 2016 audit, consultants working with the district say. If that is indeed true, how is it possible that MDE auditors found the district out of compliance with even more standards this year leading up to the proposed takeover?
Addressing standards is not the same as complying with them, Bailey Education Group consultants Pat Ross and Ann Moore, whom JPS paid starting in April to help implement the corrective plan, called the CAP, told the Jackson Free Press.
"There's a misconception that if you implement a corrective action, you will be in compliance, and it doesn't work that way," Moore said in an interview.
In other words, just putting a new policy down on paper is not enough alone to satisfy MDE's requirements. Ross and Moore, both former MDE employees, are familiar with the accreditation process and how standards are evaluated. The consultants clarified previous statements made both in JPS Board meetings and publicly during the impending takeover outcry about the district's CAP plan being almost 90-percent complete.
"Many of the things in (the CAP)... those policies or new procedures are not validated until you use them—until you can prove that you use them and use them correctly," Ross told the Jackson Free Press.
An 'Unprecedented' Process
At least one reason the MDE investigative audit, released Aug. 31, revealed little change or improvement in some areas of the district could be due to timing. JPS had its corrective action plan—which addressed the limited audit conducted in April 2016—approved in December. JPS began work on its corrective action plan then, simultaneous to MDE auditors conducting a full investigative audit of the district.
Mayor Chokwe A. Lumumba called out MDE for this move when news broke that the Commission on School Accreditation would consider declaring an "extreme emergency" in Jackson Public Schools.
"We should recognize that it is unprecedented that a corrective action plan was agreed upon at the same time the audit has taken place," Lumumba said on Sept. 12 to a group of Jacksonians opposed to a state takeover at the former Central High School building, which now serves as MDE headquarters. He repeated his sentiments after the Commission declared an "extreme emergency" on Sept. 13.
Moore, who worked at MDE for 30 years, agreed. When asked if she had ever seen a district go through an audit while implementing a corrective action plan, Moore said: "Unprecedented," repeating Lumumba's cry.
Typically, if MDE conducts an audit, it would finish it in about four weeks, Moore said, and then publish its report in 30 days. The district would then get 30 days to respond. Districts also typically receive a full year to implement a CAP.
The exception to this rule, however, is when MDE looks to declare an "extreme emergency" in the district. Ross and Moore were working with JPS administrators to prepare their 30-day response to MDE's investigative report but quickly pivoted to help the district respond on an even tighter deadline, before the commission met on Sept. 13—just two weeks after MDE released its investigative audit report.
Facing More Deadlines
The MDE investigative audit report actually lists new "timeline" dates for certain corrective actions for later this fall. For example, Standard 20, which Ross says is a broad standard, has a new date of Nov. 20, 2017, the Aug. 31 report shows.
The JPS Board of Trustees approved a separate contract worth $145,000 with the Bailey Group to help them work on Standard 20, which ensures that JPS is following an instructional management system. "It's specifically teacher coaching and leadership (or) principal coaching, so that's more of a narrow focus. Their interest was to try to identify some of the neediest schools and offer some teacher coaching support there and principal coaching," Ross told the Jackson Free Press.
Ross said Standard 20 is about how a district can get the most people into a classroom to affect student performance in the most timely and direct way.
"It all comes back down to what kind of level of teaching is going on in that classroom, and do they have a leader instructionally who can lead that?" Ross said.
The contract lists 10 JPS schools Ross and Moore will work in this fall.
On the whole, JPS addressed the policy and curriculum standards that the first limited audit, released in 2016, showed, but seeing tangible change in student performance in certain subject areas or on state tests, for example, will take time. Ross said that for a benchmark like Standard 20, a district would not see any tangible change until student data start coming out.
"The bottom line is, are more kids proficient than they were last year?" he said. "Internally, you would see it, externally, you wouldn't see it until grades came out next fall."
Next fall is likely too late for JPS, whose fate rests in Gov. Phil Bryant's decision to declare an "extreme emergency" or not, which he expects to do later this month. MDE will release district grades and rankings Oct. 19, and preliminary data from the agency show JPS receiving an "F" grade for the second year in a row. Last year 21 of JPS's 58 schools received an "F" grade, while 37 other schools all received "D" grades or higher.
This story has been updated with accurate figures for the dollar amount and number of schools in the latest Bailey Education Group-JPS Contract executed on Sept. 2017. Read more on the JPS takeover saga at jfp.ms/jpstakeover.
More stories by this author