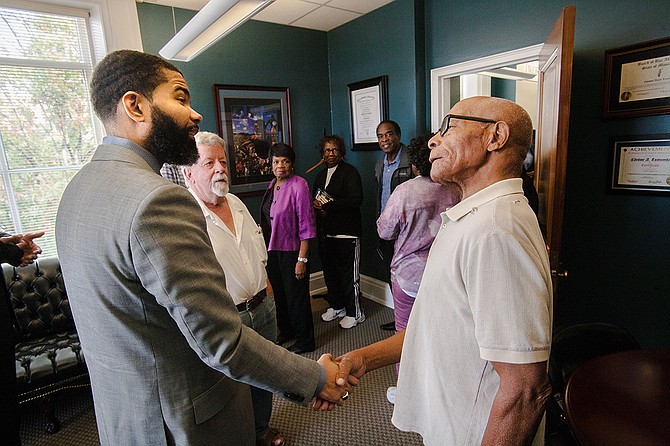 JACKSON — In efforts to make operations at City Hall more transparent, Mayor Chokwe Antar Lumumba hosted an open house and tour of his office and the top floors of City Hall on Friday. Assorted desserts and fruit punch awaited visitors as they filed into the building and waited in the city council's chambers before tours began. A group of about 30 people then tightly squeezed upstairs into the mayor's office on the third floor.
"Allowing people access to their City Hall building is consistent with the concept and idea that we want people to have more access to their government than they've ever had before," Lumumba told the Jackson Free Press.
One of the benchmarks of the mayor's campaign was, "When I become mayor, you become mayor," and this open house felt like an extension of that campaign promise coming to fruition. Lumumba said he was amazed by the number of city employees and lifelong Jackson residents who had never been upstairs in City Hall to see the mayoral offices.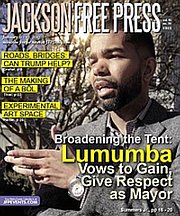 The 2017 JFP Interview with mayoral candidate Chokwe Antar Lumumba
"I've never been upstairs. It's nice. It looks larger on the inside than it does on the outside. I'd only been on the main floor," said Opha Drake, a 92-year-old Jackson resident. "I enjoy attending the meetings. I moved to Jackson in 1942; nobody in this room was here at that time. Jackson has come from a long way." Drake said he likes the mayor and enjoys seeing young black people take action.
Upstairs, Drake was one of the first people to walk into the mayor's office on the tour. On the way into the office, you pass a freshly painted mural of Jackson underneath the quote, "Change the world from where we're standing," that coats the wall outside the entryway to the mayor's suite.
Standing in the conference room that leads to his office, the mayor spoke of the changes he has seen in the office since his father had been there. A poster of the proposed co-operative "Dinner and a Movie" theater rests on a an easel in the conference room; the mayor would not disclose the area of town where the theater might eventually sit. A rendering for downtown Smith Park's redesign to include more green space sits below a picture of the mayor's father holding a scroll that reads, "This Place Matters."
The hallway connecting the mayor's office to the communications offices, which he refers to as Revolutionary Row, displays prints of Medgar Evers, Ida B. Wells, Fannie Lou Hamer and Patrice Lumumba, the first Congolese prime minister who led his nation from a colony to an independent nation. The mayor's father, Chokwe Lumumba, renamed himself after Patrice Lumumba.
"If you've ever been on the continent of Africa, this name carries a lot of weight," Lumumba said, pointing to the print of Patrice. "We're honored to share his name."
In his office, the mayor has a poster from the Million Man March with a slave man with welts on his back surrounded by photos of black men throughout time set in front of the backdrop of the U.S. Capitol. He reflected on going to the march with his dad as an unforgettable experience.
The mayor, who is just over four months into his first term, charmed visitors with his lightheartedness and continuous jokes. But while spirits were high, one woman pointed out that she wished people had more notice about the tour because it was meant to be open to the public. Shirley Lockett, 48, said she only found out about the event because she had gone to the mayor's "State of the City" address the week before.
The Jackson Free Press learned of the public tour of City Hall the afternoon before, on Nov. 2, in a press release.
"They need to find a better way to get things out so us as citizens can know, not just the employees and all of that," Lockett said.
But she is hopeful that the mayor will make changes in this city she has called home for the last 20 years. Having lost her son four years ago to murder, she is in support of making Jackson a better place, and thinks the mayor is already doing a good job surrounding crime with hiring more police officers and bringing communities together.
"He's already brought a lot to the plate so I can't imagine what it's going to be like with him going forth," Lockett said. "I'm just looking forward to it. I'm looking forward to the change."
Having just gotten over the 120-day hump of his first term as mayor, Lumumba said he is is focused on long-term efforts to unite communities, and promised to do so transparently.
"I've been committed to community aims my entire life," Lumumba said. This (open house) is consistent with that. Anything I do until the day I die will be consistent with those aims."
Email city reporter Ko Bragg at [email protected]. Read more about transparency and sunshine in government at jfp.ms/sunshine.
Support our reporting -- Become a JFP VIP.
The news business has changed dramatically in the past year, and we need your help more than ever to keep bringing you important stories about Jackson and the Metro. Become a JFP VIP with an annual membership or you can Sign up as a monthly supporter. Thanks for anything you can do to empower our journalism!