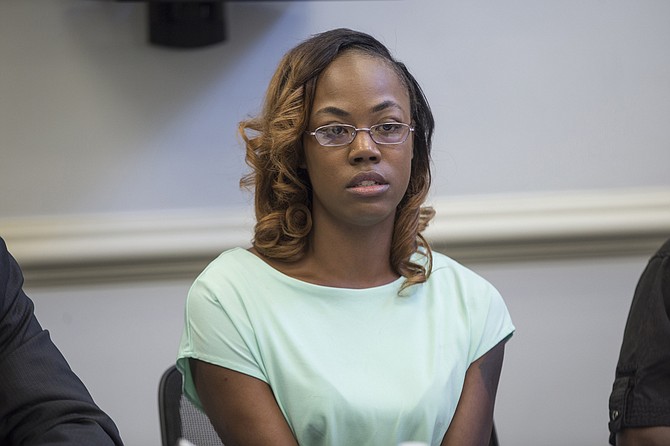 JACKSON — Early on a Sunday morning last June, Khadafy and Quinnetta Manning were at home with their three sons and their niece at their apartment complex in Canton, when Quinnetta heard loud bangs on her front door. When she asked who was there, the answer came: "The police."
Quinnetta opened the door slightly and saw six white, male Madison County Sheriff's Department deputies. Quinnetta asked what they needed.
"Oh, y'all smoking weed in there?" one deputy asked Quinnetta, court documents show. Quinnetta told them she did not smoke marijuana or use illegal drugs, but one deputy pushed past her anyway without mentioning a search warrant, and the rest followed.
Deputies never mentioned illegal drugs again, but instead asked if Quinnetta had "seen what went on downstairs," referring to a dispute and alleged property crime between her neighbor and her neighbor's boyfriend that had happened earlier that morning.
Quinnetta had not witnessed the crime, she told them.
Nevertheless, the deputies demanded that Quinnetta write a witness statement, repeatedly telling her that she could either write the witness statement, or be treated as a suspect herself, court documents show.
Khadafy got up around this time, documents allege, and told his wife she did not have to provide a false witness statement. "I know my rights," he told the deputies. Deputies then "flew in to a rage," the couple alleged in court files.
One deputy handcuffed Khadafy and started to choke him, and Quinnetta started recording on her cellphone.
The recording, which the ACLU of Mississippi edited and released in part, shows the deputy with his hand on Khadafy's neck. Khadafy can be heard saying, "Officer, please why are you handling me like this? I ain't do nothing."
"Because you ain't acting right," the deputy responds.
The federal lawsuit, which the state's ACLU filed this week against Madison County, says that one of the deputies threatened Quinnetta, telling her that if she did not write the witness statement, he would throw her husband in jail and set his bond at $50,000.
Quinnetta agreed to sign the statement, but the deputy then told her he was going to take her husband to jail anyway. Khadafy, who suffers from a nerve condition that makes it difficult for him to walk without a cane, was forced out of his home and put into the back of one of the sheriff's squad cars. Still in the apartment, police allegedly told Quinnetta that she could sign the statement or "go to County."
Knowing she could not leave the kids with no parents, Quinnetta agreed and signed the statement. Her husband was still inside the vehicle, and the complaint states that the deputy repeatedly hit him on the head until he was in so much pain that he agreed to write a witness statement as well.
"Only when the statement was complete did Deputy #1 release Mr. Manning, who then stumbled barefoot in his underwear back into his home as his neighbors watched," the lawsuit filed this week alleges.
'Change Is Coming'
The Mannings are two of the 10 black Madison County residents suing the county and Sheriff Randall Tucker in a federal class-action lawsuit the ACLU of Mississippi filed this week.
The sheriff's department exposed the Mannings and other African Americans to "unconstitutional racially discriminatory policing tactics," the 80-plus-page lawsuit alleges.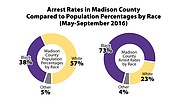 Quinnetta Manning summarized the events of that June morning to reporters on May 8, saying she is still afraid that the sheriff's department will come into her home and threaten to arrest her or her husband.
"I should not be treated differently just because I'm black or a black woman—I deserve to be treated with respect," Quinnetta said.
Paloma Wu, the legal director of the ACLU of Mississippi, said the lawsuit is a result of a year-long investigation based on hundreds of pages of public records from the sheriff's department. Dozens of Madison County residents came forward to share their stories, as well.
The lawsuit says the sheriff's department targets vehicular roadblocks, pedestrian checkpoints, warrantless searches of homes and "jump-out" patrols in predominantly black communities in the county.
"In effect, the Policing Program has placed the Black community of Madison County under a permanent state of siege," the complaint says.
Wu dismissed any notion that the problem only involves a few "bad apples," on May 8, saying the policies have been in place for decades.
"When you read the complaint, and you look at all of the stories ... you'll get a feeling ... that the bad-apple theory is not a theory—it's a fantasy dreamed up by people who are afraid of the facts and afraid of change more than they love justice," Wu said. "We do challenge everyone in this community to open their minds to the stories and statistics and to be ready because change is coming."
From Data to Discrimination
Data show that black people in Madison County are almost five times more likely to be arrested than their white counterparts in the county, despite African Americans making up only 38 percent of the total county population, Jonathan Youngwood, an attorney with Simpson Thacher & Bartlett LLP, which is serving as co-counsel on the case, explained at a press conference on Monday at the ACLU office.
"Almost 81 percent of roadblock arrests in Madison County between May and September of 2016 were of black individuals," the complaint says.
Youngwood said the plaintiffs are seeking an injunction from the federal court to stop the sheriff's department from using roadblocks, pedestrian checkpoints and warrantless searches, as 
well as establish an independent civilian complaint review board and increase training and monitoring of officers. The suit is based on 4th and 14th Amendment claims, Youngwood said.
Plaintiff Steven Smith was arrested at a pedestrian checkpoint outside his apartment complex, the complaint says. He was then incarcerated for 29 days, the complaint says, after officers ran his ID and found that he owed the county overdue fines and court fees.
"It was very difficult for my family to have me away and not being able to work," he said at the offices of the ACLU of Mississippi in downtown Jackson.
Gov. Phil Bryant vetoed legislation last month that would have prevented Mississippians from being thrown in jail just because they cannot pay fines and fees, among other criminal-justice reforms.
Beyond the injunction, plaintiffs are asking the Madison County Sheriff's Department to update its policies, make data publicly available and award the Mannings compensatory damages as well as pay the plaintiffs' attorney and court fees.
Several calls to Heath Hall, whom the secretary at the Madison County Sheriff's Department referred the Jackson Free Press to for comment, went unanswered. Secretary of State records show that Hall is the president of a marketing company based in Madison, Strategic Marketing Group. Defendants had not filed court documents or responses by press time.
Email state reporter Arielle Dreher at [email protected] and follow her on Twitter at @arielle_amara. Read related coverage jfp.ms/preventingviolence.
More stories by this author