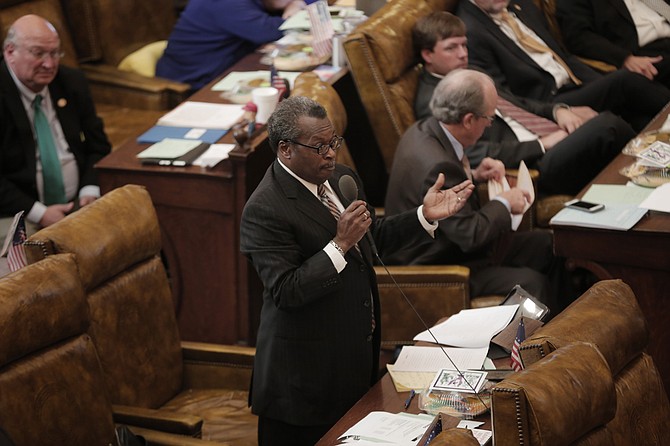 JACKSON — Lawmakers would no longer be able to use campaign finances to pay for personal cars, new suits, health clubs or slush funds once they leave office if House Speaker Philip Gunn's House Bill 479 survives the Senate and becomes law.
On Jan. 11, the Mississippi House of Representatives voted 104-12 in favor of Gunn's almost 30-page bill that attempts to define what lawmakers can and cannot spend their campaign money on. Lawmakers greeted the proposed legislation with some skepticism and scrutiny of some parts that seemed vague.
The bill makes spending campaign-finance funds on "personal use" items a misdemeanor that comes with a $1,000 fine, but the bill does not designate an authority to collect that specific penalty. Later in the proposed language, the Mississippi Ethics Commission is designated to impose administrative penalties and fines against political committees that fail to comply with new reporting requirements, including a new 48-hour reporting window and lawmakers and committees who fail to file their reports on time.
Gunn's proposal came out of the House Rules Committee early last Wednesday, and Chairman Rep. Jason White, R-West, took it up that afternoon. White told the House that it was nearly impossible to nail down every scenario of campaign finance during the hour-long debate.
HB 479 prohibits "personal use" expenditures of campaign-finance money, which is defined as "any use, other than expenditures related to gaining or holding public office, or performing the functions and duties of public office."
The proposed law specifically forbids paying for residential or household items unless the residence is in Jackson, the "seat of government"; mortgages on non-residential properties like campaign offices; funeral services within lawmakers' families; clothing; automobiles; tuition payments; country- or health-club dues; salary payments to family members; and non-documented loans and travel. Most of these line items contain a caveat in the bill: "unless related to the gaining or holding public office, or performing the functions and duties of public office."
Some House members expressed concern over the lack of definitions in the bill. Rep. Willie Perkins, D-Greenwood, asked White why it did not define "family member," a phrase that appears several times in the proposed bill.
"We ought to put that definition in there, so we know we're in violation without having to refer to the Ethics Commission," Perkins said to White.
White said a member should know who his family members are, and when pressed further said, "We're simply trying to cover as many scenarios as we can."
No More Slush Funds
HB 479 effectively eliminates slush funds on its surface, preventing lawmakers from cashing out their committee accounts and pocketing the money when they leave public office. The legislation does include a long list of ways lawmakers can dispense of their campaign-finance accounts, however. They can maintain their funds in a campaign account; donate it to a political organization, political action committee or another candidate; transfer it to a new PAC or ballot advocate question; donate it to a 501(c)(3) or the state; or return the funds to donors.
Rep. Jay Hughes, D-Oxford, asked White if they should add a provision to make sure candidates cannot donate their campaign-finance accounts to a PAC that could turn around and give them the money back. Hughes ended up offering an amendment that did not address that question but instead would make the bill go into effect immediately, but it failed on a voiced vote.
The effective date on the bill as it is now is Jan.1, 2018. White said this would give all public officials enough time to comply with the new rules, which apply to not only state lawmakers and those who run for public office in the state but also for local and county elections.
The current iteration of the bill gives candidates in local and county elections the option to file campaign-finance reports directly with the Mississippi secretary of state's office instead of to their county or municipal clerk, which they do currently. The bill would not affect the upcoming mayoral election in Jackson either way.
Rep. David Baria, D-Bay St. Louis, clarified that the bill still allows lawmakers to loan their own campaign or other campaigns money as long as it is a documented loan.
"Wouldn't we rather say that would not be an appropriate expenditure of your campaign funds?" Baria asked.
White reminded Baria that lawmakers should use these funds only "for holding or furthering of political office," but he committed to work on that provision in the bill.
After HB 479 passed, Lt. Gov. Tate Reeves said he supported the reforms.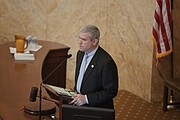 "I'm encouraged by today's action by the House of Representatives, and I appreciate Speaker Gunn's leadership on this issue," Lt. Gov. Tate Reeves said in a press release. "The Senate passed strong campaign-finance reform last year, and I'm hopeful that today's action improves the likelihood that a legislative compromise can be reached during this session."
Any Teeth?
Rep. Randy Rushing, R-Decatur, was one of the 12 no-votes on the bill, and he said his vote was more on principle. Rushing said he felt like dealing with campaign finance should have included things that lawmakers do not have to report like gifts made outside of campaign donations.
"Our whole purpose of transforming that was to help either prevent corruption or reduce corruption, and we didn't get into the gift-giving side of the House, there's still no avenue to report gifts, like free trips and that kind of thing," Rushing told the Jackson Free Press this week.
Rushing said he has nothing to hide and plays by the rules with his campaign finances. He says what he calls "the gift-giving area," which is not regulated, is the more vulnerable area for attempted corruption.
"I don't think we got into the area where the true corruption is attempted, I'm not saying there is any, but to me the gift-giving area is a more vulnerable area than the donation area," he said. "The donation area is already recorded at the secretary of state's office, that's already a transparent process."
Rep. Perkins, who questioned White about more specific definitions in the bill, also voted against it. Overall, a mix of Democrats and Republicans voted against HB 479, five lawmakers were absent or chose not to vote, and one lawmaker voted present.
House Bill 479 gives the Mississippi Ethics Commission the authority to issue advisory opinions regarding any of the proposed law's requirements. Candidates can request opinions from the commission and not be held liable as long as he or she follows the opinion's direction "in good faith."
Tom Hood, the executive director of the Mississippi Ethics Commission, said he was not aware that the bill would name his agency or designate it to write opinions. Hood told the Jackson Free Press last week that his initial reaction is that his agency will likely need additional services to provide the opinions.
"I'm sure we'll be able to handle it appropriately, like we have all the other responsibilities that have been given to us," Hood said. "I hope the end-product legislation is something that works."
Other states' ethics commissions handle campaign-finance issues, Hood says, but his six-person staff is already struggling with a limited budget. After the governor cut most state agencies' budgets (again) late last week, Hood says he expects to ask for more funds in order to comply with the new law.
"Over the past (several) years, we've tripled our workload and cut our staff by 25 percent and our budget, so we're big on efficiency, but at some point you just run out of resources," he said.
Hood will present his budget request to appropriation subcommittees at the Capitol this week.
Email state reporter Arielle Dreher at [email protected]. For more state news visit 
jfp.ms/state and see jfp.ms/lobbyists for a series about money and state legislators.
More stories by this author
Support our reporting -- Become a JFP VIP.
The news business has changed dramatically in the past year, and we need your help more than ever to keep bringing you important stories about Jackson and the Metro. Become a JFP VIP with an annual membership or you can Sign up as a monthly supporter. Thanks for anything you can do to empower our journalism!