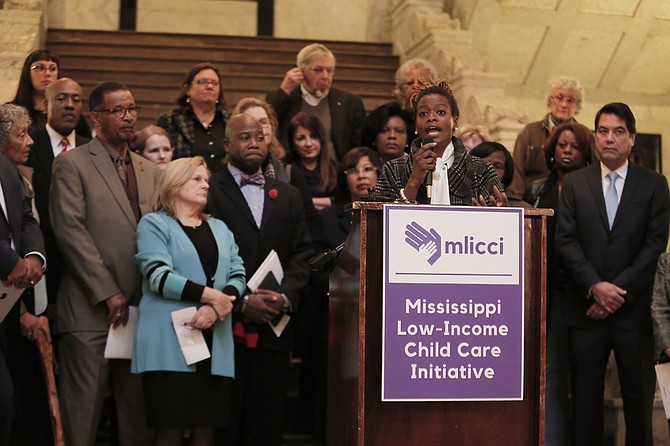 JACKSON — The neediest families families in Mississippi must have access to assistance when they need it, a group of community advocates, nonprofit organizations and lawmakers gathered at the Capitol Thursday argued. They are promoting two pieces of legislation to force the Mississippi Department of Human Services to transfer more Temporary Assistance for Needy Families, or TANF, funds to be used for child care subsidies and provide the necessary assistance.
Mississippi's maximum TANF allowance per month is the lowest in the nation, a report by the Mississippi Low Income Child Care Initiative found. The report's data, from the state Department of Human Services and the U.S. Health and Human Services, found that a family of three eligible for TANF can receive a maximum of $170 per month in Mississippi. The report surveyed the past 20 years of TANF data.
"What we discovered in our review ... is that people have been moved off the welfare rolls but not out of poverty and not into work," Carol Burnett, executive director of the initiative, said at the Capitol Thursday. "TANF caseloads have fallen precipitously, but poverty is rising among families with children."
Document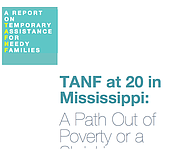 To be eligible for TANF, families must meet financial thresholds and have children under age 18 to qualify. Additionally, factors such as school attendance and work eligibility are factored in to a family's chances of receiving TANF funds under state law. Families can receive TANF in Mississippi for a maximum of 60 months.
The state and federal requirements are some of the main reasons families lose their TANF support, report author Matt Williams said Thursday. In 2015, Mississippi approved 190 of more than 13,000 TANF applications. Additionally, the State left almost $35 million in TANF funds unallocated in 2016 that could have been used on the Child Care Development Block Grant, which helps pay for child-care subsidies for low-income families.
"Virtually all those on TANF are single moms with young children, this demographic must have affordable full-time childcare in order to work," Burnett said.
Cassandra Welchlin, the executive director of the Women's Economic Security Initiative, said the group is proposing two pieces of legislation this session: one to designate up to 30 percent of the Child Care Development Block Grant to pay for child-care subsidies. The other bill would create a "Maintenance of Effort" program that awards scholarships to families in need, specifically single mothers who need to work, go to school and pay for child care for their kids too.
MDHS could make these changes on their own, without legislation, but Democratic lawmakers called for oversight Thursday.
"It makes zero sense for us as a state where we have one in four children who live in poverty, for us to forego $35 million in TANF funds," Rep. Jarvis Dortch, D-Jackson, said. "It makes even less sense for our Legislature to not have any oversight on how we spend our TANF dollars and whether or not where we're spending it is actually working."
When confronted about the $35 million in TANF funds left on the table this fall during budget working group meetings, MDHS Executive Director John Davis said he transferred the maximum amount of TANF funds he could through the federal child-care block grant. In order to use the leftover TANF money, Davis said he would have to create a separate program, and hasn't done that.
"I would have to actually start a separate child-care program to use those funds," Davis said in October. "I can't just funnel that through the child-care block grant."
Gov. Phil Bryant has full purview over MDHS and appoints its executive director.
Email state reporter Arielle Dreher at [email protected] and follow her on Twitter @arielle_amara for Mississippi Legislature news and updates.
More stories by this author
Support our reporting -- Follow the MFP.