JACKSON — Parents, students, teachers and other concerned Jacksonians packed into City Hall on Thursday night to participate in the last of several citywide listening sessions this week about the Jackson's public school system.
The Better Together Commission, with help from parent volunteers, hosted a series of listening sessions this week to begin the community-input component of their study of Jackson Public Schools.
"We are here to listen to you, there is no Q-and-A. The commission does not pretend to have the answers. They know they need to hear from the community," Robert Blaine, the City of Jackson chief administrative officer, told the crowd at city hall last night.
Community members signed in and could fill out comment cards: green cards with concerns, yellow cards for aspirations. Some Jacksonians shared their comments publicly, and each person got three minutes or less to share.
Erin Mauffray, a Murrah High School teacher, brought up two concerns that she said were national issues that can be addressed at a local level. First, she said her students are over-tested.
"We are putting so much emphasis on evaluation that we are losing resources and time," she said.
Mauffray also addressed the teacher shortage, suggesting that a teacher pay raise could help incentivize teachers to stay in the district.
"I believe the way to improve on the teacher shortage is to give teachers a raise," she said. "I want to mention that teacher licensure is not cheap, and a lot of teachers are living paycheck to paycheck."
Mauffray said when teachers are offered an administrative-level or consultant position, they are likely to take it because those positions pay more than teaching, compounding the teacher-shortage problem.
Jed Oppenheim, a former school-board member who is a program officer at the W.K. Kellogg Foundation, emphasized a need to change discipline practices within JPS.
"Why are we so scared of our children?" he said.
Oppenheim offered solutions like a moratorium on suspensions for grades K-3, opening parent resource centers with parent-friendly hours and reducing the JPS security budget and using those funds to pay for interventionists and social workers.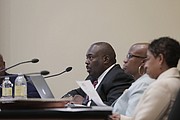 JFP's stories about the state takeover of the Jackson Public Schools district
Henry Thompson, a senior prevention specialist at Jackson State University, said he works with students to educate them about the dangers of alcohol, tobacco and drugs. He echoed others in saying that students need emotional and behavioral support.
"A lot of our students are dealing with depression; they are dealing with severe issues at home," he said Thursday night.
Rhoda Yoder, the principal at Casey Elementary, said her aspiration for JPS is to have more wraparound services for students to help students with trauma.
"We have far more trauma-impacted families in Jackson, Mississippi, than they do in other ... communities around here, and to help our children and our families we need more support," she said.
Khalid Hudson, a Jacksonian and father, said he wants to make sure that JPS schools teach culturally competent material to students, including African history, as well as provide cultural competency training to teachers who come from outside the Jackson area. Hudson said he hopes the conversation also goes beyond education.
"We have to have a conversation about poverty," he said.
Mitch McGuffey, a JPS parent, said one of his aspirations is to see Jackson's schools re-diversify. "That's not the fault of the schools. That's the fault of the community itself, but white Jackson abandoned JPS," he said.
McGuffey, who is white, told the crowd that he graduated from public schools in Starkville that were 60 percent black and 40 percent white. He said his daughters would attend JPS schools even if they are in the 2 percent of white students who are now left in the district. "They are going to be there, and I hope other people will do the same thing," he said.
Besides Blaine, three Better Together Commission members listened in on the session as well as two JPS board members. Mayor Chokwe A. Lumumba and Ward 7 Councilwoman Virgi Lindsay both attended as well.
Email state reporter Arielle Dreher at [email protected] Read more at jacksonfreepress.com/jfptakeover.
More like this story
More stories by this author