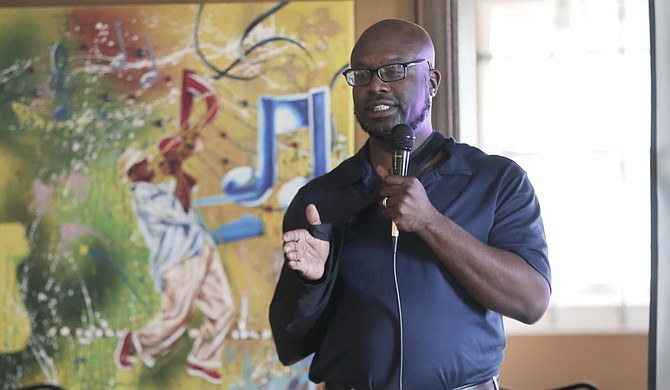 JACKSON — A federal judge last week struck down a lawsuit a Mississippi man brought against the Confederate emblem in the Mississippi state flag, saying plaintiff Carlos Moore did not prove that the flag had injured him. But new pilot research from Dr. D'Andra Orey and his team at Jackson State University could prove that Confederate imagery can have an adverse affect on a person's physiology.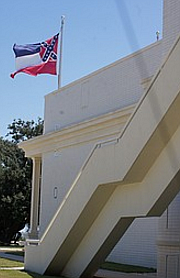 The Mississippi Sons of Confederate Veterans are fighting hard to keep the state flag to honor the Confederacy. Others are fighting back.
Orey is a political-science professor, but he is combining biology and politics to determine if seeing Confederate imagery has an adverse effect on African Americans, whether they believe it does or not.
Participants in his study are hooked up to machines that measure skin conductance levels (how much a participant sweats) and EKG/ECG (heart-rate activity and levels). Researchers show them a series of images that contain Confederate imagery, like the Confederate flag or a t-shirt with the word Mississippi and the state flag, followed by a blank slide and then "happy images," like a family of penguins, followed by a blank slide.
Orey can measure how people respond to seeing these images. The pilot research shows that Confederate imagery can lead to physiological responses, at least for the African American staff, faculty and students participating in the pilot program.
"When you see the flag, and you start sweating, that fits with the sympathetic nervous system," Orey said. "When people have a negative response to these particular images, that means that it impacts them negatively, which is physiologically."
The research addresses the empirical question about whether or not the Confederate flag actually "bothers" someone.
"They can say it bothers them, and then it doesn't register in their physiological response while others (can) say, 'it doesn't bother me, I'm immune to it ... but I get (physiologically) pissed off every time I see it," Orey told a group of Jacksonians at Friday Forum at the former Koinonia Coffee House today.
In his lawsuit against Gov. Phil Bryant, attempting to deem the state flag unconstitutional, Grenada-based attorney Carlos Moore's argued that the flag affected him physically by raising his blood pressure. U.S. District Judge Carlton Reeves dismissed Moore's case, but Moore has appealed to the 5th U.S. Circuit Court of Appeals.
Moore couldn't prove injury anecdotally in the case, but Orey said his research might show injury (a matter he said he would leave to lawyers) if negative physiological responses can be measured.
"We're actually trying to see if this negative physiological response can be measured into an injury or can be captured as an injury," Orey said.
Combining biology and political science to study the impact, in particular, of racially traumatic stressful events is a relatively new area of study in the academic world, but Jackson State is ahead of the curve thanks to Orey's research. JSU is on a list with MIT, Harvard and other top universities that are using the same research methods.
The JSU team will also conduct research on police aggression and protest aggression, to see whether or not individuals react physiologically to those images.
The program has secured about $420,000 in funding through several grants, including one from the National Science Foundation, to move beyond the pilot program and preliminary data. Some of that money will go toward student scholarships to work on the project.
For more stories about the Mississippi state flag and its Confederate history, visit jacksonfreepress.com/slavery.
More stories by this author
Support our reporting -- Follow the MFP.