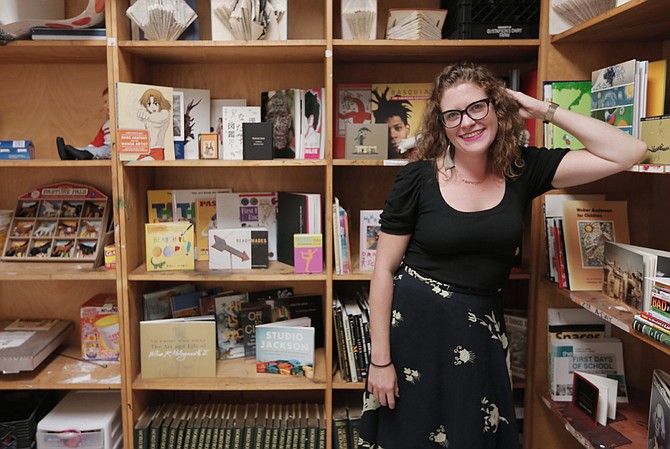 JACKSON — Inside Cassandre Connolly's Siwell Middle School art class on a recent Thursday morning, it was raining paper cats and dogs.
"Repeat after me," Connolly said, standing in front of a projector screen as eighth graders prepared to use recycled paper to create two-dimensional cats and dogs for their next art-class project. The projector screen showed paper poodles and tabby cats created by students in earlier classes.
"Say it like you're from New York: 'dogs.'"
"Dawgs," her classroom of eighth graders drawled back at her. The students got to work. One student rips pages from a book on Reaganomics and cuts them with his scissors to make Doberman ears.
Connolly is from New York City and brought her accent with her to Mississippi. She is in her second year as a teacher for Teach for America, which has struggled to recruit and retain teachers in the state.
But the teacher is unlike many of her TFA colleagues who enter the program right after they graduate from college. She's 34 years old and has prior experience as an educator, having worked five years in China as the head of the art department at an international school.
The art teacher uses those connections to help her students with resources beyond the $20 she's able to spend. When she could not afford paint, she set up a DonorsChoose account online to crowd-source funding. That project was funded in two days.
Mail constantly arrives at her classroom with packages postmarked from New York City, China, Japan and France. Books with topics ranging from art history to the anatomy of anime characters to celebrating Ai Wei Wei, Basquiat and Warhol compete for space in the shelves of her classroom library.
Reuse and Recycle
Fresh paper is off limits in Connolly's art class. Unless she assigns them a specific drawing project, students use recycled paper for art projects and construct silhouettes and sculptures out of old books.
So far this school year, Connolly has spent $20 of her own money on classroom supplies—mostly Kleenex and Germ-X. She cobbles together materials for classroom projects by collecting scratch paper and recycled paper products.
Connolly says the effort is worth it to keep the arts alive and well in schools. She is the only art teacher at Siwell, teaching 175 sixth- through eighth-grade students. Nationwide, schools have ramped up English language arts and math instruction to prepare students for high-stakes tests, meaning less time and resources for art classes.
Kids in low-income schools like Siwell are even less likely to have access to arts education. A federal survey released in 2012 shows about 95 percent of the highest-income high schools offered visual-arts courses, whereas 80 percent of the lowest-income ones did.
But Connolly, who has taught art for almost a decade, thinks the visual arts and their history deserve their own time.
"I was very fortunate to have creative parents who encouraged me to express myself and to appreciate art at a very early age," Connolly said. "This exposure has molded me into an open-minded, creative and confident person. Children need the same experience to become well-rounded individuals who are leaders within their communities. Children need a creative outlet to express themselves."
'Everywhere is Art'
Justin Crook, a 14-year-old student, said Connolly's resilience as she has adapted to Mississippi has motivated them. "A lot of students used to disrespect Ms. Connolly when she got here, but she never changed," Crook said. "It inspired me to always be myself regardless of what people say."
Many students say they like art class, and believe it will help them with future goals. Thirteen-year-old Breanna Shanks, who wants to be a teacher one day, says art class is therapeutic for her and that drawing helps her express her emotions.
Her classmate, Sedrick McGlothen, 14, wants to design video-game characters or cartoons. "Basically everywhere is art," he said. "It gives me a chance to express myself."
Some advocates for arts education say art does more than provide a creative outlet. Justin Ransburg, 28, a Jackson-based artist and former JPS student, says art has always been more than a hobby for him.
"Growing up, it kept me out of trouble I could've gotten into," Ransburg said. "It's definitely something that enriches your life."
Ransburg also spent time as an instructor for a Parents for Public Schools program called Ask For More Arts. The program finds professional local artists and places them in JPS schools that do not have art teachers, spurring creative community exchange. Ransburg says his 10-day placement positively affected not only students, but teachers as well. He says not only do teachers see the educational benefit, but kids just get excited about art-, and many times walk away more confident people.
Unfortunately, due to budget challenges, the district shaved much, if not all, of its contract with Parents for Public Schools for the Ask for More Arts program for this school year.
Research shows that arts instruction offers lasting benefits for kids, complementing a number of skills, like reading, math and critical thinking. Low-income students who take arts classes are significantly more likely to enroll in a four-year college or university, a 2012 National Endowment for the Arts study found. A 2009 University of California in Los Angeles study also showed that low-income students in arts classes are more likely to obtain future employment, participate in extracurricular activities at school, volunteer and vote.
For Connolly, who also works at the Mississippi Museum of Art in downtown Jackson on weekends, helping students engage with the community through art is an important future goal for her class.
Though some students in class find inspiration from artists as far away as Chinese contemporary artist Yue Minjue, projects inspired by local designer and Siwell Middle School alumnus Ron Chane show up on the class agenda, too. Next month, with his help, her students will be the first school to participate in Fondren's First Thursday, where they can sell their artwork.
Connolly says she has big plans for her art class in the future. She'd like to introduce students to painting on canvas, if she can scrape together the funds. Most likely, that money will come from another online plea for funding. But in the meantime, she says the students will paint on other materials like cardboard—and the walls, which currently feature murals by a previous art teacher.
"I want my kids to do (murals)," she said. "That's the goal, also, to get them leaving their legacy in the building."
Sierra Mannie is an education reporting fellow for the Jackson Free Press and The Hechinger Report. Email her at [email protected].
More like this story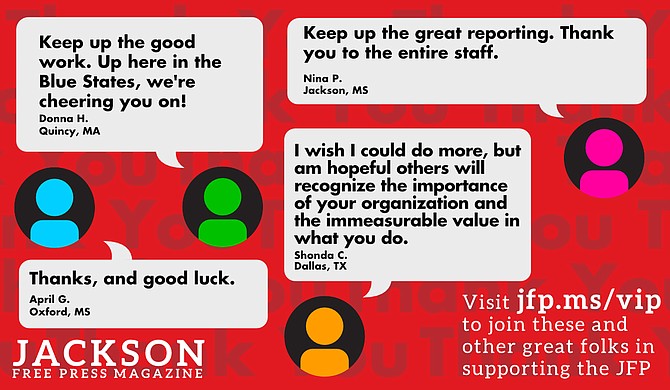 Thanks to all our new JFP VIPs!
COVID-19 has closed down the main sources of the JFP's revenue -- concerts, festivals, fundraisers, restaurants and bars. If everyone reading this article gives $5 or more, we should be able to continue publishing through the crisis. Please pay what you can to keep us reporting and publishing.