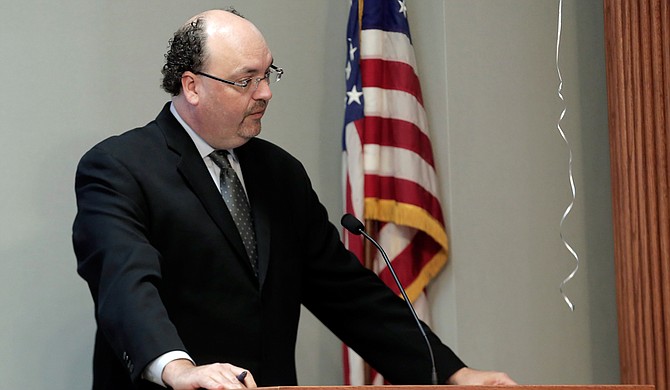 JACKSON — No contract existed between Hinds County and the company that provided pre-trial detainee supervision, Probation Services Company, LLC, for almost 8 years, until the Board of Supervisors ratified a motion this morning to accept all services for those intervening years and open the contract opportunity up to other companies that meet "county standards."
Hinds County Board of Supervisors attorney Pieter Teeuwissen explained that he decided to research the contract after media attention about the relationship between the county and the company, an accusation hinted at among the back-and-forth of the legal action against Hinds County District Attorney Robert Shuler Smith.
Smith alleged "misconduct" by elected officials, including Senior Circuit Court Judge Tomie Green, through his attorney Jim Waide during discussions concerning sealed grand-jury cases and specifically related to Probation Services Company, LLC. Former Jackson Police Department Chief Robert Johnson owns and operates the company.
"This one has generated a lot of media attention and so I definitely want to talk about this in open session, not in executive session, so that there are no questions," Teeuwissen said. "In 2004, Probation Services Corporation entered into a contract with the board of supervisors to provide pre-trial monitoring; the common term is ankle-monitoring, GPS tracking, home confinement."
Teeuwissen said that the board then determined, with the cooperation of then-Senior Circuit Judge W. Swan Yerger, that it made sense to have "a pre-trial type of service" that would allow the county to monitor individuals at a cost of between $75 to $150 per month as opposed to placing them in overcrowded jails at a cost of around $100 a day.
"That contract was entered in 2004 and was set to expire in 2008. That contract expired," Teeuwissen said, adding that the services and payments were still flowing between the two parties without a contract.
Teeuwissen couldn't say how the contract expiration date slipped by without any consideration or renewal.
"I am here today to say that I am not sure why this contract was not renewed in 2008, other than it appears like a lot of other things—it was probably going well, and no one paid attention," Teeuwissen said. "Mrs. Davis wasn't the county administrator, I wasn't the board attorney, and we can't speak to what happened at that time." Carmen Davis is the current county administrator.
Teeuwissen recommended that the board ratify a new contract extension with the company with the caveat that allowed for companies that met certain county requirements be added to a list of services for the judges to choose from.
The requirements for the companies are "any company that is registered and licensed to do business in Mississippi, that provides no less than $500,000 in insurance, that will indemnify the county, that will agree to a rate cap, that will agree to reporting requirements and documentation, will agree to a 60-day termination clause and will understand that the county will only pay for the indigent."
"In other words," Teeuwissen told the board, "if you get put in this program, and you are not indigent, than the county does not pay for it. We would recommend that you renew the contract with Probation Services, contain those essential terms, and also allow anyone else who meets those essential terms to also have a contract with the county."
He emphasized the last point, reminding the board of a $270,000 bill the county received for medical treatment for a detainee who suffered from sickle-cell anemia.
"And I know that there are folks in the public that say, lock them up, health doesn't matter. But that's easy to say before you get one of those $270,000 bills like we did last year for a sickle-cell person. A young lady was locked up, she had assaulted someone, that's the only crime she had committed, but it cost us some fraction of $270,000 by the time we negotiated to pay for her care. She was not a threat to the public."
Teeuwissen also told the board that opening up for more companies would reduce accusations of favoritism from the board.
"We don't need an exclusive contract with anyone because we don't need anyone saying that you have tried to curry favor. But what we do need is to continue to ask the proper pre-trial monitoring that will keep folks out of jail and keep the cost down for the taxpayers of Hinds County," Teeuwissen said.
The board approved the contract for Probation Services through Sept. 30, 2016, then added that company along with another that Teeuwissen said met the requirements: AK Consulting, a Hinds County company owned by Mike Walker.
Hinds County Board President Darrel McQuirter asked if these contracts were like wrecker agreements, in that the board had to rotate use of one company to the other in order to avoid the appearance of impropriety. Teeuwissen said that decisions falls to the circuit-court judge.
"That's from discussion with the circuit judges. There seem to be some circuit judges that prefer one company; other circuit judges prefer another company," Teeuwissen said. "As long as everybody is providing the same service and the board is assured that their costs are fixed, I don't know that you particularly care whether it is company A, B, or C as long as they are providing the same service at the same cost."
"But we will defer to the circuit judges and let them pick the particular company," Teeuwissen said.
CORRECTION: The article originally spelled former Hinds County Circuit Court Judge W. Swan Yerger's last name as "Yearger."
Email city reporter Tim Summers Jr. at [email protected]. Read more about the controversy surrounding District Attorney Robert Shuler Smith at http://www.jfp.ms/DAFiles.
Support our reporting -- Follow the MFP.