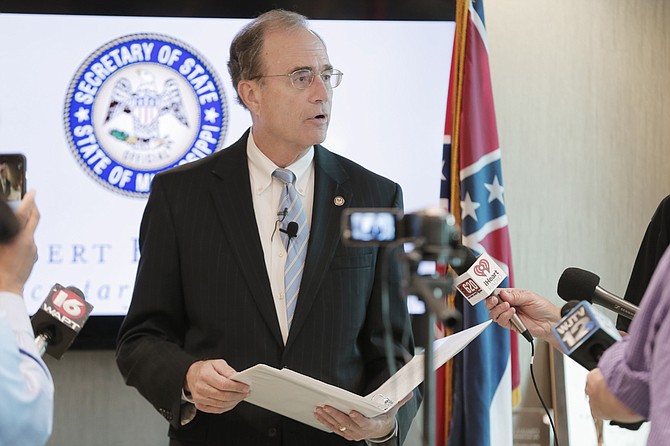 JACKSON — Mississippians will head to the polls in a week at more than 1,800 precincts around the state. Each polling precinct will have some of an estimated 10,000 trained poll workers and a bailiff. Secretary of State Delbert Hosemann reminded reporters that that voters need to be aware of several laws on Election Day.
"When you go to the polls, I want to remind everybody that despite what Justin Timberlake does, we don't do selfies in Mississippi,' Hosemann said.
Mississippians are not allowed to show any other person their marked ballot, including on camera. State law prohibits members of the public from loitering within 30 feet of the polling place, unless they are waiting in line to cast their ballot. Campaigning is not allowed within 150 feet of a precinct, unless it is on nearby private property. Once you cast your ballot, you need to leave your polling place.
Poll watchers from the secretary of state's office will be in 32 counties, and the attorney general's office will have 17 poll watchers, including in places where voting problems have occurred in the past. Additionally, each political party on the ballot is allowed to have two poll watchers per precinct. Each candidate on the ballot is allowed to have one poll watcher per precinct as well.
"I've met with the Democratic and the Republican parties, and they are going to use their letterhead to authorize people to be at the polls," Hosemann said. "We don't want anybody in the polls that's not authorized by the political party or the candidate."
Poll watchers are required to have their letters with official party or candidate campaign letterhead on it with them on Election Day. Poll watchers are allowed to challenge a voter who they say is not a resident or say is in the wrong precinct. But while they can challenge a voter, Hosemann emphasized that the bailiff runs the election and makes the final decision as to whether or not to remove a voter or a poll watcher for being disruptive.
"We will not tolerate and our bailiffs will not tolerate disrupting the election for the rest of Mississippians because you're upset about one thing. You have a right to object there and to make your case there, but the bailiff has the final say," Hosemann said.
If voters experience problems at the poll, they should first go directly to the bailiff at the precinct, Hosemann said. After that, they should contact their circuit clerk's office, then their district attorney or attorney general's office.
Hosemann said absentee ballot numbers (the closest thing Mississippi can use to determine early turnout numbers) are down from the 2012 presidential election. In 2012, Mississippians requested more than 106,000 absentee ballots, in an election that drew about 1.6 million voters. This year, however, Hosemann's office has sent out only 71,544 absentee ballots so far.
In Mississippi, where early voting is restricted, absentee ballots are usually a good indicator of how turnout might be. Voters who have voted absentee are allowed to override their absentee ballot vote if they vote at the poll on Election Day, and their absentee ballot will be rejected.
Over 1.86 million Mississippians are registered to vote, but the state has some of the toughest disenfranchising laws for those convicted of felonies in the country.
Hosemann encouraged Mississippians to get out and vote. He emphasized that Mississippi elections would be free and fair despite the rhetoric on social media. The voting machines used in some precincts are not connected to the Internet, and they work like calculators, Hosemann told reporters today.
"Mississippi's elections are not rigged and will not be rigged a week from today," Hosemann said.
For more election coverage, visit jacksonfreepress.com/2016elections.
More stories by this author