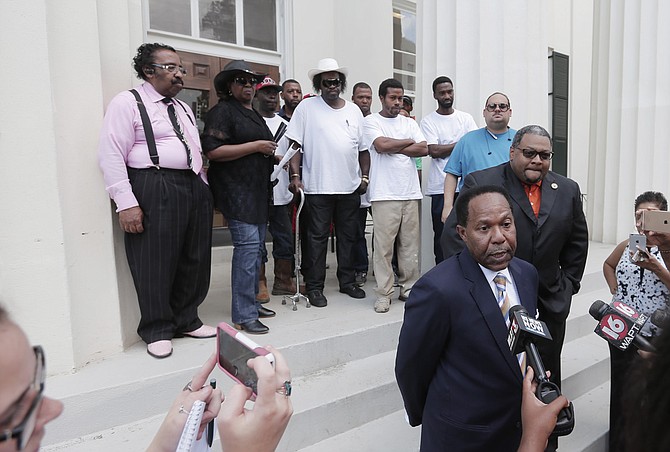 JACKSON — MAC Construction LLC, one of the principal subcontractors for the City of Jackson's notorious $90-million contract with Siemens, filed a suit against the large company for damages.
"Today we filed a $37-million lawsuit against Siemens based on its misrepresentation and breach of contract to MAC & Associates," attorney Robert Gibbs, who represents MAC & Associates in the lawsuit, said during a press conference Tuesday in front of City Hall. Gibbs said that Siemens entered into an agreement with MAC as the subcontractor in charge of construction for the $90-million contract.
MAC would be in charge, the complaint states, of "construction, sewer repair, O and M work (operations and maintenance) and water meter installation work, digging and plumbing with a dollar value of $20,328,920.00 and a 21.9 percent minority business enterprise participation."
"Yet when the project started, Siemens started its attempt to misrepresent and defraud by moving some of the construction part out from underneath MAC and associates," Gibbs said during press conference.

Document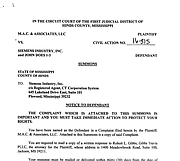 The complaint, which Gibbs provided, said that MAC decided to pair with Hemphill Construction to assist with the O and M work as well as the sewer repair. The complaint states that then Siemens asked MAC to pair with Pedal Valve Inc., to complete the water meter phase of the total project.

At this point, the MAC complaint alleges, Siemens then entered into a separate subcontractor contract with Pedal, effectively cutting MAC out of the contracted water-meter work. "Siemens' subcontract with Pedal breached Siemens' subcontract with MAC who was no longer responsible for all construction work on the subject project and also reduced the amount of minority participation that Siemens contract with the City required," it stated.
"Doing that cost MAC millions of dollars in damages," Gibbs said.

Siemens, through a representative, denied the allegations and will fight the lawsuit.
"Siemens has consistently worked in good faith with the City of Jackson and all of its partners and subcontractors involved in the City's Water Infrastructure Improvement project. Siemens understands the value of the City's Equal Business Opportunity Plan and takes MAC's allegations seriously. Siemens looks forward to continuing to work with the City and all involved parties to bring the project to successful completion," stated a release from Siemens soon after the lawsuit was filed.
"Siemens entered into a $20.3 million contract with MAC to provide labor, materials, design, supervision, coordination, and support for the project. The scope of MAC's work was later changed to $19.3 million based on changes in the overall City project," it continued.
"To date, Siemens has paid MAC nearly $17.8 million—or approximately 92 percent—for the completed portion of MAC's work. While we do not comment on pending litigation, we can say that the company will address all inaccuracies in the lawsuit at the appropriate time."
Pedal Valve, a company based in Luling, La., did not return messages left after hours on Tuesday. The Mississippi secretary of state's records for the business name Ivon Sharp of Union Church, Miss., as its registered agent, and Robert V. Gilbert Sr. as its director and president. No business representatives of the company could be reached Tuesday.
MAC and its owner are ready to wage the legal battle ahead. "Of course we know that the legal process takes a while, that it could take a while, but one thing we want to show is that we are not going to give up," Marcus Wallace, owner of MAC & Associates, said at the press conference Tuesday.
Wallace was quick to separate this lawsuit from difficulties the city has faced recently with water billing. "This doesn't have anything to do with the water-meter problem. The water-meter problem is a billing software issue that they are going to get together and work the kinks out," Wallace said. "This is the construction."
Email city reporter Tim Summers, Jr. at t[email protected] See more local news at jfp.ms/localnews.
Support our reporting -- Follow the MFP.