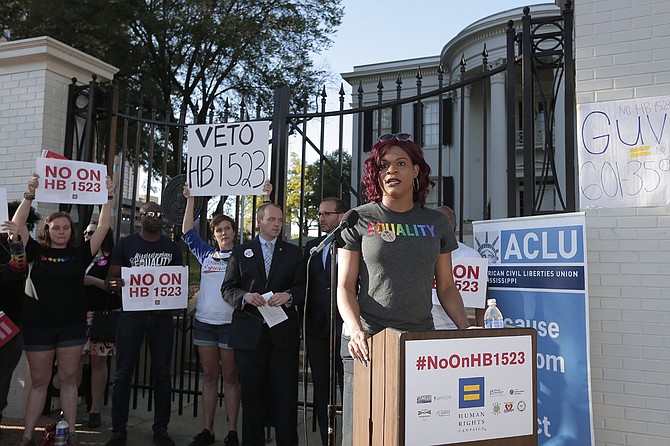 MADISON, Miss. — Luke Knight's mother is a florist, and she's busy; Knight's stepsister is getting married. Puffs of pink and white hog the top of the kitchen table in their comfortable home in Madison. Midday sunlight streams in from the windows and glistens on the plastic guarding a sleeveless white gown with a beaded bodice hanging from a door frame.
In the living room, Knight, 22, is a quiet island in the midst of the haphazard flowers. His hair, which he cut himself, is closely cropped. He is wearing a neat polo and khaki shorts, and thin, square glasses cover incredibly blue eyes.
Knight was born female, but he identifies as a man and is using hormones to transition. He looks exactly like his mother.
In elementary and middle school, Knight was one of the smartest people I knew. When he moved to Madison, a middle class, mostly white suburb from neighboring Ridgeland, he excelled on Madison Central High School's juggernaut Academic Decathlon team. His PSAT scores made him a National Merit Finalist, giving the school a record number of those who scored exceptionally high on the pre-college examination that year.
Knight graduated, and went on to the University of Alabama to major in classical studies.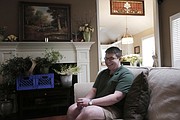 But though Knight was an extremely successful student, he spent his time in high school terrified. He was always afraid that someone would find out about him, even his friends. He hated using the girls' bathroom, especially when people would come in groups-—though, he admits, that might have had less to do with being trans as just not liking crowds in general. Knight waited until he was 18 and enrolled in college to come out. There, he said, he felt like he had more space to explore his identity.
"At Madison, there's such an image of like, (being) middle class (and) predominately white, going to Broadmoor (Baptist Church), so I don't know if there would be as much acceptance for people who don't fit that, and that's part of why I didn't come out until college," he said.
Now, lawmakers in the state are pressuring the Mississippi Department of Education to not honor federal guidelines that, for the first time, could protect vulnerable trans students like Knight. That means that Mississippi's transgender students, already more prone to depression and anxiety and more likely to commit suicide than their non-trans peers, might find the banner for their cause dropped by state leaders at the place where they spend the most time: school.
Title IX: Not Just For Athletics
On Friday, May 13, the Obama administration issued federal guidance that frightened many conservatives. The Civil Rights offices of the U.S. Departments of Justice and Education issued a "Dear Colleague" letter instructing school districts to honor the pronouns and gender identities preferred by trans students, or risk being out of compliance with Title IX, a federal law passed in 1972 that protects against sex discrimination. The guidelines included ensuring trans students have access to the restrooms, locker rooms and sports teams that align with their gender identity. Schools that ignored the letter would face Title IX sanctions, such as loss of federal funding.
The Mississippi Department of Education initially agreed to adhere to the federal guidance but backtracked after pressure from Gov. Phil Bryant and letters from Mississippi House and Senate Republicans calling for state superintendent Dr. Carey Wright to resign unless she instructed MDE not to adhere to Title IX, like they originally planned to do.
Wright agreed to hold off on applying the new rules.
David Sadker, professor emeritus at American University in Washington, D.C., says Title IX is usually associated with sex-based equity in athletics—having girls' basketball and track teams, for instance, in the male-dominated culture of sports. But advocates say it actually applies much more broadly. TitleIX.info, a National Women's Law Center site explaining the statute, argues it "opens the door for girls to pursue math and science, requires fair treatment for pregnant and parenting students, and protects students from bullying and sexual harassment."
"Its purpose is to inhibit or prevent discrimination based on gender in any program getting public funds," Sadker told the Jackson Free Press. "That would be public schools, a museum, lots of places wherever there's federal tax dollars. If that institution discriminates on the basis of gender, it puts itself in jeopardy of losing federal funds."
For places like Mississippi, with its chronically underfunded education system, where federal dollars are important, "that could be a big hit," Sadker said.
In the 2014-2015 school year, federal funding made up almost 15 percent of Mississippi's total revenue for school districts—$672,385,143. Title IX, as a civil-rights statute, doesn't give federal money to educational institutions, but violations of Title IX can help take them away.
"Institutions and entities that receive federal funds must comply with federal civil-rights laws," said a representative from the U.S. Department of Education, who asked to speak on background. "Educational institutions that have been found in violation of the law and refuse to address the problems identified by the Office for Civil Rights (OCR) can lose federal funding or be referred to the U.S. Department of Justice for further action."
Sadker says that most schools are out of compliance with Title IX, but that it is rare that the federal government punishes schools for it. "It's random, and I don't think it's accidental, that few parents know what it does or what it is. If you ask someone, they think it deals with athletics. And school districts do not go out of their way to inform parents and students the way they're supposed to. So ignorance is a big part of this," he said.
'Trans Panic'
A month before the administration issued its letter urging schools to accommodate transgender students, Rep. Robert Foster was among 69 other mostly Republican Mississippi House members who voted for the controversial HB 1523, or the Protecting Freedom of Conscience from Government Discrimination Act, signed into law by Republican Gov. Phil Bryant this April. Mississippi's bill emerged at the same time as similarly anti-LGBT legislation from North Carolina and Tennessee did, but Nathan Smith, director of public policy at the Gay, Lesbian and Straight Education Network, said Mississippi's was groundbreaking in how sweeping it was in allowing religious refusals to state employees such as school counselors who might want to refuse services to trans students.
Foster says the federal guidelines would compound transgender students' issues more than help them.
"It's going to cause them to be in a lot worse position, because they're going to make so many other people feel uncomfortable in those situations," Foster said.
Smith says the federal guidance would do the opposite of what Foster suggests.
"Factually, we know that providing access to restrooms and locker rooms that are affirming to trans students does make them feel safer," Smith told the Jackson Free Press. "When students have policies in place at schools that affirm their gender identities, they feel more welcome. So I don't think there's anything to it that says it actually makes things worse; whenever you affirm a student's gender identity, that's beneficial for a student," he said.
Blossom Brown, 29, a native of Jackson and a trans woman of color, has seen discrimination against trans people in education firsthand, making national headlines last year when she spoke out about her many blocked attempts to get into nursing school as she was transitioning. She says it would have meant the world to her if, during her time in Jackson Public Schools, education leaders had stood up for kids like her.
"I would've felt like I was welcomed like everyone else, I could be myself and use the restroom of the identity I prefer. I think it would've made my learning environment a lot safer to know that people had my back, basically," she said. "You can't be some kind of leader cherry picking the type of people you want to serve. You're in the public to serve everyone."
Brown says as a trans woman of color, she constantly has to be on guard—she says she never knows if someone is transphobic. And trans women of color are especially vulnerable to violence, Brown says; at least 13 trans women, mostly of color, have been murdered this year alone, the National LGBTQ Task Force reports.
"You want to feel comfortable using the restroom you really feel comfortable with," Brown said. "It's kind of like 'People, get over it.' Everybody's got to pee. Who's really going to be sitting there making sure you're a guy or a girl?"
"My freshman year, I was still just kind of playing with gender presentation. I was just like short hair and a T-shirt, and I wouldn't have assumed I passed as male or anything, but I was going to the women's bathroom, and some dude physically stopped me and was like, 'Dude, you can't go in there,'" Knight said. "And I was like, why are you trying to tell me? Do you think you know better than I do where I'm going? I just have to pee, right?"
Nothing to be Fixed
Mississippi's House Bill 1523 treats as interchangeable the words man and male, and the word woman and female, defining them as "an individual's immutable biological sex as objectively determined by anatomy and genetics at time of birth."
Foster does not see any difference between gender identity and biological sex, calling the perceived difference between sex and gender by trans people a mental disorder.
"It's just like any other disability anyone has. They (transgender people) have to learn to overcome it and not let it be a hindrance to anything else in their life," he told the Jackson Free Press.
That being transgender is a disorder is not just conservative politician rhetoric—some doctors believe it, too. In March of this year, the American College of Pediatricians, a fringe group of pediatricians that advocates for a socially conservative view of treatment, and which the Southern Poverty Law Center designates as a hate group for its generally anti-LGBT positions, released a statement saying that trans children are not trans, but "confused," and suffering from gender dysphoria.
Quinn Gee, owner and therapist at Healing Hearts Counseling Center in Memphis, specializes in LGBT issues, race-based trauma and women's issues. She began offering pro bono counseling services for trans clients in light of anti-LGBT legislation in Mississippi, where she's from, and Tennessee, where she practices, and rejects the idea that being trans is a mental disorder.
"Gender dysphoria is when you are in such a level of distress surrounding your gender identity that it creates a mental illness, and that includes things like depression, anger issues and other mental illness," Gee said. "It's not the same. And gender non-conforming people are not inherently disordered."
The American Psychological Association says there's a difference between dysphoria and being transgender. A transgender person might be particularly distressed by discrimination and lack of affordable resources for trans people, but otherwise fine with their gender identity.
Research also shows that supporting transgender children in presenting in their identities, whether or not they have gender dysphoria, improves their lives. A study published in the American Academy of Pediatrics' official journal "Pediatrics" this year found that when children's parents supported them emotionally and socially as they began to identify as trans, their levels of anxiety and depression were significantly lower than average for trans children who might not have that support.
On the other hand, as GLSEN's National School Climate Survey reports, LGBT students who experienced LGBT-related discrimination at school were more than three times as likely to miss school as their straight and "cisgendered," or non-trans, classmates. In addition to having lower GPAs than their classmates, their self-esteem was lower, too.
Knight has a few classes left to take at Alabama, but is now living back at home for part of the summer. He said it is still kind of weird with his parents, but at least when he came out to them, they didn't kick him out.
"It took them a while to call me Luke, but they generally avoid pronouns," he said. "My stepdad took a while to get it, but now he talks to me about cars and football, and it's kind of sweet."
Knight said he has called his Republican representative, Madison resident Rep. Joel Bomgar, and Gov. Phil Bryant and left messages to speak out about anti-LGBTQ policies in the state. "This is the reason why so many young Mississippians are going elsewhere," he said.
And as for bathrooms, Knight thinks the state should stand up for trans kids. "Students are really the main people impacted by this, and schools have a duty to protect those kids. So having a uniform policy that says we'll work with you, we'll let you use the bathroom you need to, that's a really big, significant thing."
Update: After this story went to press, the nine-member Mississippi Board of Education decided in a unanimous vote to side with state leadership not to follow the federal government's Title IX guidelines. Dr. John Kelly, school board chair, said that the board had full confidence in Wright and her leadership. "If you look at everything that's happened in the state education-wise, from ACT scores, NAEP test scores, third grade reading gate results, graduation rate and dropout rate, everything is going in the right direction. Quite frankly, the trajectory of education in Mississippi has never been better," he said after the meeting yesterday.
Sierra Mannie is an education reporting fellow for the Jackson Free Press and the Hechinger Report. Email her at sierra@
jacksonfreepress.com.
Support our reporting -- Follow the MFP.