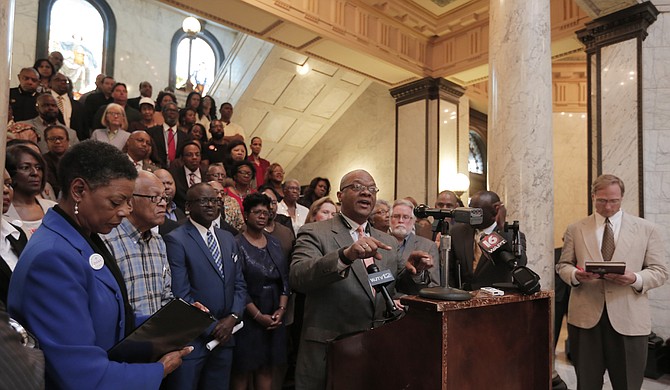 JACKSON — Warning that the airport "takeover" is about money and control of contracts, members of the Jackson Municipal Airport Authority and its supporters gathered today in the echoing rotunda of the Mississippi Capitol to voice their opposition to the still-pending Senate Bill 2162.
"The bottom line is that these assets belong to the City of Jackson. Our revenues went up from $3.7 to 4.2 million for the last fiscal year," Rev. James L. Henley Jr., the vice chairman of JMAA, said. "But more importantly my Bible tells me in Matthew chapter 18, that if you have something against a man or against a woman, you go to that person and you talk to that person. We have never been approached. Never, not once, by the governor or Mr. (Josh) Harkins to address the JMAA board about this takeover."
Sen. Josh Harkins, a Republican real-estate salesman in Flowood, originally sponsored the "takeover bill." He lists commercial property near the airport, but told the Jackson Free Press that he is not doing it out of self-interest.
After the press conference Rev. Henley said proponents of the bill have not considered the consequences of changing the board, stating that renegotiation of JMAA's current contracts would take place if the board was altered or replaced.
Rep. Adrienne Wooten, D-Ridgeland, agreed that the "takeover" is all about shifts in contracts and addressed Republican backers of the bill directly. "You've heard cries from your friends say, I no longer have a seat at the table. I want a contract. Well that's not reason enough for you to come in and say that you should be taking over the Jackson airport. If you want to help the City of Jackson, give us more money for our schools," Wooten said.
"This is about you wanting to control where the dollars go. Because we are going to have construction coming up in about four or five years, and they want a seat at the table," Wooten added.
Wooten reminded the audience that Harkins and other bill backers have listed no problems with the management of the airport. "It goes without saying that it is more than a hostile takeover," Wooten said. "The information that has been brought before the body basically is nil to none. There have been no reasons presented to our body to indicate why there has been a takeover of the Jackson airport."
"But we all know why. … The airport is an enterprise that is now running in the black. And I sincerely believe that if it wasn't running in the black, they wouldn't want it. So you want to take over so you will have the ability to say who gets what. Because at the end of the day, its now all about money."
Rep. Sonya Williams-Barnes, D-Gulfport, chairman of the Mississippi Legislative Black Caucus, pledged that group's support, stating that this is a state-wide issue as well as a Jackson concern.

"Let it go on record that the Mississippi Legislative Black Caucus stands strong with our members of the Hinds County delegation and vigorously opposes the state's takeover of the Jackson airport," she said today. "This tight-fisted takeover is simply unnecessary due to the fact that the current administration of the airport is running a lean, clean enterprise, one that possess no harm or threat."
Williams-Barnes said the takeover could eventually cause more harm, bring costly litigation, and damage legislative process, as well as set a precedent for the State to take over other commissions around the state.
"This is wrong," she said. "And the Legislative Black Caucus will not sit back and allow this to happen. We will continue to fight and push this effort forward. We stand with you, the City of Jackson. We stand with you, the residents of Jackson, and the residents of Mississippi as a whole. And we say no to this bureaucratic takeover."
The chairman of the JMAA, Dr. Rosie L. T. Pridgen, had a call to action for Jacksonians. "You, citizens of Jackson, invested and reinvested into your airport systems that started some 88 years ago. Do not sit on the sidelines and let others take over your airport and decide what will happen to your airports. We need your active involvement. No spectators, but active participators. Citizens of Jackson, again, you own the airports."
"Citizens of Mississippi, if you allow this to happen to Jackson, who's to say that it might not be you next time. This legislation is wrong."
Pridgen said citizens should call the governor, lieutenant governor, House speaker and other representatives. The JMAA handed out pamphlets with the telephone numbers on them to the crowd. "Tell them it is not morally right, it is not business-friendly, nor does it present a positive image for our state. So we need you to get involved now," Pridgen said. "If not you, who? If not now, when?"
Rev. Henley confirmed that attorney Fred Banks of Phelps Dunbar will represent the JMAA in the upcoming legal battle for the airport's control.
Email city reporter Tim Summers, Jr. at [email protected]. Read more about the airport "takeover" controversy at jfp.ms/airport.
Support our reporting -- Follow the MFP.