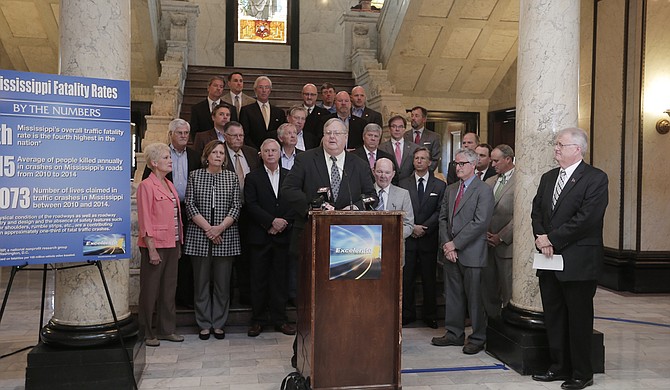 JACKSON — It is more expensive to drive in Jackson than anywhere else in the state, a study released from a national transportation research group found.
TRIP, the Washington, D.C.-based research firm, estimates that the average Jacksonian spends $1,879 annually between "vehicle operating cost," safety and congestion. This total cost, the report states, stems from "roads and bridges that are deficient congested or lack desirable safety features."
It defines "vehicle operating cost" as "a result of driving on roads in need of repair, lost time and fuel due to congestion-related delays, and the costs of traffic crashes in which roadway features likely were a contributing factor."
"These conditions are only going to get worse if greater funding is not made available at the local, state, and federal levels," Will Wilkins, TRIP's executive director, stated in a press release. "Without additional funding Mississippi's transportation system will become increasingly deteriorated and congested, and the state will miss out on opportunities for economic growth and quality of life will suffer."
TRIP defines itself as a "private nonprofit organization that researches, evaluates distributes economic and technical data on surface transportation issues," focusing on "policies that help relieve traffic congestion and its impact on air quality, improve road and bridge conditions, make surface travel safer, and enhance economic productivity."
The Mississippi Economic Council, or MEC, released the study with great flourish during a press conference held last week in the second-floor rotunda of the Capitol. It is a part of the "Blueprint Mississippi Taskforce" push to pass legislation to address Mississippi's crumbling infrastructure, including SB 2921.
"This is an issue that costs taxpayers every single day," MEC President and CEO Blake Wilson said at the press conference, his voice echoing throughout the normally quiet building. "This is the result of a significant research study done over 18 months by two of Mississippi's leading research organizations, Mississippi State University and the University of Southern Mississippi, as well as a private consulting firm of Cambridge Systematics."
"This is not quick and dirty Internet research."
Wilson said the Heron Foundation funded the study and that "those dollars went directly to the universities." The New York-based foundation states the mission on its website of tackling issues related to poverty. "Our strategy is to invest capital in ways that expand reliable employment and economic opportunity for those on the margins," it says.
"We have to fix Mississippi's roads," Wilson said.
The study also estimates that those people who live in the Gulfport-Biloxi-Pascagoula as well as Hattiesburg also suffer costs that total over $1,000 annually, a little over half of what it costs Jacksonians.
The other section of Mississippi's infrastructure that the report discussed was the bridges, listing 15 percent of Jackson's bridges as "functionally obsolete." As a comparison the report states 7 percent of the state's bridges are also "functionally obsolete.
"One-fifth of locally and state-maintained bridges in Mississippi show significant deterioration or do not meet current design standards, often because of narrow lanes, inadequate clearances or poor alignment," the study states. "This includes all bridges that are 20 feet or more in length."
The report states that these and other road conditions cost the average Mississippian $640 annually.
Email city reporter Tim Summers, Jr. at [email protected]. See more local news at jfp.ms/localnews.
Support our reporting -- Follow the MFP.