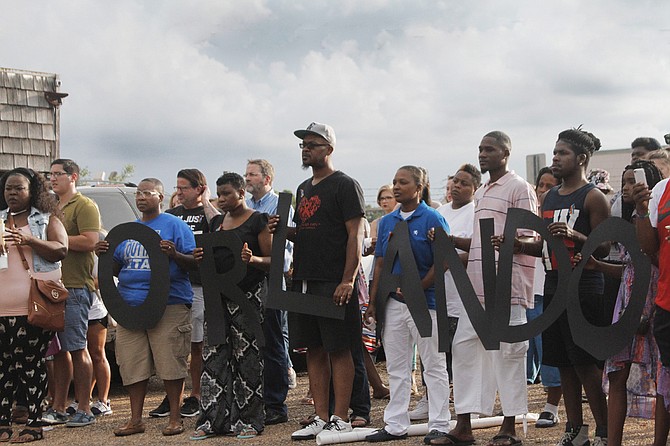 JACKSON — "We shall overcome, we shall overcome, we shall overcome someday."
A chorus of more than 100 voices rose outside JC's, one of Jackson's longest-standing gay bars, Sunday night in vigil for victims in the Orlando mass shooting that left 49 people dead early Sunday morning, when a man entered a gay club in Orlando with an assault rifle and started shooting.
Organizers Knol Aust and Valencia Robinson coordinated the Jackson vigil early on Sunday. "We're here in Pride month experiencing a terrorist attack, as well as what appears to be a hate crime," Aust said at the vigil. "For many of us, nightclubs like this are in many ways a sanctuary."
Aust said that clubs like JC's, which has been in Jackson for 25 years, play an integral role in the community.
"The clubs have always been a place where we could go, and we shouldn't have to be afraid to go to the club because somebody may come in with a hateful agenda and kill us," Robinson told the crowd. "It's hard being gay and being in the world anyway, so I'm going to say thank you all for coming."
Jesse Pandolfo, owner of WonderLust, a gay club in Fondren, said patrons' safety is top priority for her and other club owners in Jackson.
"We have to support one another; we can't let someone run us off," Pandolfo told the crowd at the vigil. "It's all about you guys, and we'll do everything we can to keep this a safe place."
Rob Hill, the director of the Human Rights Campaign in Mississippi, said that like many others, he was still processing the events in Orlando and stressed that what elected officials and others say can bring harm to LGBT citizens.
"Words matter all around us, words that we hear very often, unfortunately from religious leaders, the legislation that we've seen passed and the words we've seen from elected leaders," Hill said. "And we have to recognize that things like this, they've helped perpetuate in a sad way a kind of hatred, a kind of discrimination and a kind of misunderstanding and lack of understanding that exists around us and they definitely contribute, unfortunately, to these kinds of acts."
Hill encouraged the LGBT community to come out and everyone, including allies, to speak out against language that is anti-LGBT.
Some of those at the vigil had marched down State Street the day before for a Pride parade. June is Pride month, and the parade was just the beginning of Pride festivities in Jackson. Unity Mississippi will throw Mississippi Pride 2016 on June 24-26.
Gov. Phil Bryant responded to the mass shooting on Facebook and Twitter, saying "Please join Deborah and me in praying for God's peace and comfort for those affected by the horrific act of terror in Orlando."
Bryant wrote on Facebook that he had spoken with the Department of Public Safety and the Mississippi Office of Homeland Security to "move state assets to concentrated areas of people." Bryant posted his message with a graphic encouraging Mississippians that if they "see something, say something."
In late May, Gov. Bryant received the "Samuel Adams Religious Freedom Award" for signing House Bill 1523 into law, which critics say targets the LGBT community. Three legal challenges in federal court are challenging the bill's constitutionality.
For more on LGBT rights in Mississippi, visit jfp.ms/lgbt. Email state reporter Arielle Dreher at [email protected].
More stories by this author
Support our reporting -- Follow the MFP.