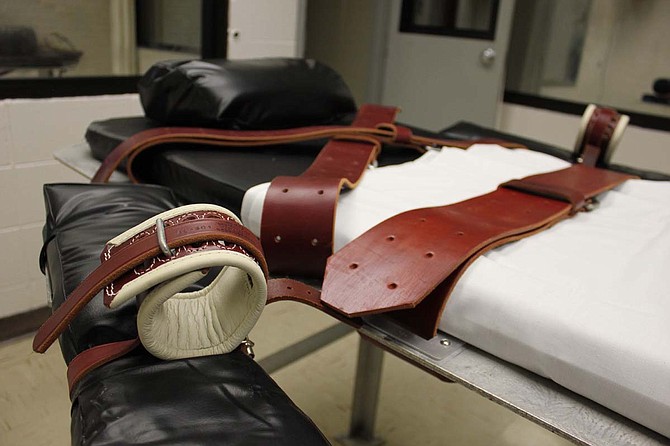 JACKSON — Richard Jordan has been on death row in Mississippi for 40 years for kidnapping and murdering Edwina Marter in 1976, even though the average wait time for death-row inmates to be killed is about 14 years. Jordan and fellow death-row inmate Thomas Loden Jr., convicted in 2001 for sexual assault, rape and murder of Leesa Marie Gray in 2000, have filed new challenges to Mississippi's lethal-injection drug law in the Mississippi Supreme Court, after the 5th U.S. Circuit Court of Appeals sent another drug challenge filed by Jordan, Loden and another death-row inmate Ricky Chase, challenge back to the district court. The district court has not yet considered the plaintiffs' First and Eighth Amendment challenges.
Jordan and Loden Jr. could be executed at any point, however, because as the Associated Press reported earlier this month, both men have exhausted their appeals.
Gary Carl Simmons was the last man executed by lethal injection in the state of Mississippi back in June 2012, MDOC's website says. A federal court's injunction froze executions due to three prisoners on death row challenging the state's use of the type of sedative drug—the first used—in the three-part injection.
On July 6, the 5th U.S. Circuit Court of Appeals vacated the lower court's injunction and remanded the case back to the district court system."(B)ecause Mississippi's sovereign immunity prevents a federal court from enjoining state officials to follow state law, and because plaintiffs have not shown they are likely to succeed in establishing a violation of either their procedural and substantive due process rights," the 5th Circuit's revised opinion states.
The state courts will be left to interpret challenges to Mississippi's death-penalty laws and challenges to drugs used in the lethal-injection procedure.
No execution dates were set by press time for Jordan or Loden Jr.
"We certainly hope that they recognize that this is the kind of issue that should be vetted and weighed by the federal court prior to them trying to precipitate some kind of artificial crisis by setting an execution date," James Craig, a lawyer at the MacArthur Justice Center, which represents Jordan and Chase, told the Jackson Free Press.
Attorney General Jim Hood's office did not offer any specific comment on the numerous cases pending or the new appeals filed. Hood's spokeswoman Rachael Ring said the State of Mississippi will respond in court to challenges pending in both federal and state courts.
Drug Drama
Immediately before a July 2015 hearing on the prisoners' challenge to Mississippi's use of pentobarbital, the Mississippi Department of Corrections changed its policy to include more drugs on its list of possible drug "#1s" (the sedatives) in its three-drug injection.
"In the event of the unavailability of sodium pentothal, a sufficient quantity of pentobarbital will be acquired and administered in its place. In the event of the unavailability of pentobarbital, a sufficient quantity of midazolam will be acquired and administered in its place," an MDOC policy request form included in court records states.
The form was signed and dated July 28, 2015. In the state's memorandum filed on that same day, lawyers from the Attorney General's office wrote, "the state no longer has pentobarbital in any form for executions." The memorandum also says the policy had to change because the state was unable to obtain the drugs anymore.
"MDOC and Commissioner Fisher have absolutely no motivation to change the State's lethal injection protocol, an event absolutely sure to produce litigation, unless the change was necessary and unavoidable," the July 28 brief says.
A year later, Jordan and Loden Jr. are challenging specifically the state's proposed use of midazolam, and those fresh appeals were filed in the Mississippi Supreme Court earlier this month.
The men's lawyers argue that midazolam is not an "ultra short-acting barbiturate" that Mississippi's death-penalty law requires. Instead, they argue that "it is a benzodiazepine, an entirely different class of drugs from that authorized by Mississippi law."
The "ultra short-acting barbiturate" is supposed to act as the sedative in the three-drug injection used to execute prisoners in the state of Mississippi.
The three-drug injection includes the sedative, the paralytic drug ("so you don't see the body flopping around") and the drug that stops the heart, Robert Dunham, executive director of the Death Penalty Information Center, told the Jackson Free Press.
Oklahoma was the first state to begin using the three-drug approach back in 1977, and more states "just piggybacked on that," Dunham said. In the 1940s and '50s, Mississippi used the electric chair to kill prisoners on death row. After 1954, the State used a lethal gas chamber until 1984, MDOC's website states, until it introduced lethal injection as a method of execution.
"There's no reason to do that. If you euthanize a horse, you don't use three drugs—you use a larger dose of one drug," Dunham said of the execution formula.
Only a few states have caught on to the one-drug approach, however, and now because fewer drugs are available for lethal injections, they are—perhaps consequently—the only states still executing prisoners on death row. Alabama, Georgia, Missouri and Texas are among the states that use one-drug lethal injection for prisoners on death row. An April analysis by the Marshall Project, a nonprofit journalism outlet dedicated to the criminal-justice system, shows that they are the only states currently executing prisoners. Eight states have used single-drug lethal injections to execute prisoners, the Death Penalty Information Center data shows.
In the meantime, midazolam was a part of the subject of a 2015 U.S. Supreme Court decision, Glossip v. Gross. While the U.S. Supreme Court found that challenges to Oklahoma's use of midazolam failed, Craig says the Glossip case did not approve the use of midazolam—contrary to what his "opponents" say.
"The federal judge in Oklahoma is still considering whether the use of midazolam violates the Eighth Amendment," he told the Jackson Free Press. "Our opponents like to say that the Supreme Court approved the use of midazolam, but they did no such thing."
Craig said that the Glossip case differs from his clients' situation in Mississippi for several reasons. Oklahoma has adopted several safeguards in their lethal-injection practices, Craig said, like waiting five minutes after they've administered the sedative drug and tested the prisoner to make sure they are unconscious before the other drugs are administered.
"Mississippi has nothing like that," Craig said.
Court documents show that Mississippi's pre-execution inventory check requires the injection team to check everything not less than 24 hours and not more than 96 hours before the scheduled execution. Details of procedural operations of an execution are not included in the filing.
Preserving State Secrets
The pushback and stall of state executions in the past few years is largely due to large drug manufacturers coming out against their drugs being used to execute people.
"Every American manufacturer of sodium pentothal, pentobarbital and midazolam are on record as saying that they don't want their drugs to be used in executions," Dunham said. "And they have adopted internal regulations on sale and distribution of their product to try to keep them out of the hands of executioners."
Pfizer came out against the practice most recently, The New York Times reported in May, saying they did not want their drugs used for executions. Dunham says Pfizer is the 20th company by his count to do so. The drug manufacturers backing down from lethal drug sales has, consequently, left many states in limbo when it comes to acquiring the drugs necessary to execute prisoners.
Dunham said if states aren't getting drugs from manufacturers, that means they are getting them from compounding pharmacies, and compounding pharmacies—in general—are not subject to the same types of regulations as major pharmaceutical companies.
"As a result, there are significantly greater safety risks," Dunham said.
In the 2016 legislative session, Attorney General Jim Hood asked the Legislature to consider a law that would keep the identities of the state's execution team, suppliers of lethal injection chemicals and the witnesses of an execution all a state secret—exempt from the Mississippi Public Records Act. The bill became law July 1.
The law specifies "a supplier of lethal-injection chemicals" as one located within the state of Mississippi.
Dunham said he is unaware of any Mississippi drug manufacturer, so that provision of the law would most likely protect the identity of any compounding pharmacy in the state. Reading Senate Bill 2237, Dunham said the law might prevent those on death row from "obtaining information necessary to ascertain whether he or she is going to be subjected to a torturous execution."
Information about the drugs themselves, like how they are handled or if they are properly mixed or tested are all factors that could come up in court, but Dunham said, "if the compounder is a part of the execution team, you never get to ask him where they came from because you don't get to know who he is."
Other states have adopted secrecy laws like Mississippi's, but the state-specific supplier clause is different than what Dunham has seen in the past.
In the cases of Jordan, Chase and Loden Jr., the State of Mississippi has said it is unable to obtain pentobarbital.
In a footnote of its June 27 order, the 5th Circuit did not rule on this provision specifically. "Because other states retain access to pentobarbital it seems possible that Mississippi could regain access in the future," the footnote says.
Craig has asked the Missouri Department of Corrections for that state's lethal-injection methods to prove that other states have managed to keep executing people and finding the drugs to do so.
Missouri uses a one-drug lethal injection protocol, using pentobarbital. The federal court there ruled in Craig and the plaintiffs' favor to access the information, but Missouri has appealed that ruling.
Dunham says Mississippi has presented no evidence that the drugs are unavailable without secrecy, but with several manufacturers publicly opting out anyway, the only thing left to hide is who is mixing the drugs in-state.
"If the drugs are unavailable publicly because everybody has opted out of the policy, that's a problem with the policy, not a justification for secrecy," Dunham said.
Email state reporter Arielle Dreher at [email protected] and follow her on Twitter @arielle_amara.
More stories by this author
Support our reporting -- Become a JFP VIP.
The news business has changed dramatically in the past year, and we need your help more than ever to keep bringing you important stories about Jackson and the Metro. Become a JFP VIP with an annual membership or you can Sign up as a monthly supporter. Thanks for anything you can do to empower our journalism!