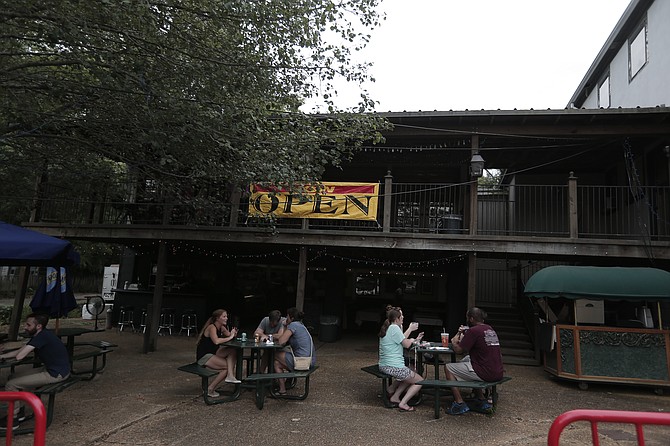 JACKSON — The City of Jackson has issued a warrant for the arrest of the owner of Fondren Garage, and more likely than not, the establishment will soon be shut down.
The allegations from residents who live on the same street as the bar and restaurant included parking on the street, improper placement of the dumpster and excessive noise.
"I'm a mother and have a 2-and-a-half-year old and one on the way," Melia Dicker, a resident on Patton Avenue, where the bar is located, said during her turn to address the Jackson City Council during its meeting on Tuesday, July 12. Her comments exemplify those made by her neighbors.
"It's a time in my life when I am supposed to get a lot of rest and (keep) my stress low, but neither one of those things is possible during the two months that Fondren Garage has been open," Dicker said.
She went on to say that the bar attracts a "shady element" that caused her "worry."
"We would have never bought a house on a street with a bar," Dicker said.
Mayor Tony Yarber said that he sided with the residents.
"If it was on my street, I would feel the same way that you feel," Yarber said, summarizing the feelings of the group. "'Shut it down. Shut it down today, not tomorrow. Forget the due process and all that other stuff.'"
Yarber then explained that the City was required to follow due process and had moved through its environmental court to attempt to bring the owners of the bar in to address the residents' complaints. After no one appeared, the mayor said his administration would move forward with a plan to cut short the operation.
"We believe that through some strategy with legal, as well as with the planning department, we will be able to move forward with a potential cease-and-desist," Yarber said, adding that some city ordinances made the situation difficult. "But what we are finding is that some of our own policies are our problem."
Yarber added that although the City had to balance between commercial and residential interests, he wanted to support the people who live in the neighborhood in this case.
Fondren is a large district and includes representation from three different council members, but in this case, newly elected Council Vice President Margaret Barrett-Simon took point in the fight against Fondren Garage.
"We had environmental court today," Barrett-Simon said during the council meeting. "There is now a warrant for (the owner). And I think that in the next 24 hours, this place will be shut down. The good thing is that we are finally doing something about it." She congratulated the citizens for documenting and bringing the alleged violations to the attention of the council.
The manager of Fondren Garage, Chip Matthews, said during a phone interview that not only had the business never been served any papers, but they had obtained all the required paperwork from the city.
"Right now, all we have is a media firestorm of speculations created by Margaret Barrett-Simon that says that we don't have any permits and that we are opened illegally," he told the Jackson Free Press. "That's all we have is an accusation. The way I look at it, everyone in the City has been nothing but nice. All of the people that had to inspect us have been nothing but nice. You have one councilwoman that thinks that we have done something wrong. It's clear that we were in the right zoning for what we did, and we got permits because of that."
The listed owner of the managing company, SHHH LLC, Gary Clark Jr., was not initially available for comment.
Later the evening of July 13, Clark told the Jackson Free Press in a phone interview that he was hesitant to discuss the permits for the restaurant, as he was currently talking to attorneys. He did say that he had not spoken to the City or police.
"I have my permits. I didn't lie. I didn't do anything like that," Clark said.
"No, no, I have not spoken to any of them," Clark said of the police. "I don't know if there is a warrant out for my arrest or not."
He said he was out of town.
Email city reporter Tim Summers Jr. at [email protected] See more local news at jfp.ms/localnews.
Clarification (4:23 p.m.) This story was updated to clarify that the mayor did not express an intention to officially circumvent "due process," but was reflecting the frustrations of the citizen group.
More like this story
Like independent media outlets around the world, the Jackson Free Press works hard to produce important content on a limited budget. We'd love your help! Become a JFP VIP member today and/or donate to our journalism fund. Thanks for considering a JFP VIP membership or one-time support.