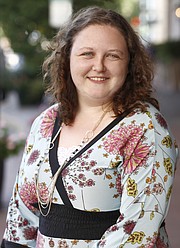 I've been able to do some pretty exciting things in my life.
I've been to Universal Studios twice (although I only remember the more recent time, as I was young the first time I went). I once saw Etta James in concert at the House of Blues in New Orleans. I've been on a mission trip to Arlington, Texas. I saw Switchfoot right before they made it big time. I've visited Doune Castle (one of the castles used in "Monty Python and the Holy Grail") and Stirling Castle in Scotland.
But I still feel like I haven't traveled much. Most of the trips I've taken happened so long ago that I barely remember them, and even though I've been across the Atlantic, I've barely been to big cities such as Nashville, or even just out of the South.
I recently got to attend the Society of Professional Journalists' annual Ted Scripps Leadership Institute in Memphis. I went to that city for the first time in 2009 with my then-boyfriend, but all we did was go to the zoo and eat at the Hard Rock Cafe, so when I found out that the institute would be there, I was excited at the possibility of getting to see the city for real.
We stayed in the historic Kress building, which was once a five-and-dime store. After a move and a name change, the store closed down in 1994. It's been restored and is now part of the Spring Hill Suites by Marriott. While the hotel's front entrance faces another hotel, the Kress building lets out into downtown Memphis.
The first night, we immediately went into the first conference session, so I didn't get to see much of downtown, and when everyone went out that night, I was asleep (three and a half hours is a long drive). But the next day, we stepped outside for a break, and I couldn't help but be amazed. I knew Memphis was big, but not this big. The building faced Court Square, which is between Main and Second streets at Court Avenue. It's right smack dab in the middle of those streets. While Memphis' trolleys are now trolley busses (the city began restoring them in 2014), the original trolley tracks and overhead lines are still there, and even though the trolleys don't actively use them, they still ride along those tracks. The city itself has all manner of architecture, from art-deco buildings to tall skyscrapers to historical buildings such as The Orpheum Theatre and the Peabody Hotel. It also has a lot of stuff to do, from music tours (though you'd have to go just for that to be able to see all the city has to offer) to its large zoo to the Memphis Brooks Museum of Art.
It's easy to go to a city like Memphis and think to yourself how little a place like Jackson has ... and how little it can feel. We have a bus system, yes, but it's unreliable. We don't have trolleys. The neighborhoods aren't as friendly to pedestrians as they could be. Our downtown has only a few blocks, and to be honest, the city itself is plain-looking, save for a few decorated traffic boxes and outdoor sculptures and statues.
That's what I liked most about Memphis: how colorful it was. When the group walked down Beale Street on Saturday night, neon signs lit up the streets. The trolley busses passing through were purple and yellow and green and many other colors. 
 Murals covered sections of a tall art-deco building's walls, and instead of just seeming out of place, much of the graffiti blended in with the city's surroundings.
I'm sure Memphians could tell you better than I could about the city's issues and how downtown got this way from its ghost-town days. I could see some of the problems as I walked through downtown.
Even though most of the buildings were populated, some of them had vacant spaces. Some businesses had boarded-up windows. Homeless people sat along the streets, sometimes asking for change and sometimes just watching their surroundings. But even through the problems, it's still a beautiful city, and I found myself wishing Jackson could be more like it.
Of course, Memphis has had a head start with improvements. The Downtown Neighborhood Association was founded in 1981 and, though it has had some ups and downs, it's pushed for changes in the area since then. In 2002, the organization partnered with the parks department and local metal artist Jill Turman to install decorative bike racks throughout the neighborhood.
In 2011, DNA, working with the Center City Commission, sponsored a grant to assist the Hospitality HUB, which is a nonprofit organization trying to help the homeless in downtown Memphis.
And other organizations around the city are working to improve Memphis. The Midtown Memphis Development Corporation works to promote the economic development, cultural activities, recreation and the historical integrity of that neighborhood. It's doing things like helping revitalize housing, redeveloping Midtown's business districts and promoting the artistic and cultural institutions in the area. (One cool thing about the area is the Memphis Brooks Museum of Art is right next to the Memphis Zoo).
We have organizations like that, too. Team JXN is supporting Friends of Smith Park's revitalization of the park in downtown Jackson. Midtown Partners works tirelessly to improve our own midtown neighborhood. West Jackson has a master plan for improving the neighborhood. Downtown Jackson Partners works to improve downtown. The Jackson City Council just gave 10 downtown bars resort status, which could be the beginning of a revitalization of both Farish Street and downtown.
People are working to improve Jackson, but from what I see happening sometimes in city council and even at the state level, it seems like everyone is hell bent on leaving Jackson with nothing. Local suburbanites see the city as a crime-ridden hellhole with nothing left, so many of them won't even step foot in the city limits, which means less money coming in. We have major issues with potholes and water quality and infrastructure. We don't have a lot of money.
But I believe in us. I believe in Jackson. I believe in the work all these organizations are doing. No, we aren't as big as Memphis. Jackson's total population is about 171,155, while Memphis' population is about 656,861, and our city is about one-third the size of Memphis. But we can improve what we have if the citizens, the city, even the state work together to make the necessary changes. Maybe instead of trolley lines, we could have a decent bus system and more sidewalks and bike lanes. The City could partner with artists to add more color to downtown and even south and west Jackson. None of these ideas is new, but we need to keep pushing for ones like them. No, the city won't improve overnight. But if everyone works together, maybe in 20 years we could have a city on par with Memphis.
Assistant Editor Amber Helsel enjoys music, art, food and food-related art. She can school you in a round of obscure "Harry Potter" trivia any day of the week, except Tuesday. She begrudgingly does CrossFit (though not all that begrudgingly). Email her feature-story ideas at [email protected]
More like this story
More stories by this author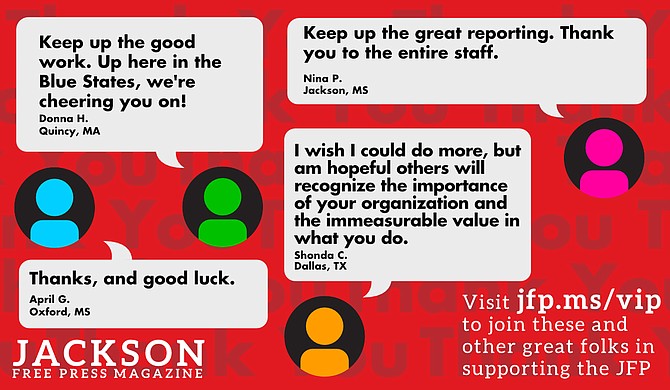 Thanks to all our new JFP VIPs!
COVID-19 has closed down the main sources of the JFP's revenue -- concerts, festivals, fundraisers, restaurants and bars. If everyone reading this article gives $5 or more, we should be able to continue publishing through the crisis. Please pay what you can to keep us reporting and publishing.