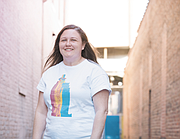 Up until the age of 16 (and except for a brief period when I lived in Leake County), I lived off a little street in Flowood called Jacquelyn Drive in a house that my grandfather built in the 1970s.
While there, friends literally surrounded me. My childhood friend Melanie and her sister Kristen lived next door, and the grandparents of my best friend, Lindsey, lived two houses down (also, her mom and aunt grew up with my mom), and Lindsey and her sister Taylor would often come play at my house.
I have a lot of memories from there, too. Off a driveway connected to my street's cul-de-sac, a Doberman pinscher once chased me on my bike (which is one reason I'm always a little hesitant around bigger dogs). Across the street, there was the daycare where my mom worked when she was younger, and where I went to preschool.
In my lifetime, the neighborhood even went through two floods within the course of two months.
There was always talk of having a block party, though I don't think it ever happened. But even without one, we were still a tight-knit community. I remember complaining sometimes that the neighborhood was too small, but sometimes, even now, I think of how much I'd love to go back to that place and back to that sense of camaraderie.
These days, the neighborhood is gone—blown up to make way for a hyperspace bypass. Just kidding. The state bought out most of the other houses on that street, including ours, for the Airport Parkway/Mississippi Highway 25 Connector Project, though right now, I'm not sure what's happening with that land. But whatever state it's in right now, the feeling of community has always stuck with me. That's probably part of the reason why I like to keep a close network of people and why I tend to thrive when I'm part of a team.
It's also why I love the sense of community that much of Jackson seems to have, and it may be what drew me toward the city and keeps pulling me in.
But sometimes, I do notice this weird disconnect between neighborhoods. Sometimes, each area seems to have its own sense of community, but only for itself instead of the whole area. It's like seeing a problem in small details but forgetting to look at the larger picture.
It's great to have a sense of pride in your neighborhood, but it's also important to remember that we're all part of one city. Fondren, midtown, Belhaven, downtown, north, south and west Jackson, Leftover and Eastover—all those neighborhoods are tiny pieces that make up a mid-sized city.
So that means that no matter how cool your individual neighborhood is, or how much you love it, it's still going to have the same infrastructure problems and other issues as the rest of the city. I've hit many a pothole on Mill Street near midtown, but I'm pretty sure a pothole in Fondren was the one that bent the rim of one of my tires. And ongoing construction on Capitol Street in downtown doesn't help anyone's tire situation.
When the waterpocalypse happened, the shut-off affected most of the city, not just south or west Jackson. When the Greater Jackson Arts Council was going to lose funding from the City, it wasn't just going to lose funding for one area. It was going to lose the ability to support the whole arts community. On the better side of that, when the Jackson City Council stayed until late at night to create a resolution against HB 1523, their decision affected Jackson, not just Fondren, Belhaven or downtown.
When neighborhoods have events, it's not often that the people who attend or the vendors are only from that specific area. People come from all over the city and metro area just to get a taste of what we have to offer and to take part in it.
It would be one thing if Jackson had enough funding and if the fire hydrants didn't have to constantly be opened to release water pressure, or if all the schools were properly funded or if the public transportation system wasn't so messed up.
Jackson doesn't have the luxury of having its sh*t together (then again, who does?). It's a beautiful city, but it has problems that can't be solved by saying, "Let's focus on this one area." If that's how you approach a problem—by fixating on smaller pieces—you're going to have a harder time seeing everything that's wrong. Sure, improve downtown, but don't forget that west and south Jackson need love, too.
What I liked about Fondren's First Thursday (rest in peace) is that even though it was in Fondren, people from all over the metro area flocked to it—even to the State Street Concert Series this month. I don't know what happened behind the scenes, or what bad blood there was, but I was saddened when I heard that, for the time being, FFT is cancelled. It was the highlight of my month, but luckily, I still regularly attend events such as Museum After Hours.
When I talked to Verge JXN Coordinating Producer Kristen Tordella-Williams for the cover story in the arts preview issue (see jfp.ms/verge2017), she talked about the importance of events such as Verge, and I think the same logic could be applied to FFT: "I think we need more (events like) that, especially today. More of a reason to come together despite any differences you might feel, more of a reason to see each other as more human. ... Matt (Holl) and I lovingly termed (Jackson) the Wild Wild West because basically you can do whatever you want if you can make it happen."
So no, I don't think events like Fondren's First Thursday are dead. If there's a need in the community, and I think there is, we'll make it happen. People in Jackson made the Mississippi Light Festival happen, and that was an incredible sight to behold (and also an extremely crowded one).
We make things happen in our neighborhood and Jackson every day. We just need to make sure that we're all striving for one ultimate goal: to make the city better. You can break a large problem into smaller, bite-sized pieces (a thing I am a fan of), but you can't forget to take a step back and look at the big picture.
Managing Editor Amber Helsel spends a lot of time laughing at her own jokes. She is a demolitions expert and Gemini who likes art, cats, anime, food, music and more. Email story ideas to [email protected].
More stories by this author
Support our reporting -- Become a JFP VIP.
The news business has changed dramatically in the past year, and we need your help more than ever to keep bringing you important stories about Jackson and the Metro. Become a JFP VIP with an annual membership or you can Sign up as a monthly supporter. Thanks for anything you can do to empower our journalism!