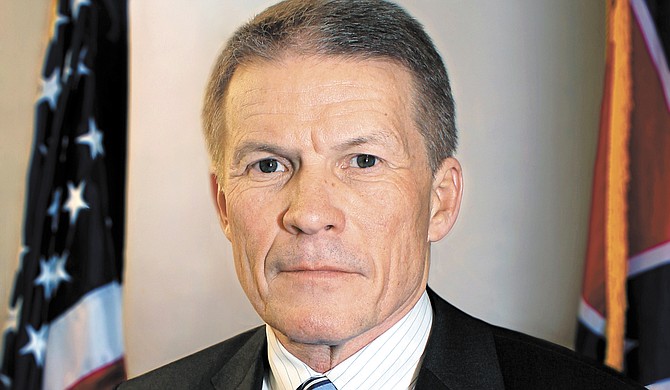 JACKSON — Former inmates could leave Mississippi prisons with dignity and be able to find jobs, U.S. District Judge Keith Starrett told the Mississippi House Corrections Committee last week. The advocate of drug courts and re-entry programs for former inmates said some of the reforms would not have fiscal consequences.
Starrett, a member of the Mississippi Re-entry Council, asked the committee to consider changing state law that takes away a person's driver's license if he or she fails to pay child support or fines. The Department of Public Safety can suspend a Mississippian's license if they are involved in a car accident with serious damage or loss of life or fail to pay child support. The state must revoke a license of anyone who commits manslaughter in a driving accident, commits a felony using a motor vehicle, has multiple DUIs or breaks the Uniformed Controlled Substance Act, among other convictions, the 2012 driver's manual from DPS shows.
Having a driver's license is a necessity, especially to find a job after returning to the community, Starrett said.
"Don't get me wrong, we want them to pay their child support or the fines ... but it's crucial to their long-term success that they have a job," Starrett said at the meeting last week. "If you take away the driver's license, you take away most of them's opportunity to get to work and have a meaningful job."
Starrett suggested expanding expungements—clearing criminal records—and banning the box many employers require applicants to check if they have prior convictions. One of his former law clerks, Starrett said, had committed a crime when he was 18, and after serving his time, his record was wiped clean, and he was able to apply for law school.
After graduating from Duke Law School, Starrett said, the young man clerked for him and now is a successful lawyer in another state. Expungements would also enable former inmates to receive medical or nursing licenses.
Banning the Box?
The state's re-entry council is asking the Legislature to consider a "ban the box" measure. Banning the box, Starrett admitted was "controversial," but he said it worked.
"'Ban the box' doesn't mean you have to hire felons; 'ban the box' only means that you will give that person an opportunity for an interview," he said. "Don't write them off before they ever have a chance at an interview."
The "ban the box" movement was intended to give formerly incarcerated Americans a chance at finding a job after leaving the corrections system, at least allowing a chance at an interview (but not necessarily precluding them from a background check).
Research shows that jobs and employment can keep formerly incarcerated people from re-offending, and two recent studies show that increasing the availability of jobs for former offenders could reduce recidivism rates.
In the U.S., federal employment applications do not have the "box" because President Barack Obama banned them. Neighboring states have also banned the box on state employment applications.
Two 2016 studies show that "ban the box" policies might lead to discriminatory practices in hiring, however.
One from the University of Michigan found that "BTB may open doors to some applicants with records, but this gain comes at the expense of another group that faces serious employment challenges: black men."
That is, without the box, the study indicates that some employers might then eliminate black men from consideration altogether, giving "a clear advantage (to) white applicants who receive 23 percent more callbacks compared to otherwise identical black applicants."
The study says this unintended consequence of the policies, implemented at local, state and federal levels around the country, does not mean the BTB policies won't work. "[E]ven if ("Ban the Box") increases racial discrimination by employers, it does not necessarily follow that it will increase racial disparity in employment on balance," University of Michigan researchers wrote in their June 2016 study.
Researchers suggest that policymakers consider banning the box policies in accordance with other interventions in order to reverse the adverse effects against primarily young men of color.
"Race-based statistical discrimination in hiring is unlawful, and if the hiring discrimination laws were effectively enforced or operated as an effective deterrent, BTB could not have this unintended consequence," the Michigan study reported.
Changing the state's license-suspension laws or adding a "ban the box" policy would not cost the State money, while other reforms like building a skilled nursing facility for elderly parolees would. The State would need to pay to expand mental-health programs for inmates as well as repurposing an old facility for aging inmates to use as a skilled nursing facility in the future.
"It's time to reinvest. (House Bill) 585 is not being funded totally," Starrett said last week. "(It is) a good piece of legislation—it's well-written, we just need to use it and make sure that all the things that are required for re-entry are fully funded."
Reinvestment Necessary
The state's corrections department, the parole board, and its several task forces and committees all agree that Mississippi's corrections system needs to reinvest in reforms, sooner versus later. Those groups are still working to enforce and implement the state's massive criminal-justice reform bill passed in 2015, and on Dec. 12, they met to discuss the progress and what can happen in the 2017 legislative session. In past years, the Mississippi Department of Corrections has saved money by diverting nonviolent offenders, among other practices.
Gov. Phil Bryant's budget recommendation says MDOC has saved nearly $23 million "by eliminating reimbursements to counties for housing inmates in joint state-county work programs, renegotiating contracts for a lower per diem per inmate at regional facilities, reducing the state inmate population at regional facilities, rebidding food and medical contracts, closing Walnut Grove Correctional Facility and refinancing debt associated with privately operated prisons."
Now, MDOC could reinvest that money in community corrections, which might include ideas discussed at the Dec. 12 meeting, such as an expanded technical violation center and expanding mental health, drug and re-entry courts statewide. MDOC Commissioner Marshall Fisher supports the reforms.
"I think this state is in dire need of re-entry courts and mental-health courts," he told the committee on Dec. 12.
Of course, these reforms will cost the state money up front—a challenge in a tight budget year. The Joint Legislative Budget Committee's budget recommendation cuts $10.8 million from the MDOC's budget for fiscal-year 2018. The governor's budget recommendation recommends budget cuts of half that much.
Rep. Bill Kinkade, R-Byhalia, who chairs the House Corrections Committee and called the Dec. 12 meeting, agrees that House Bill 585 is not complete, saying the State needs to continue to work on implementing community corrections statewide.
"The point made here is that these recommendations and suggestions and discussions are cost-saving measures," he told the Jackson Free Press.
"And we save money, but we need to reinvest it into community corrections in these programs."
Read related coverage at jfp.ms/preventingviolence.
More stories by this author
Support our reporting -- Follow the MFP.