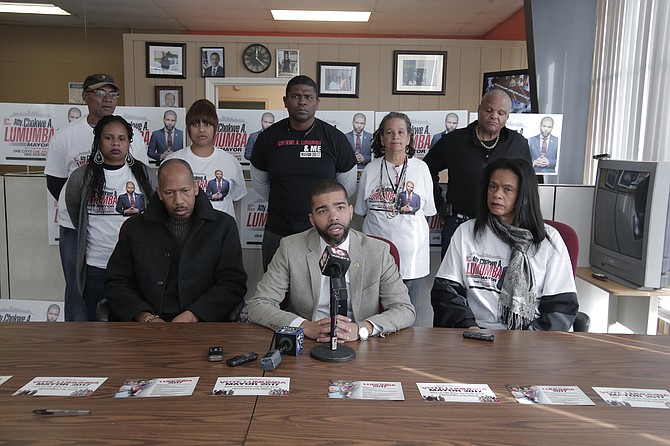 JACKSON — The Jackson mayoral race begins at the end of December, but already there are shenanigans with the candidates' and potential candidates' websites.
"It was brought to our attention that there were two websites for two candidates that were created (using the text) 'formayor.com,'" mayoral candidate Chokwe Antar Lumumba said at a press conference held on Dec. 8 at his campaign headquarters on Medgar-Evers Boulevard. "It redirected them to our actual page, giving the impression that we were intentionally redirecting to our website."
At the beginning of the week, Lumumba, a local attorney, said that he did not have part in any of the fake websites for Hinds County Supervisor Robert Graham and Mississippi State Sen. John Horhn, D-Jackson, that redirected back to Lumumba's website. The websites were RobertGrahamforMayor.com and JohnHorhnforMayor.com.
"I want to be very clear. At no time have we ever participated in any dirty or deceptive dirty politics," Lumumba said. "Nor will we ever. We do not believe that that is what will move Jackson forward, nor do we believe that's what the people of Jackson appreciate."
The candidate said that the websites are now the subject of an investigation by his campaign, which includes contacting the Federal Communications Commission and state agencies. He says the redirects to his website are an opportunity to "smear" his campaign.
"We did not create these websites, so it is a grave concern," Lumumba said.
The websites, which were bought anonymously, Lumumba said, have since been shut down. The Jackson Free Press did not see or capture any copies of the website.
Akil Bakari, a member of the Lumumba campaign's coordinating committee, said that he was unsure if it was just a redirect or even if the hosting service connected to the websites, GoDaddy.com, was the original source of the redirects. For an additional price, the hosting website offers the ability to keep ownership of a domain or website private. He said that the uniform resource locator, or URL (the address for a website), did not lead to a unique website but simply redirected the user to Lumumba's site.
"These are URLs, but I don't know if I got the information after something changed, but the URLs were not tied to a website. You just clicked and they redirected. That's all it was. Nobody created a site," Bakari said, adding that the committee is not even certain if GoDaddy was the source of what could be a chain of such redirects.
When asked whether it was possible that someone in the structure of the campaign was responsible, Lumumba said that someone who believed in his principles would not participate in such activity.
He did explain that the Lumumba campaign continues the structure of the late Mayor Chokwe Lumumba's campaign, including the committee-style leadership instead of a more traditional style with a campaign manager. He said that co-coordinators Rukia Lumumba and Hondo Lumumba ran the day-to-day operations of the Antar Lumumba campaign.
The committee members for the campaign at the moment include Lumumba, former interim public works director Willie Bell, the two co-coordinators, Mikea Kambui, and of course, Bakari himself. Each helps with the campaign in different ways, and not all of them are involved in the day-to-day affairs.
"As we sought the mayoral office (under the senior Lumumba) we used this same model," Bakari said.
The fake websites annoy Hinds County Supervisor Robert Graham.
"To me it's just silliness, and I'm not going to get involved in that," Graham said in an interview on Dec. 8 before Lumumba's press conference. "There are too many issues in this campaign to be dealing with little pettiness like that. I am working on putting together a plan to make Jackson a better place to live."
Graham said he couldn't guess who could stand to gain from such a situation.
"And I don't really even consider it an issue; I'm just finished with it," he said.
Lumumba said at the press conference that he had not spoken with any of the other candidates about the websites.
Sen. John Horhn, who has not yet formally announced his intentions to run for mayor, did not return phone calls about the fake websites by press time.
Email city reporter Tim Summers Jr. at [email protected]. See more local news at jfp.ms/localnews.
More like this story