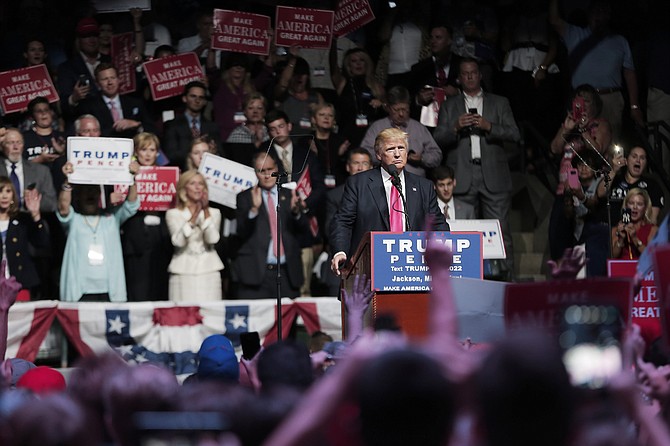 JACKSON — The Republican presidential nominee, Donald J. Trump, visited the capital of the Magnolia State on Wednesday night—first for a private fundraiser at the convention center, then for a rally at the Mississippi Coliseum where he talked mostly about race and immigration—and got one fact about African American teenagers dramatically wrong.
Mississippians from all over the state gathered to hear Trump speak, but the crowd did not reflect the state's demographics—based on crowd observations before the lights went down, over 90 percent of the crowd was white.
Rev. Mark Burns, an African American pastor featured at the Republican National Convention who had never been to Mississippi before, opened the rally. Gov. Phil Bryant then took the stage with former New York Mayor Rudy Giuliani and U.S. Sen. Jeff Sessions from Alabama to introduce Trump.
"The man that we have waited for, the man that all America is waiting for to make us great again, ladies and gentlemen, the next president of the United States, Donald J. Trump!" Gov. Phil Bryant yelled to introduce Trump, who slowly made his way to the podium, as the song "Proud to be an American" blared.
Trump focused his speech on connecting "Brexit"—Britain's recent vote to leave the European Union—to his campaign, nailing down his immigration policy, and addressing bigotry and the plight of "inner-cities" in America.
British "Brexit" advocate and former leader of the UK Independence Party, Nigel Farage, spoke at the rally in Jackson, encouraging Mississippians to take advantage of the opportunity to beat the "Establishment" in this year's presidential election.
"We reached those people who have never voted in their lives but believe that by going out and voting for Brexit they could take back control of their country, take back control of their borders, and get back their pride and self-respect," Farage told the crowd in Jackson.
Farage and Trump both implied that a vote for Trump was equivalent to a vote for "Leave" in Brexit.
"My advice to you is if you want change in this country, you better get your walking boots on," Farage said. "You better get out there campaigning and remember anything is possible if enough decent people are prepared to stand up against the establishment."
One of the main criticisms of the British "Brexit" from those who wished to remain in the European Union was its attempt to stem immigration into the United Kingdom. The new prime minister, Theresa May, has said that one of her big takeaways from the "Leave" vote is that the Brits wish to see "a reduction in immigration," the BBC reports. This sentiment fits well with the exclusionary immigration policies Trump has pushed throughout his campaign, including building a wall between the U.S. and Mexico.
Trump said in Jackson that his immigration policy must pass three tests. First, he said, it must improve jobs and wages for United States citizens, and then it must improve the safety and security for those citizens as well. Thirdly, Trump said his immigration policy will improve the quality of life for Americans.
"Hillary Clinton only talks about the separation of families who choose to come here illegally, (but) I want to focus on the American families who've been permanently separated from their children because of the sanctuary cities and open borders that Hillary Clinton so strongly supports," Trump said Wednesday. "Where is the sanctuary for American children; where is that sanctuary?"
No cities in Mississippi are technically called "sanctuary cities," but several cities—including Jackson—have adopted policies that tell police officers to not inquire about a person's immigration status.
Trump said he would make it his personal mission to "bring safety and prosperity to our very, very troubled inner-cities" in America, referring to majority-black urban communities.
"The Democratic Party has failed and betrayed the African American community," he said. "Democratic crime policies, education policies and economic policies have produced only more crime, more broken homes and more poverty than we've ever had in those communities before."
Trump cited statistics about crime and poverty, pointing to how those policies affect the African Americans in the country.
"Nearly four in 10 African American children live in poverty. Fifty-nine percent of African American youth are not working," he said. "More than 2,700 people have been shot in Chicago since the beginning of this year alone."
The statistic about unemployed black youth, however, is dramatically overstated, however. The Bureau of Labor Statistics shows that, as of July, only 25 percent of African American youth age 16 to 19 years old are unemployed, and 14.2 percent of white teenagers of the same age are not working. Trump did not offer solutions to this unemployment of young people other than cutting taxes.
In the past, Trump has shared dramatically inaccurate statistics about African American crime.
Trump said that the Democratic Party had taken the African American support for its party for granted and done nothing in return.
"They've just assumed they'll get your support, and they've done nothing—absolutely nothing—to deserve it," Trump said. "It's time to give the Democrats some competition for African American votes and for Hispanic votes. It's time to rebuild the inner cities of American and do it properly."
Trump accused Clinton of doing nothing to deserve African American and Hispanic votes as well. "Hillary Clinton is a bigot who sees people of color only as votes—not as human beings worthy of a better future," Trump said. "She's going to do nothing for African Americans; she's going to do nothing for the Hispanics."
Trump addressed national security, explaining that he will directly confront "the hateful ideology of radical Islam" if he is elected president. He also said he would be the "Jobs President" and mentioned cutting taxes more than once. Trump is leading Clinton in Mississippi polls, FiveThirtyEight analyses show, while national polls still favor Clinton to win overall.
Email state reporter Arielle Dreher at [email protected] and follow her on Twitter at @arielle_amara.
More stories by this author
Support our reporting -- Follow the MFP.