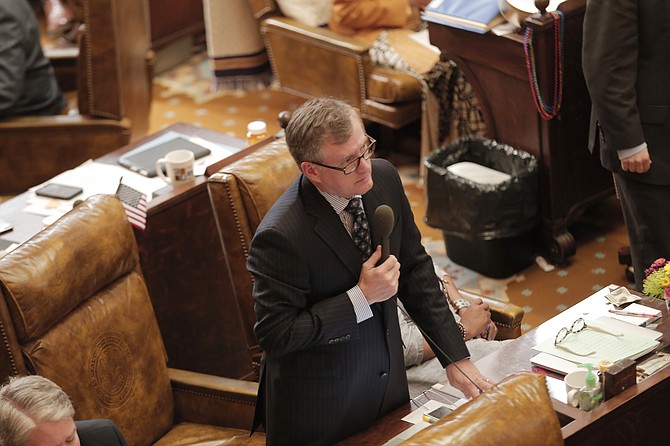 JACKSON — Uber has the green light to operate statewide, after a bill implementing statewide regulations soared through the Legislature this session largely uncontested. The new transportation network company bill will override all municipality ordinances used to regulate Uber or other digital ridesharing services on July 1, when it becomes law.
The City of Jackson passed an ordinance earlier this year that regulated ridesharing services while ensuring the city's ability to monitor such companies, requiring additional screening and background checks.
Jackson Ward 1 Councilman Melvin Priester Jr. pushed for the ordinance early in 2016, and the City came to an agreement with Uber back then. House Bill 1381 will override that ordinance, stating counties or municipalities are not allowed to impose taxes on or require licenses for transportation network companies.
After the bill became law in April, Priester said he was disappointed.
"I think municipalities are the better source of regulation for this because we are more on the ground so we are better able to know whether or not drivers are acting safely or know whether or not they are acting in a discriminatory matter," he said.
Jackson's ordinance required Uber to pay registration fees similar to what the state law requires them to pay, but the City has already removed its Uber ordinance from their municipal law code since House Bill 1381 became law.
Loss of Local Control
In other Mississippi cities, like Oxford and along the coast, Uber left or was never allowed to operate. In a press release, Uber stated that "onerous rules" made it near impossible for the company to operate, and in July 2015, Uber ceased operations in Gulfport and Biloxi.
Rep. Jay Hughes, D-Oxford, who voted against the House version of the bill (which the governor has signed), was an alderman in Oxford when Uber came to town. Hughes said the city's leadership was asked to change local laws and treat Uber differently than other people who transport people from one place to another. Oxford chose not to accommodate Uber.
Oxford's local taxicab laws require drivers to carry a commercial driver's license; a public, government-run background check on drivers; and video cameras in each vehicle. None of these provisions are in new state law—except background checks, which "a transportation network company shall conduct, or have a third party conduct."
Hughes said he has used Uber in other cities but had a major problem with how a company could come into a city and try to usurp the laws put in place by the city itself.
"The reason I had the toughest problem with it is the fact that a single company used its money and passed a law that invalidated every single city's laws in the state that applied to everyone else, so they use their money to find a way to be special," Hughes said of the bill, which passed this session.
How the new law will interact with local taxicab ordinances will only become clear with time, but it distinguishes transportation network companies as separate from taxicab companies operating in the state.
Mike Hurst, director of the Mississippi Justice Institute at the Mississippi Center for Public Policy, is representing two taxicab drivers in a lawsuit against the City of Jackson for "anti-competitive" taxicab regulations.
Hurst said the interaction between the new state law and local taxicab ordinances could have several results.
"You might have some folks saying it's not fair or unconstitutional to regulate the same service differently, and I think you're definitely going to have some localities in a bind because they have prohibited Uber," Hurst said. "... At the end of the day they are the same type of service. ... I mean that you can't regulate the same service differently, so I think we're going to have a conflict."
Uber maintains that they are different from taxicab companies, however, and their drivers are considered "independent contractors." In settled federal lawsuits, Uber paid their drivers in Massachusetts and California $84 million to stay classified as "independent contractors" and not employees of the company, the Los Angeles Times reported.
'Won't Let Them Dictate to Us'
Gov. Phil Bryant signed House Bill 1381 into law April 4, and while it does not go into effect until July, the Department of Insurance has some work to do before Uber can launch statewide into previously untapped markets (Uber service in Jackson will continue). The bill designates the Department of Insurance to be the main regulator of Uber and any other transportation network company wanting to enter the state.
Mark Haire, the deputy commissioner of insurance, says that his department will control the licensing process for any digital ridesharing network companies.
Step one is developing regulations.
"We've already begun work, but we'll be establishing those regulations for a licensing process," Haire told the Jackson Free Press. "We'll have to create those regulations—a lot of the substance of the regulations will reflect what's in the bill, but we'll have to flesh that out a bit."
Once the Department of Insurance completes its regulations, transportation network companies will have the opportunity to comment on the proposed regulations before they are finalized.
"We won't let them dictate to us what we draft initially," Haire said. "They certainly will have ample opportunity to comment and to tell us any concerns with our proposed regulations."
Uber praised the bill's passage, and in an emailed statement spokesman Bill Gibbons said, "Uber looks forward to bringing more access to safe, reliable transportation options and flexible work opportunities to more communities throughout the state."
The Department of Insurance will be able to audit transportation network companies on an annual basis; those audits and examinations of transportation network companies are exempt from the Mississippi Public Records Act, however.
The bill also authorizes the department to inspect records in response to complaints in order to investigate and resolve them.
Uber or any other transportation network company will have to pay an annual fee of $5,000 to the Department of Insurance to operate in the state, a lower fee than recent laws enacted in New Mexico or Maine required. Those states require a transportation network company to pay a $10,000 annual fee.
The law forces transportation network companies to adopt "zero tolerance" policies for network drivers using drugs and alcohol while providing services. Additionally, the law forces companies to adopt "a policy of nondiscrimination," but provides little detail about what should go into such policies.
Under the law, drivers must be at least 19 years old, cannot accept street hails and do not accept cash payments for rides.
Mississippi will become the 29th state to adopt Uber-friendly regulations, although similar measures drew a lot more debate in other statehouses. In 2015, Kansas Gov. Sam Brownback vetoed that Legislature's bill, which required a background check by the Kansas Bureau of Investigation for Uber drivers, writing that "the ride-sharing industry believes the background requirement as currently written, weakens rather than strengthens, the level of scrutiny placed on its potential drivers."
 The Kansas Legislature overrode the governor's veto, and Uber left Kansas—until a compromise bill passed, which is similar to Mississippi's, the Wichita Eagle reported.
In Missouri, Uber reached a deal with Kansas City in April to operate there, but the company is now back at the state's capitol pushing for statewide regulations. The Kansas City Star reported that Uber has hired 11 lobbyists for its current session. In Mississippi, Uber hired five lobbyists in 2016, the secretary of state's website shows.
Thus far, the Department of Insurance does not know how much time or resources the requirements of the law will impose on their department.
"We can't anticipate how much the department's resources will be demanded for this, but we'll know after we get started, but I wouldn't say that we don't have concerns—this is an added responsibility," Haire said.
Additional reporting by Tim Summers Jr. For more state coverage, visit jfp.ms/state. Email Arielle Dreher at [email protected] and follow her on Twitter @arielle_amara.
More stories by this author
Support our reporting -- Follow the MFP.