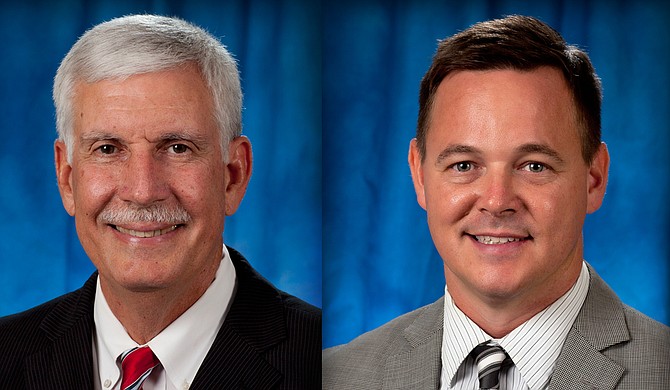 Dr. Jason Scott Dean of Madison and Arthur Edward "Buddy" Bailey of Brandon both received the Senate Education Committee's blessing for their appointment to the Mississippi Board of Education this Monday.
Dean received his PhD in education from the University of Mississippi in 2003 and went on to serve as education policy adviser to former Gov. Haley Barbour. He later served as a White House Fellow in the Department of Education under then-Secretary of Education Margaret Spellings. Now, Dean works as vice president of business development at Tenax Aerospace in Ridgeland. He says he's impressed with the level of professionalism of the Mississippi Department of Education, and their commitment and knowledge.
"Let's not kid ourselves—we have challenges as a state," Dean said regarding the state's efforts to improve its educational system. "But when you have a team embracing those challenges, then it's worth the effort."
"It's not just the Mississippi Department of Education, or the Senate," Dean continued. "It's parents and citizens without children, and with leadership with the Mississippi Department of Education."
Bailey has worked in education for 36 years. He has served as principal of the consistently high-performing Brandon High School since 2008 and earned the honor of Rankin County's Principal of the Year for the 2014-2015 school year. He now serves as the assistant superintendent of the Rankin County School District. Bailey says he believes that education is the future, and that he believes Mississippi can change the future of America, through public education especially. He says he's humbled to be a part of the State Board of Education.
"It's important to hear from all stakeholders related to moving education forward in Mississippi," Bailey said.
He also said it's important to look to "solve real-time problems."
"In the state of Mississippi, we measure ourselves not only by state standards, but also by national standards," Bailey said. "It's important to move forward on both fronts."
The nine-member Mississippi Board of Education oversees the Mississippi Department of Education. Its responsibilities include appointing the state superintendent. Under Mississippi law, the governor appoints one member from each of the state's Supreme Court Districts, and a member employed as a school administrator and public school teacher. The lieutenant governor appoints two members at large.
Senate Education Committee Chairman Sen. Gray Tollison, R-Oxford, asked both men if they had any past dealings that could potentially embarrass either Lt. Gov Tate Reeves or Gov Phil Bryant who appointed them. Their appointments started six months ago, with Bailey filling the spot of administrator representative following the resignation of former Board member Richard Morrison. Dean fulfills a role as a member at-large.
With the Senate Education Committee's consent, their appointments will be officially confirmed pending the majority vote of the Senate.
Correction: A previous version of this story called Arthur Bailey, Edward Bailey, and said he was a principal and not the assistant superintendent. We apologize for the error.
Sierra Mannie is an education reporting fellow for the Jackson Free Press and The Hechinger Report. Email her at [email protected]. Visit jfp.ms/education.
Support our reporting -- Follow the MFP.