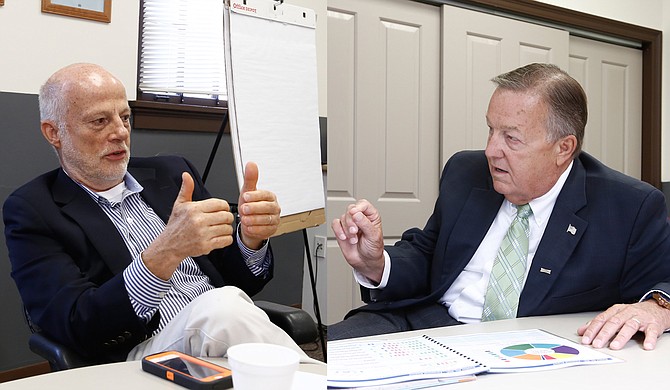 Where have you been living?"
Stan pointed out the McDonald's window to a red sedan sitting in the parking lot.
"How long have you been living in your car?"
"Since January," he said.
Stan, who asked that his real name not be used, is a U.S. veteran of the Cold War occupation days. He served in the Army from 1984 to 1988, mainly in non-combat zones in East Germany before the Berlin Wall came down. He served for four years and was honorably discharged.
"I should have stayed in," he said. "I rose quickly."
When he returned to the United States, Stan worked mainly in construction material sales, taking college courses for two years but never finishing a degree. Finding work had never been a challenge for the Memphis native, but when he was fired from his job in Canton this January, Stan had no way to pay the bills and had to leave his home—opting to live in his car.
He had never been homeless before, and only recently reached out to the U.S. Department of Housing and Urban Development to apply for a housing grant for veterans. Stan never needed to reach out to the U.S. Department of Veterans Affairs for services beyond health insurance, and his HUD case manager suggested that he call the group Soldier On to receive additional financial support beyond the housing expenses that the HUD Veteran voucher can cover.
Soldier On is a program to help veterans re-establish their lives through housing and other services. The Mississippi partner of the Massachusetts-based nonprofit is run through Voice of Calvary Ministries.
Stan is one of the luckier ones, his Soldier On caseworker Kim Wiggins said. Wiggins said most veterans she meets with are in worse shape than he is—struggling with substance abuse or mental-health issues.
"Some (veterans) have no structure and no sense of direction," she said. "Not because (they) don't know, but because (they've) not been taught."
Wiggins explained that a lot of younger veterans have been in situations where they are given instructions and told what to do their whole lives, and when they come home, the challenges can stack up against them in a sometimes unforgiving society.

He Just Wants a Job
Veteran homelessness is a state and nation-wide problem serviced through federal and nonprofit programs. Soldier On partnered with Voice of Calvary Ministries in Jackson in 2011 to bring services to Mississippi veterans. Recently, Soldier On received additional funding from the Supportive Services for Veteran Families, or SSFV, grant.
Wiggins met with Stan recently at the Jackson metro McDonald's to go through the intake process. Through Soldier On, Stan can qualify to receive 90 days' worth of assistance paying for bills, finding a job and getting back on his feet.
Stan qualified for a veteran's housing voucher through HUD, and he actually has a case manager through their program. He does not receive any benefits from the Veterans Administration, however, and he can use Soldier On funding to help with his security deposit on a new place, paying for outstanding bills from his last residence, electric and water bills, and other expenses that his HUD voucher won't cover.
Additionally, Soldier On provides career and job connections—Wiggins gave Stan the contact number of a career counselor at Voice of Calvary who can help him find employment and get back on his feet financially.
Wiggins' manager and the administration in Massachusetts must approve Stan's Soldier On application before he gets the go-ahead. Once he is approved, Stan will be able to afford to find a place and move in quickly, as soon as HUD approves his choice of residence.
Stan finds it difficult to go to soup kitchens or other places where he can get a free meal because he doesn't see himself as in need as others. "Leave that for somebody who really needs it," he said. Really, what Stan wants and needs is a job.
Before Wiggins left, she handed Stan a card with her co-worker's number on it—the one in the office who she insists will be able to help Stan find a job, maybe a temporary one at first but eventually a better one too.
A Mobile Approach
Soldier On was established as a housing solution for homeless veterans. CEO John Downing started the organization after working with the prison population and those who struggled with substance abuse for years, realizing that a lot of those he worked with were veterans returning home from war with nowhere to go and limited resources for help.
Downing opened the first Soldier On shelter in 2001. Now an entire permanent housing community has opened in Pittsfield, Mass., where veterans own their own apartments, in a community with other veterans.
Soldier On also provides temporary financial assistance, like paying for rent or utilities, without the restrictions that some federal assistance programs put in place. They can provide health care, transportation, legal assistance and other support services that are sometimes overlooked for veterans. The goal is for veterans to use Soldier On services in the interim time so that they can find established housing and a job, or receive the health care and services they need.
Soldier On's model does not run out of an office; a mobile workforce is the key to their success, Downing said, because the staff goes to them. The goal would be for caseworkers to touch base with their clients two to three times a week.
Downing said the model works better for veterans who might not have a home or car, let alone a driver's license. The model eliminates the intimidating process of walking into an office, the dehumanization of admitting you need help by walking through a door and asking for forms to fill out.
Wiggins' office consists of two large messenger bags that she brings into McDonald's to meet with Stan. One holds a laptop, scanner, wireless hotspot, and other cords and chargers to support a completely mobile operation.
The other bag holds files, and the various forms she walks her potential clients through. The computer and mobile scanner stay in her other bag throughout the initial consultation, until the end when she scans Stan's VA card, so she can enter him into the Soldier On database system.
It takes about an hour to go through the paperwork with Stan before Wiggins enters his information in the online database.
Veterans are referred to Soldier On through their case managers, like Stan, or through a hotline they call in Massachusetts. The hotline will route the referral to the Voice of Calvary takes cases from anywhere in the state, so caseworkers do a lot of driving.
Downing said, ideally, a case manager could handle 50 to 70 veterans at a time. Wiggins' caseload looks a bit different. She feels overwhelmed with the 35 cases she has currently, and she said she prefers lower numbers.
Soldier On recently received $2 million to give to its Mississippi partner, Voice of Calvary, from the SSFV Grant.
There are 57,849 homeless and 23,154 unsheltered veterans in the U.S., according to the 2013 annual HUD homeless assessment report. In Mississippi, there are 220,389 veterans, about 600 to 700 of whom are homeless at some point during the year, Continuum of Care partners say.
The actual number of homeless veterans fluctuates, depending on the time of year. Several other programs serve homeless veterans in the state as well, including MUTEH Inc., Oak Arbor and Partners to End Homelessness.
Voice of Calvary CEO Phil Reed is working to offer transitional and permanent housing for veterans beyond the current services they offer within the next couple years through the Soldier On program in Jackson.
Comment at jfp.ms/soldieron. Email Arielle Dreher at [email protected].
More stories by this author
Support our reporting -- Follow the MFP.