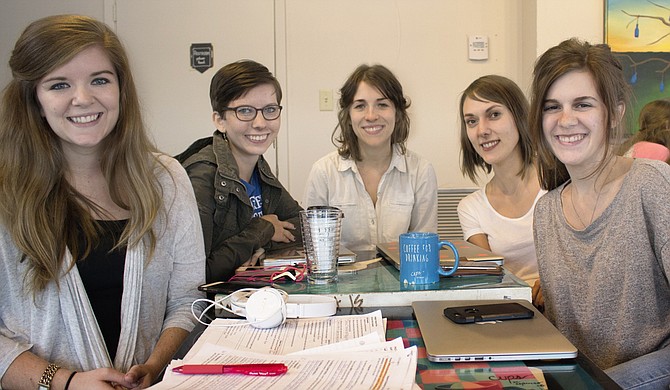 Under most circumstances, one would be correct in assuming that life-changing movements don't begin with a puppet show. Then, there's the team at Big House Books, a Jackson nonprofit that grants book requests for inmates across the state of Mississippi.
Organizers Kelli Gann, Olivia Cote and Katy Morgan, who are all public school teachers, and Shelby Parsons trace the origin of Big House to a local performance from Carrboro, N.C.-based troupe The Mysterious Rabbit Puppet Army in December 2014. In conjunction with Chapel Hill, N.C. nonprofit Prison Books Collective, the show explained the history and problems of mass incarceration. At the end of the act, there was a catch.
"They had been filling requests from prisoners who needed books in Mississippi, and they were no longer able to do it because of the volume," Parsons says. "So they were hoping for someone start a group in Mississippi to take care of that request."
She, Gann, Cote and Morgan, along with about five other people, offered to lend a hand, but as it became obvious that launching the project wouldn't be a simple undertaking, the number of volunteers declined. Kelsey Kitch, who hadn't attended the performance, joined the group about a month after its initial meeting. "Olivia Cote was like, 'Hey, we're recording all the requests of these prisoners,' because we inherited 600 requests from prisoners across the state, so we were just logging what prison they were at, what they were requesting and things like that," Kitch says.
The five of them started meeting at Cups Espresso Cafe in Fondren every Sunday to log the inmates' information and match it with their requests. After completing the log in March, the group began the logistics work: applying for nonprofit status, calculating the financial needs and determining what they would be allowed to send, as Mississippi prohibits things like hardback and spiral-bound books. Luckily, they found that a smaller team was an asset during that stage.
"When we were having these meetings with a lot of people, we were like, 'This is going to be really hard,'" Parsons says. "Now that it's just a few people who work really well together, it's helped us find a direction and go with it instead of getting lost in the possibilities."
In September, Big House started taking book donations and launched a fundraising campaign, asking for $800 to assist with renting a P.O. box and central space for storing books, and met its goal in only a few days. Going forward, the team's sustaining goal of $450 per month will allow them to send out 100 packages each month with about three to five books in each package. "The prisoners, at least reading their letters, are extremely appreciative," Parsons says. "We really enjoy going through them because it's everything they look forward to. So it's tough that they've been waiting this long for these to come."
It's a service more important than many people know, the team says. Whereas a prison library is seen as a privilege that can be taken away as punishment, the books an inmate can keep in his or her cell are personal items. These can improve the odds once someone is out of prison, as well.
"There are some people who want legal materials to know their rights, and there are some people who want to learn a skill," Gann says. "A ton of people have requested GED materials. A lot of people are trying to make themselves better, trying to get it to where, when they are released, they have more knowledge than when they came in."
While the main objective is simply to get books to inmates as soon as possible, Big House Books' ambition is ultimately to inspire a greater change in the prison system.
"We don't want to just forget about the people who are in prison," Parsons says. "We don't think that's an appropriate way to deal with people who do something that's considered wrong. ... It really doesn't help anyone. It's just easier, and it's profit-motivated. We think that prison reform is a big idea, and this is only one piece of that we can kind of touch on. But it's also just a personal way to do it."
For more information, find Big House Books on Facebook.
More stories by this author
Support our reporting -- Follow the MFP.