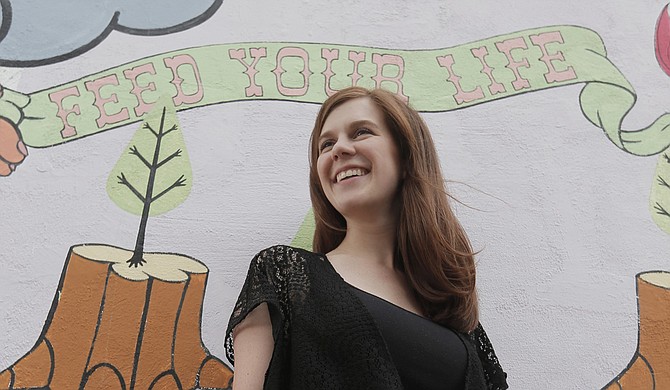 Mississippi may be getting a bad rap right now, but that doesn't stop people like Kelsey Kitch from doing everything they can to promote the state.
Kitch, 24, is a digital media coordinator at Visit Mississippi. The Gulfport native moved to Clinton six and a half years ago to attend Mississippi College and then to Jackson during her senior year in 2013. She received a bachelor's degree in communications in 2014.
"(This area) is different from the coast, but this is where I've become an adult, I guess, so it's kind of become my city," she says.
Kitch says she took a lot of writing courses in her first year at MC but ultimately decided to get a communications degree because she felt it would be more marketable than an English degree, and she likes writing non-fiction.
"(Writing) helps you think out why you think things," she says. "It forces you to think through an issue or a topic."
After graduation, Kitch started as a public-relations strategist at The Cirlot Agency. She worked there for about a year and a half before starting her position at Visit Mississippi.
"I wanted to hone in and be a little more specific with my skills and focus on the digital realm," she says. "(Visit Mississippi) is more centralized. ... Now, I just focus on marketing Mississippi as a destination. It's a little easier to keep focused on what your task is at hand, and there's a lot to market and promote."
Even through the current political environment, she says that Mississippi is still a great state and a wonderful place to visit.
"There are a lot of great people here, and we have a lot of great stuff to come and see," she says. "We're aware of the legislation and things that are happening, but we're still trying to promote the best parts of Mississippi and the people and how great our state is, and kind of showing some of the unknown or showcasing the people and diversity in different ways."
As a digital media coordinator, Kitch handles a variety of tasks in relation to social media, blogging, digital advertising and photography when she travels to different communities around the state. Before her job at the organization, she says she hadn't had much of a chance to explore north Mississippi. She says it's been fun to learn more about places such as the Delta, Oxford and Corinth, and help communities promote themselves.
Her favorite place she has visited is Water Valley. She likes to crochet, and the city has a textile shop, YaloRUN Textiles, where people can attend quilting workshops and dye their own yarn and fabric. She also named Yalobusha Brewing Company and The B.T.C. Old Fashioned Grocery as reasons she likes the city.
When she's not working or crocheting, she enjoys traveling and helping out with the nonprofit Big House Books, which sends books to prisoners in Mississippi.
More like this story
More stories by this author