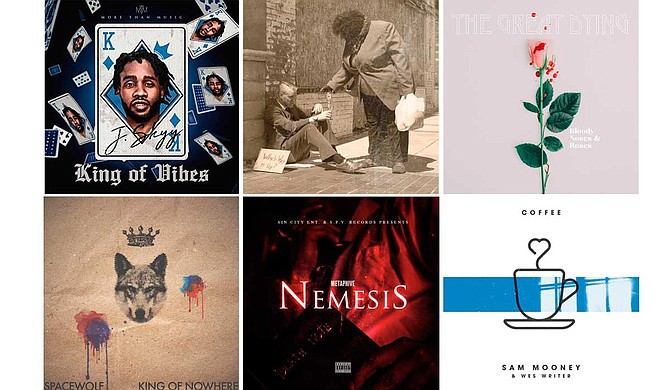 Mississippi has some incredible musical roots, but the state often does not get enough attention for its current crop of original music, oddly. To help remedy that, we at the Jackson Free Press put together a list of new releases from Mississippi artists in 2018. Find "The Mississippi Sound—2018 Edition" playlist on Spotify, featuring popular tracks from many of these artists.
5th Child—"Which Way Is Up" [album]
Amy Lott—"Hope" [single]
Andi Cotten—"Tinted Blue" [single]
Andrew Tomlinson—"Sweet Surrender" [album]
Arey Hill—"Writing My Story" [EP]
Ben Ford—"Next to Me" [single]
Ben Ricketts—"A Useful Garden"/"Between Teeth" [single]
Big K.R.I.T.—"TRIFECTA" [EP]
Bishop Gunn—"Natchez" [album]
Blanket Swimming—
"Open Colour" [album]
Brandon Mitchell & S.W.A.P.—"Amazing" 
[album]
Cedric Burnside—"Benton County Relic" [album]
Chad Wesley—"Bluezy" [album]
Cody Rogers—"My Heart Is the Most Lonesome Rodeo" [album]
Dear Silas—"The Last 
Cherry Blossom" [album]
Dolla Black—"Still Black" [album]
Eden Brent—"An Eden Brent Christmas with Bob Dowell" [album]
Empty Atlas—"Short 
Fiction" [single]
Eric Stracener and the Frustrations—"Levee" 
[album]
Goth Dad—"She Doesn't Need You" [single]
The Great Dying—"Bloody Noses & Roses" [album]
Him Horrison—"Fame" [single]
Hood Baby and the Barnacles—"The Hood Baby" [EP]
J. Skyy—"King of Vibes" [album]
Jarekus Singleton—"The Bridge, Pt. 1" [album]
Jason Turner—"In Honor of Number 8" [EP]
Jonte—"Nookie Thang" [single]
JSCO—"Chasing the Sun" [single]
Judson Wright—"Losing Anxiety" [single]
Kicking—"Us Against" [EP]
Krystal Gem—"Original" [single]
Loveover.—"Tonight" [single]
Magnolia Grove—"Good Morning Milky Way" [album]
Metaphive—"Nemesis" [album]
Mr. Fluid—"When 
Conformity Is Not 
Comfortable" [album]
Nadir Bliss—"Everything But Everything" [album]
Newscast—"Blur" [single]
NF//GS—"Ruby Love" [single]
Pink Palaces—"Stay a Day" [single]
PLEDGES—"Retaliates!" [EP]
R.L. Boyce—"Ain't Gonna Play Too Long" [album]
Reagan Daniels—"Fight for Me" [single]
Rod Smoth—"Rope" [single]
Rosser—"Georgissippi 
the EP" [EP]
Sage Boy—"EP" [EP]
Saint Lewis—"Morning 
Will Come" [album]
Sam Mooney—"Coffee" [single]
Schaefer Llana—"Angel" [single]
Seeker & Servant—"The String Club" [EP]
Seth Power—"Souvenir - 
A Side" [EP]
SIKA—"The Meal Plan" [EP]
Spacewolf—"King of 
Nowhere" [album]
Spirituals—"YT Mix 003" [single]
Stelo Real—"MudBlood" [EP]
Stephanie Luckett—"Right Thing Wrong Man" [single]
Stevie J Blues—"Loverman" [single]
Surfwax—"Sonder (Feels So Great to Be Alone)" [single]
Swear Tapes—"Second Son" [album]
Thomas Toole—"Upside Down Kingdom" [EP]
TVBOO & sfam—"Blast" [single]
Terrance Evans—"Reflection" [EP]
Via Novus—"Verdict" [single]
Vitamin Cea—"My Skin Is Black" feat. D. Horton [single]
Wild Frames—"Wild Frames" [album]
Young Ages—"Fancy" [single]
Young Valley—"Young 
Valley" [album]
Yung Jewelz—"Earth Day" [album]
More stories by this author
Support our reporting -- Follow the MFP.