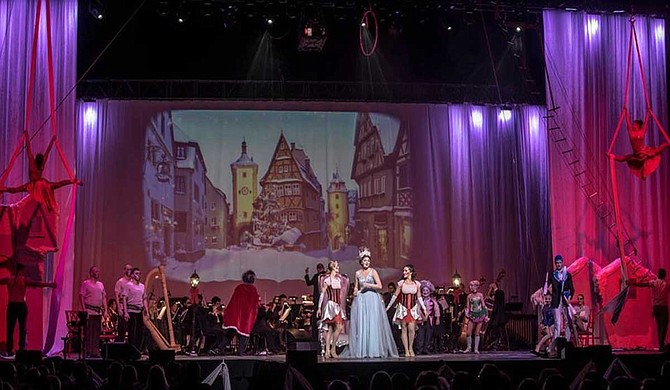 Thalia Mara Hall in downtown Jackson has featured plenty of orchestral events over the years, but the latest concert from touring act Cirque Musica plans to do something a little different with the space.
As the name suggests, Cirque Musica's winter tour, "Wonderland," combines the symphony experience with a variety of acrobatics and circus-style entertainment, gift-wrapped with a holiday flare. Attendees can expect to hear a variety of famous seasonal music from composers such as Pyotr Ilyich Tchaikovsky, as well as some new arrangements from conductor James Olmstead.
"It's like a night at the philharmonic pops concert with some incredible circus performers in front," Lauren Wright, a musician with Cirque Musica, says. "It's just going to get you completely in the holiday spirit with our storyline, which follows a young girl named Caroline who has kind of lost her Christmas cheer but is re-invited into her favorite Christmas story of Wonderland, meeting all these people who get her excited about Christmas again."
"Won't give out all the details, though—you have to come see it," she says with a laugh.
Wright, 27, is a New York resident who has been playing violin since she was 3 years old. She studied musical theater at Belmont University in Nashville, Tenn., and after graduating in 2013, she toured with the ensemble of musical "Mamma Mia!" for two years, among other roles.
"I've been working professionally since I graduated," she says. "It's been a mixture of theater and violin, and you know, these days, a lot of musicals incorporate actor-musicians, and that's like my dream. I love fusing my violin with theater." 
That was exactly what Cirque Musica allowed her to do in her first outing with the entertainment group, 2016's "Cirque Musica Holiday Spectacular." "Wonderland" is her first time returning to the tour, and Wright says it has been fun to revisit it and see how the show has shifted.
"The biggest change, I would say, is the storyline," she says. "Two years ago, it was solely the philharmonic orchestra mixed with the circus acts. But this year, they've incorporated an entire storyline with costuming, wigs and transitions that make it seamless and really exciting for the audience, and for us, too, you know."
In "Wonderland," Wright returns as a flying violinist, playing her instrument while hoisted high above the stage on wires.
"I get to wear this harness and this gorgeous long dress and this amazing purple wig, and fly through the air and play 'Silent Night' while another act is going on onstage, as well," she says. "It's really cool. I mean, how many times do you get to play violin in the air?"
The difficulty is keeping her bow clear of the wires, she says, which mostly comes down to finding her balance and making sure she does not get turned around midair. Thankfully, both she and her instrument are rigged up so that neither has any risk of falling.
Despite the complexity of the shows musical and circus components, Wright says the performers only had a week to practice, flying out to Canada for rehearsals. That is still more prep time than they had for the three-week tour that she went on two years ago, in which they only had a few days. "Wonderland," meanwhile, is double the length, at six weeks, with shows in a different city nearly every night.
While the tour schedule might be intense for the average person, Wright says that it has already been a tremendous—and unique—experience for her.
"The opportunity to play with orchestras all over the country as a solo violinist is really quite an experience, and it's also something that doesn't come around every day," she says. "And being around circus performers, who are doing death-defying acts around you, it's just so cool. So why not?"
Cirque Musica performs "Wonderland" at 7:30 p.m., Thursday, Dec. 20, at Thalia Mara Hall (255 E. Pascagoula St.). Ticket prices range from $55 to $115 at ticketmaster.com. For more information, visit jacksonbroadway.com.
More stories by this author
Support our reporting -- Follow the MFP.