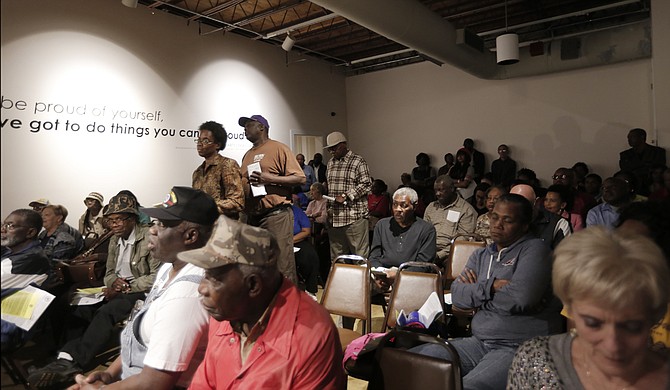 Judging by the number of paint-stained overalls and tired faces in the Smith Robertson Museum auditorium, many people who attended Mayor Tony Yarber's recent town-hall meeting came directly from work to press the mayor and his administration on what the heck is going on with their water bills.
Some asked straightforward questions. One barrel-chested, middle-aged man just wanted to know why he can't use a debit card to pay his bill at Jackson's Water and Sewer Business Administration inside the Metrocenter Mall. Another man asked why it can be so difficult to reach a call-center representative to ask about a billing problem but so easy get in touch with a rep when paying a bill.
Jackson Public Works Director Kishia Powell, wearing the same indigo dress shirt that other city employees had donned for the event, answered those questions—even though the customers frequently seemed dissatisfied with her explanations.
Answering the first question, Powell told the man that the in-person bill payment system is only set up to accept cash and checks. (Customers can pay with a debit or credit online for a $3.50 fee). To the second questioner, she said the payment system is run through a third-party vendor, Paymentus. The WSBA only has six people answering questions about bills, while Paymentus has its own staff.
Those were the easy questions. They got harder.
Consider the case of Teresa Jamison, whose home off West Woodrow Wilson Avenue was vacant for many years and had leaky pipes that resulted in a $10,000 water bill. She wants to re-occupy the home, and says a plumber has fixed the leak, but she doesn't have $10,000 to turn the water back on.
Powell said Jamison must provide proof that a plumber fixed the problem before a bill adjustment could be made.
Many more people said they haven't received a water bill since August, when the new billing system went live. And many, many people reported bills that doubled or tripled for no apparent reason.
Jo Ann Manogin, who lives off Medgar Evers Boulevard, said she lives alone and works during the day, and her bill still shot up to $214 for one month of usage. As Powell attempted to offer potential explanations, Manogin cut her off.
"Look, lady, I don't even be at home," she snapped.
Manogin is a good case study for many of the hundreds of billing complaints that have poured in over the past year in which a bureaucratic and morass compounded the initial problem—in Manogin's case, an inexplicable one-month jump in her water bill.
Since she first started calling the WSBA to get the bill fixed, Manogin said late fees have caused the amount due to balloon by more than $50.
"If I can't pay $214, how am I going to pay $267?" she said.
Roots of the Billing Snag
For well over a year, problems with City of Jackson water bills have been a mainstay of local television news reports and the source of frustration for hundreds, if not thousands, of Jacksonians.
"My life has been turned upside down, inside out with water bills as if we didn't have enough issues already. My phone is ringing all day long—water bills," Ward 4 Councilman De'Keither Stamps told the Jackson Free Press.
The first set of issues arose shortly after the City started replacing residential water meters as a part of the $91 million Siemens contract (see jfp.ms/siemens) in 2014. In the early going, many of the problems could be traced back to the training of the meter installers working for two subcontractors, M.A.C. Construction and Luling, La.-based Pedal Valve.
Mitch King, of Jackson-based Garrett ECI.IV, which provides quality assurance and quality control on Siemens' behalf, told the City in December 2014: "The vast majority of the installers we have, they weren't doing this 18 months ago. We have a few installers in the bunch that are considered 'eagles' that travel with the group that does this all the time.
"But the vast majority of our installers are people from Jackson," he continued. "They're learning a new trade, and anytime you bring in new people to work on a project, there's a learning curve."
A second wave of customer consternation, which City officials maintain is unrelated to the mechanical meters, has set in since August. That is when the new water billing system—a key component of the Siemens contract and the $123 million in savings the deal was supposed to net for the City and residents—went into service.
"We're going from bimonthly to monthly (billing) and operationally, resource-wise, we've had to make some adjustments and we're) still trying to concentrate on getting the most accurate bills we can out," Powell said, Mayor Tony Yarber sitting by her side.
The roots of the billing snags are manifold, she explained. First, the transition to the new billing system relies on the City estimating bills for a couple of months based on customers' usage history. The Oracle-based system is designed to be able to calculate average daily usage based on a 30-day period. If customers didn't have their meters read in the month before the billing-system changeover, officials say, the system couldn't accurately calculate two months' worth of average daily usage.
As a result, some customers have been billed for two months on a one-month bill. When that happens, WSBA employees must manually process those bills, including clearing out errors from the software.
In some cases, customers' account information didn't migrate to the new system, so a bill might not be generated for several months—then several months' charges show up all at once.
That's what seems to be have happened to Ward 5 resident Paul Johnson, who said he hasn't received a bill since August. "I cringe to think what it'll look like," Johnson said during the town hall.
In addition, Powell said the billing system expects customers' meters to be read within three days of their billing date, but worker shortages sometimes makes that difficult, officials say; if no one reads the meter, the software is programmed to estimate a bill. After successive months of estimated bills, the system will no longer estimate and will require an actual reading, Powell said.
"To sum it all up, the transition to the new billing system just has not gone as we planned and, essentially, it is because we are going to a new way of doing business, from an old way of doing business," Powell told the audience.
Who's Responsible for Billing Problems?
That "new way of doing business" started with the $91-million Siemens contract Mayor Harvey Johnson Jr. signed in late 2012. The contract, which Siemens calls a "performance contract" although most performance contracts don't require full upfront payment-for-services, was pitched as a way for Jackson to increase revenues while modernizing parts of its water infrastructure.
The Siemens deal calls for replacing 64,998 water meters with new, high-tech, ostensibly more accurate meters that require less hands-on maintenance. All together, the water meters and software overhaul cost taxpayers $65 million—approximately $1,000 for every meter—while the rest of the contract, $26 million, was earmarked for updating water and sewer-treatment facilities and sewer lines.
Of that sum, $11.3 million was set aside for the new customer care and billing system. Local businessman James Covington's iVision IT Consultants was the subcontractor put in charge of the software upgrades, and Covington, in turn, brought in Las Vegas-based Origin Consulting LLC for the integration and implementation of the Oracle-based billing system. Earlier this year, Origin moved its corporate headquarters from Atlanta.
"The system is doing what it's supposed to do. The issue is that you have to get accurate reads. When you get accurate reads, you solve your problem. You have to have accurate data to get accurate bills," Covington told the Jackson Free Press in a telephone interview.
Pamela Glanvill, the president of Origin Consulting who made a presentation to the Jackson City Council last year, did not return calls and emails seeking comment by press time.
Willie Bell, who served as public-works director under the late Mayor Chokwe Lumumba, signed off on proceeding with the Siemens contract in the summer of 2013. He told the Jackson Free Press in a recent interview that one of the early challenges for the water-meter project was figuring out where to place the antennas that pick up usage data from individual meters in the ground and transmit that information back to headquarters.
Public-works officials briefly considered putting antennas on utility poles, but because Entergy owns them, the liability issues in the case of downed pole would have been tough to work out, Bell said. Fire hydrants were out of the question because they're too low to the ground.
"You can't do that because a kid comes by it, and it becomes a target for a football or baseball," Bell said.
The temporary fix involved sending meter readers around with handheld devices to read each meter from a public-works truck.
The meter installation work, which started in north Jackson and snaked southward, was steady until last February when public-works crews discovered some homes with had new meters calibrated to read gallons instead of cubic feet, which could cause a 600-percent spike in water bills.
With 31,000 meters installed, Yarber and Powell halted that project for four months and required Siemens to submit a corrective action plan. Currently, the City estimates that 50,000 total new meters have been installed.
Nice, But No Follow-Up
Even before the online billing system came into play, residents reported problems. Last November, after Fondren resident Andrew Neely received a new meter, he saw a steady uptick in his water bill, from $130 every other month to about $240 every other month.
At one point, he even faxed a receipt for plumbing materials he bought to fix his toilet just in case it was contributing to his bill spike.
"I was on the phone with them a lot—every six weeks or so," he said.
Neighbors lodged similar complaints on the online Nextdoor neighborhood network, so Neely gathered 40 pages of complaints and sent them to a Yarber aide, who no longer works for the City. Sanders was polite, Neely said, but he never followed up with Sanders on the complaints.
"I frankly got a little tired of trying to figure it all out and just wrote a check for my water bill," he said.
Stacey Aldridge was also tired of waiting. On Oct. 20, Aldridge, who also lives in Fondren, said she got a bill that claimed a payment of $62 was past due even though she'd paid it. Receipt in hand, she called the water department to get it straightened out and to make sure that her water wouldn't be shut off.
It was a formality. The scrupulously organized Aldridge had her receipts and her previous confirmation numbers from the online bill-pay system, so she didn't expect much of a hassle.
"I had heard there were problems, but when I called and heard that were 45 calls ahead of me, I was shocked. After two hours, I had to hang up and do my job," Aldridge said.
Before hanging up, she took a screenshot of her phone's screen showing how long she had been on hold and tweeted it to Yarber, who responded that he agreed that she waited too long and directed Aldridge to members of his staff. Two days later, the mayor's office emailed Aldridge saying the issue was resolved.
"The customer-service experience was kind of bad because I never talked to anyone who worked for the water department. But I guess my customer-service experience with the mayor was good," Aldridge said.
Moratorium on Water Shut-Offs
While the city sorts out the issues with the billing system, Yarber administration officials say a moratorium is in effect on shutting off water service to homes that have seen excessive bills in the past months. The City will continued shutting off water to homes where bills were delinquent before the new system came online, however.
In addition, Yarber said he's moving additional staff to the WSBA call center to help with the high call volumes and wait times to work with customers on bill adjustments; any late fees incurred will also be part of the those adjustments, the mayor's office said.
Stamps, the councilman, said he is fielding as many as 25 calls per day from customers across the city and is working with the City's legal department to draft an ordinance that would codify a moratorium on water shut-offs for customers who make good-faith efforts to pay their water bills. His office advises residents who feel sticker-shock when seeing a high bill to pay what they think they owe and submit an appeal to the WSBA; the council also is considering using council members to hear customer-service appeals, either by forming an ad hoc committee or through the rarely used Government Operations Committee.
Doing so, Stamps believes, will give the Yarber administration some breathing room to fix the problems.
After the town hall, Yarber told the Jackson Free Press that water-bill estimates were intended to go on for just two or three billing cycles, but it is now likely to take longer even though the City is collecting and analyzing data from the new residential meters.
Yarber said his staff has not met formally to discuss the billing-system problems with the subcontractors—Covington's iVision or Origin Consulting—because the ultimate responsibility to address problems lies with the prime contractor, Siemens.
Amanda Naiman, a spokeswoman for Siemens, told the Jackson Free Press in a emailed statement: "While it is not unusual when implementing this type of system upgrade to go through a transitionary period when bills are estimated, there have been some challenges, including missing or inaccurate data from the old billing system."
Siemens, she said, is working with the City to "adjust the estimation process as needed to ensure as smooth of a transition as possible."
Ward 1 Councilman Ashby Foote said he's frustrated that it seems to be taking too long figure out the right path.
"Part of that frustration is (that) I can't put my finger on where the responsibility (lies)—whether it's ... in the water billing department or if it's the software and the Siemens people. For me, as a councilman, the priority is to get the system up and running. The trouble when you bring in third-party contractors—there were other contractors involved-—then you can't hold people accountable," Foote said.
"We need to work on clearer lines of authority and accountability and that includes our outside vendors," Foote added. "We're not directly in the chain of command, so it's a challenge for the city council, but we still have to provide oversight."
Contact R.L. Nave at rlnav[email protected]. Read more about Jackson's water woes at jfp.ms/Siemens.
Reasons for Unusually High Water Bills
If you DON'T HAVE a new meter:
A leak on the property
Leak(s) in the internal house plumbing
Impact from the 2013 rate increase
If you HAVE a new meter:
Leaks on the property side
Leak(s) in the internal house plumbing
Impact from the 2013 rate increase
Increased accuracy of water flowing through the meter
A gallon meter may be present (billing consumption would be significantly higher than normal on the order of 600 percent)
-OR-
Due in part to worker shortages, you may have not have had your meter read within 30 days before the City's new billing system went live, which caused an inaccurate bill estimate.
Processing of your bill was delayed after the implementation of the new billing system, and the delayed bill reflects several months of usage.
In each case, you may request a review of the bill. Call Customer Service at 601-960-2000 to report a leak or if you have further questions. Fax repair statements to 601-960-1130. Please add your name, address, water/sewer account, and a brief explanation of what was repaired number on the fax.
Source: City of Jackson
More stories by this author
Support our reporting -- Follow the MFP.