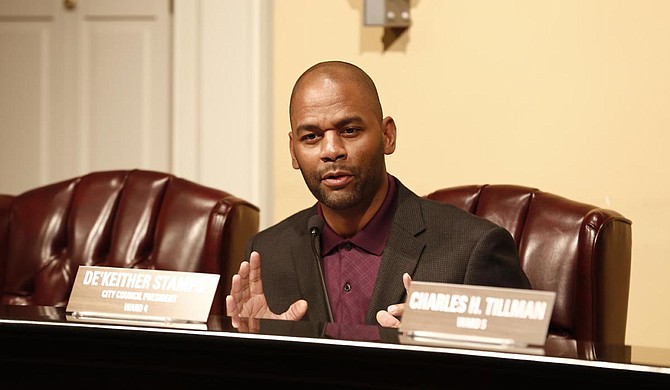 Jackson council members are cautiously optimistic as Mayor Tony Yarber's administration lifts a work stoppage for the beleaguered Siemens water-meter upgrade project.
Siemens, the company that Jackson is paying $91 million for water upgrades, has been given a green light to finish the water-meter change-out. The meter project was less than half finished when City officials halted the work amid concerns over shoddy oversight that could have led to large water bills.
Melvin Priester Jr., the council's vice president and chairman of the Budget Committee, said he's still reviewing information from Siemens and Yarber's office. Priester says he is encouraged, but not certain Siemens has addressed all his concerns. 
 As an example, Priester said he recently spent two hours on the phone trying to help a woman who received two inexplicable $400 water bills after getting a new water meter.
"Until I stop having constituents coming to my office with problems, then I can't say I'm comfortable," Priester said.
In February, a City official found a water meter reading for gallons. Because the City bills customers in cubic feet, the mix-up could have led to higher bills, although the bill discrepancies could be related to any number of issues. Director of Public Works Kishia Powell ordered meter installations be stopped pending a review and submission of a corrective action plan by Siemens.
On May 28, Siemens announced work could resume on the water-meter project and that work had been completed on several water and sewer-line repairs.
"This is an important milestone in the City's water infrastructure improvement contract with Siemens, which is intended to help the City better manage its resources and provide improved service to its customers," Siemens spokeswoman Amanda Naiman said in a press release.
In 2012, the Jackson City Council approved the agreement for 65,000 new water meters as well as various sewer projects under what was called a performance contract. The way most performance contracts work is that companies front the cost of construction of energy-saving infrastructure and take a cut of the savings. Jackson, however, took out bonds to pay for the Siemens system that the contract said would save the City $123 million in the long run.
The bulk of the total cost, approximately $65 million, went toward the water meters. The other $26 million was designed to help make fixes the City needed to comply with a U.S. Environmental Protection Agency lawsuit against Jackson for discharging sewage into the Pearl River.
After an independent consultant issued a report about several aspects of the City's water and sewer businesses, the city council ordered a full review of the Siemens contract and the Water Sewer Business Administration.
Installation of water meters will resume June 1, and Siemens has also agreed "to a process to reimburse water customers for proper claims associated with faulty meter installations," the company said.
Naisman said Siemens and the City held a series of workshops to identify and address project challenges and establish improved communication and public-information outreach efforts. Results of the workshops include the development of a detailed implementation plan that will allow the City to readily verify that its goals are being met.
When the Jackson Free Press asked Naiman for a copy of Siemens' corrective action plan, she said the document was a client work product and deferred to the mayor's communications director, Shelia Byrd, who said the JFP would need to submit a public-records request.
Siemens also said the company would implement enhanced quality control and quality-assurance measures such as taking photos of each meter installed so that problems can be more easily traced back to the installation process.
In all, nearly three miles of aging water and sewer lines were either repaired or replaced at 19 sites across Jackson, Siemens said. The repairs included phasing out expensive-to-operate bypass pumps and to help keep rainwater out of the sewer lines.
Council President and Ward 4 Councilman De'Keither Stamps has for weeks called on the administration to restart the project because he says the City cannot argue that Siemens did not deliver on its promise to save the City $123 million until all the water meters are in place.
Stamps said he would be happy to terminate the agreement, but the City would still be on the hook for the loan, for which the first principal payment is due in December; the City has been paying interest on the bonds since late 2013.
Even with the reboot, Stamps won't say he's satisfied with the status of the project.
"Somebody show me $123 million,; that's when I'll be satisfied," Stamps said.
More stories by this author
Support our reporting -- Become a JFP VIP.
The news business has changed dramatically in the past year, and we need your help more than ever to keep bringing you important stories about Jackson and the Metro. Become a JFP VIP with an annual membership or you can Sign up as a monthly supporter. Thanks for anything you can do to empower our journalism!