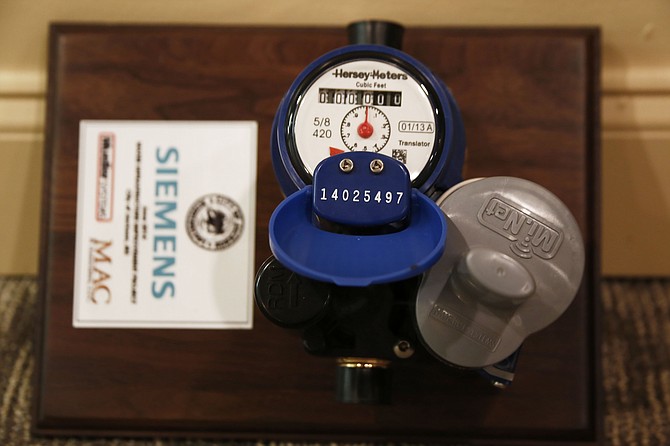 Siemens, the company which Jackson is paying $91 million for water upgrades, said today that the portion of the contract that calls for water- and sewer-line improvements is complete and that the company has a green light to finish the other half of a massive water-meter change-out.
"This is an important milestone in the City's water infrastructure improvement contract with Siemens, which is intended to help the City better manage its resources and provide improved service to its customers," said Siemens spokeswoman Amanda Naiman in a press release.
In 2012, the Jackson City Council approved the agreement for 65,000 new water meters as well as various sewer projects. The bulk of the total cost, approximately $65 million, went toward the water meters. The other $26 million was designed to help make fixes the City needed to comply with a U.S. Environmental Protection Agency lawsuit against Jackson for discharging sewage into the Pearl River.
The high cost of the contract has long met with skepticism.
Earlier this year, the City ordered new installations to stop amid concerns of sloppy quality control. At the same time, the City has had to respond to a high volume of complaints exorbitant water bills after customers received new meters. After an independent consultant issued a report about several aspects of the city's water and sewer businesses, the city council ordered a full review of the Siemens contract and the Water Sewer Business Administration.
Installation of water meters will resume June 1 and Siemens has also agreed "to a process to reimburse water customers for proper claims associated with faulty meter installations," the company said.
According to Naiman: "Siemens and the City of Jackson had ongoing dialogue over the stop work period, and held a series of workshops to identify and address project challenges and establish improved communication and public information outreach efforts. Results of the workshops include the development of a detailed implementation plan that will allow the City to readily verify that the City's goals are being met. Additionally, enhanced quality control and quality assurance measures such as visual inspection with photo documentation of every installed meter will ensure the proper meter is installed. To emphasize its commitment to project success, Siemens will pay a third party consultant to independently review all meter accounts installed to date to ensure accuracy."
In all, nearly three miles of aging water and sewer lines were either repaired or replaced at 19 sites across Jackson, Siemens said. The repairs included phasing out expensive-to-operate bypass pumps and to help keep rainwater out of the sewer lines. Additionally, Siemens crews made a number of repairs to the City's water-treatment plants.
More stories by this author
Support our reporting -- Follow the MFP.