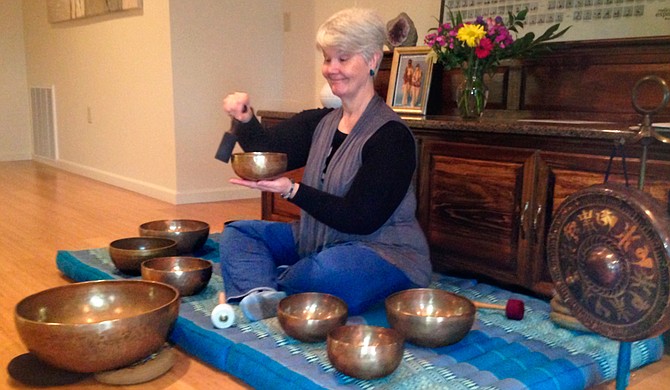 I'm not a very Zen person. I'm not good at doing nothing, or in general, just relaxing. I think it's somewhat genetic. My grandfather was notorious for never stopping, and he had a penchant for rousing the entire family out of bed at 4 a.m. to start out on pre-dawn road trips. Similarly, his daughter, my mother, always seems mid-project, mid-trip, mid-something.
I feel the tendency lessens a little with each generation, and now, it's down to me. The tendency is diluted, but I still stay restless and feel the need to always be doing something.
But there's something to be said for rest and reflection. I've been thinking about that a lot lately, and when I saw that Tara Blumenthal's yoga studio, Tara Yoga (200 Park Circle, Suite 4, Flowood, tara-yoga.net, 601-720-2337), offered something called Restorative Yoga once a month, I thought, "That sounds like something I might need."
With a friend in tow, I headed off on a Sunday afternoon to the class.
Tara Yoga is spacious and welcoming, with a nice changing area downstairs and a studio upstairs, where she encouraged us to, "Come on in and find your Zen!" As a special treat at the Restorative Yoga class, Carol Parks sets up her singing bowls and plays them as accompaniment.
Over the course of the class, Blumenthal led us through a series of poses, but not in an active sort of way; we simply moved into a pose and stayed there for a while. It was a great way to just stop and be in the moment—something that I think many of us have a hard time doing, given the constant interruptions from phones, emails and the desire to share everything with everyone, all the time, immediately, on social media.
She encouraged us to stay in a pose if we felt comfortable, rather than moving on to the next one just because the teacher suggests it. She gave lavender-scented eye pillows to those who wanted to block out the light, as she repeated the affirmation of the day: "A journey of 1,000 miles begins with one single step." At one point, Blumenthal even covered us in our yoga blankets if we wanted more warmth. I did, and it was like being in a cocoon.
I'll definitely go back for the restorative class, and also to check out some of her other yoga offerings, which the website categorizes in terms like saucy and spicy to make it easy to understand the level of intensity of class before you go.
Later that week, I visited Massage Revolution (210 E. Capitol St., 601-918-1853, massagerevolutionjackson.com). The downtown location is convenient for those who work in the area, as is the fact that they provide walk-in chair massages at $1 per minute. That means you can easily get a quick fix during your coffee or lunch break.
They even have a chair-massage "Happy Hour" from 9 a.m. to 10:30 a.m. on weekdays, where you can get a 10-minute chair massage for just $5, or 25 minutes for $15. Hello, new morning routine!
After getting a chair massage there during lunch one day, I felt my neck and shoulder knots needed more serious attention, so I sprang for the full package and an hour-long table massage. During my session with massage therapist James Rader, I achieved a level of relaxation I hadn't felt in some time. He found and released tension I didn't even know I had. Seriously, who knew my forearms were so tight?
Having sufficiently blissed out over the course of a week, I'm going to try to commit to regular relaxation. Both Blumenthal and the folks at Massage Revolution have a happy energy that's contagious, and I think it has to be related to committing yourself to taking time to breathe, to reflect, to focus, to practice gratitude and to nurture yourself. I encourage you to do the same.
More stories by this author
Support our reporting -- Follow the MFP.