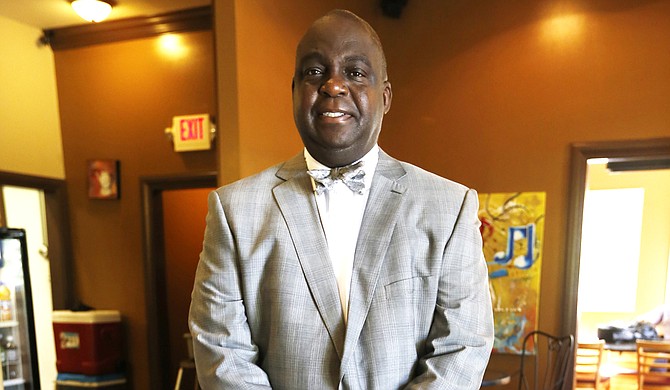 Eric Stringfellow now finds himself on the other side. But his path, from a newspaper reporter in the tiny eastern Illinois town of Danville to candidate for the candidate for Hinds County Board Supervisor, isn't as unlikely as it may seem at first glance. Stringfellow returned to his native Jackson in the early 1990s as a columnist for The Clarion-Ledger and, later, as a journalism instructor, with stints at Jackson State University and Tougaloo College. Stringfellow, 54, also served as head of communications for JSU, his alma mater, until late last year, and has served on the boards of several capital-city area nonprofits.
"I've always been engaged in community because Jackson is home, graduated from Provine High School, got two degrees from Jackson State and moved back here because I wanted to be part of the solution. That may sound a little cliche-ish, but I really wanted to help the community grow," Stringfellow told the Jackson Free Press.
What are the top one or two issues facing the county?
We've got to figure out a way to stabilize the tax base and attract not just new businesses but new residents. I think one way we do that is do a better job marketing the county and its assets, marketing diverse neighborhoods (and) its schools. For example, Jackson Public Schools has some of the best elementary schools in the state of Mississippi. The data bears that out. The Clinton school system is one of the best school systems in the state. Frankly, I think to young parents and the people who are looking for places to live, we need to put that in front of them a lot more, that you don't need to go to other places for your kids to get a good quality public education. You can get that right here in Hinds County.
When you talk about public safety, we've got to make sure that law enforcement has the resources to do their jobs. But I also think if you look at what other communities are investing in infrastructure for parks, recreation and athletic facilities for young people and programs. You can go to a lot of communities and see baseball, fast-pitch softball and I think we need to do a little bit better of a job at that.
How do you see your role as someone who lives in Jackson but also being an advocate for, say, a Clinton?
Clinton's not in the district, but Terry and Utica are in the district. When you look at Terry and the quality of life it offers, you'd be surprised what lifestyle you can get. You can get a slice of urban Mississippi and you can get a slice of rural Mississippi. And I think Utica has a real small-town feel to it, and those people are really passionate about that lifestyle. The issues there really boil down to economic development in terms of having the amenities they need, where they don't have to drive halfway across the county to go to a grocery store, to a drug store or to a health club.
I know the mayor of Utica is working hard to land a grocery store there. I think that's one of the strengths of the county, that we can offer such a diverse lifestyle throughout the county.
The district stretches from west Jackson out to Terry and Utica, all with different needs. How do you keep everyone happy?
District 5 has some of the most urban areas in the county and some of the most rural areas in the county. What it boils down to is I don't think everything is so mutually exclusive. Yeah, the needs are different, but I think what that means is a supervisor has to be somebody's that's going to listen and respond. Everybody wants good roads. Everybody wants to be safe. What I've heard from talking to people, having abandoned houses is a huge issue that people want something done about. The city and the county now are working on some sort of memorandum-of-understanding where the county can help come demolish some of this run-down property. The whole issue of public safety, I think a lot of times, (the prevalence of crime) that's the perception, but the perception has to be addressed. If somebody just kicked your door in, even though the data says crime is down, you don't want to hear that. You want somebody to address that somebody just kicked your door.
The areas (of the district) are different. A lot of the issues are the same; a lot of issues are different. You don't have to talk about services and amenities in certain parts of the district but in some parts of the district you do.
Should the county focus on improving its housing stock by filling abandoned properties or expansion and new construction?
That's a city question and a county question. In the city, you're going to be a little more limited. As I said, the Clinton School District is the best school district in the state of Mississippi. There are plenty of places in Clinton for growth and residential growth. There's plenty of space around Terry, Raymond for growth. There are places to do that. What's happened is that it's become en vogue for people to leave the county and move to places like Madison and Rankin counties. We can't just sit back and let that happen. We've got to get aggressive about marketing the assets of Hinds County, particularly the schools. When most people say they've left Hinds County for better schools, people haven't even thought about Clinton. We need to put that on their minds.
On public safety, do you have any thoughts on whether the county needs a new jail?
I don't have enough information to see what all of the issues are there. There seems to be a consensus that we've got problems with jail. What it comes down to for me is whether it makes (sense) to tear down this jail and start over or to keep doing what we're doing—patching. And it's tough to speak intelligently about that from the outside looking in. All I know is that the current jail, it's a problem, and if we don't run it, somebody else is going to end up running it for us.
Looking toward next year's budget, what would your priorities be?
The priorities have to be infrastructure. I don't know if this is reality or perception, but the perception is that we're off track in terms of roads and paving and all that. Everybody complains about the potholes. As a taxpayer, I expect to be able to drive down the street without running into a pothole. We need to make sure we cover the basics. Next, we need to get the jail off the front page, however we can do that.
If a private company came to the board and said they'd run the jail, would that be something you'd be open to talking about?
No. Well, I'd be open to talking about it. The problem there is: How do they make their money? I don't want to get into (a company having) a profit motive to operate the jail.
Where are the best economic-development opportunities in the district?
We've got lots of land, lots of open space. We have progressive government that's open and willing to sit down and talk to anybody who's interested in coming here. That's why it's so important to get on the same page about our assets and not fumble any opportunities for economic development. Everybody has to be an ambassador for Hinds County. I believe, too, that when you see all the state government buildings in Hinds County, we ought to at least resurrect the conversation about what kind of barter service can we get from the state in exchange for them forgoing all this tax.
That argument hasn't gone very far when coming from the city. Do you think the county is in a better position to make that case?
We should try. Coming from the county, yeah, I think we should have that conversation every legislative session until something is done about it. I just don't think we can afford to exempt state government buildings from taxes and not get anything in return. And frankly, that just doesn't seem fair.
Anything else should be on the county's legislative agenda?
Send money. I don't think we have enough parks, for example, but I think it's really important to have green space for people to come and enjoy. Hinds is home to most of the museums in the metro area; (I) can't say enough about how we market that to attract businesses and residents. We've got some of the most diverse communities around.
More like this story
More stories by this author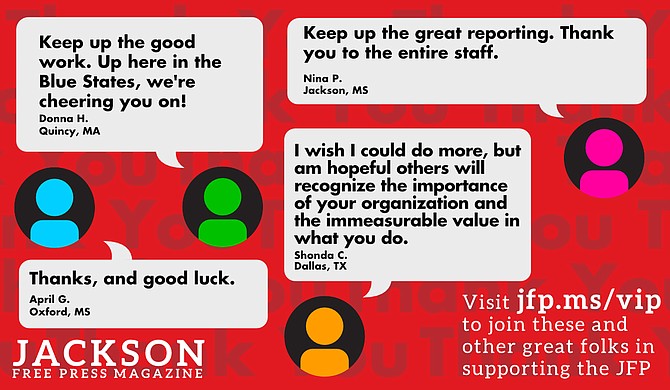 Thanks to all our new JFP VIPs!
COVID-19 has closed down the main sources of the JFP's revenue -- concerts, festivals, fundraisers, restaurants and bars. If everyone reading this article gives $5 or more, we should be able to continue publishing through the crisis. Please pay what you can to keep us reporting and publishing.