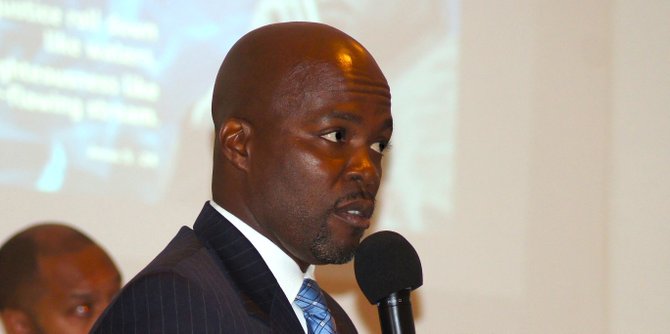 Whether it's troubled young people, insurance agreements, or maintenance and infrastructure issues, Gus McCoy likes to think he's on the front lines of issues Hinds County supervisors tackle on a daily basis. McCoy, 47, is an insurance agent and youth pastor at New Jerusalem Church. He is also chief executive officer of the nonprofit Metro Youth Initiative. Previously, he was an electrical-utility contractor with Entergy.
An Edwards native and resident of the Presidential Hills—he and his wife, Melissa, recently moved there from Fondren—McCoy is making his first run for elected public office with a bid for Hinds County District 2 supervisor. He recently spoke with the Jackson Free Press about his plans for the district.
Many of the candidates have talked about problems of young people and promoting family values. How can a supervisor address young people's problems?
Your role (as a supervisor) is not to go into the school and straighten out the superintendent, but you create the environment for that to happen. What are the amenities that a county needs to create a great environment for children to learn, for jobs, so that crime can be low?
So when you hear about problems going on with our kids, you have to address systemic stuff that's going on. The role of the supervisor is to create an atmosphere so we can try to address those problems. ...
We have 53 parks in the city of Jackson. ... I challenge men all the time: How much money does it take to pick up a bat and a ball and take some boys to the park and go play ball with them? They'll engage just because it's something to do. I'm a youth pastor; I deal with that all the time.
I don't think there's one simple cure-all. But when I go to Bolton and I know that the Boys and Girls club is not there anymore—about four or five years ago the Boys and Girls club was having some funding issues. They had to cut, and where they cut was in the county. Or if I go to Edwards, and they need a park. I think providing those services are within the purview of the board of supervisors.
There are a couple strains of thought with respect to the relationship between the county and the city of Jackson. One is that the county should support the city; the other is that the county should focus its resources on the unincorporated parts of the county and the small towns. Where do you see yourself on that spectrum?
The sheriff has a budget for how he is able to conduct business as a sheriff's department. He has issues within that department, and I think we need to give him the tools that he needs to enforce the law, to make the jail work. With regard to patrols, your chief law-enforcement officer in any area is the sheriff.
Again, it can't be one against the other. We're an entire county; it's not a territory thing. If crime rises in Clinton, that's not a Clinton problem. That's going to affect the perception of the whole entire county. They (dug a ditch) over there because they felt the crime was coming from a certain area of Jackson. Clinton can't wall itself from the rest of the community because we need each other. When WorldCom was located out there, you had employees coming out of Jackson, Utica and everywhere else.
I don't follow one school of thought or another that says the county needs to do its thing and cities do their thing because that's just not going to work.
Everywhere that is working, whether it's in regard to law enforcement, whether it's in regard to economic development, it's done together. I want to see this thing seamless, even though we may have different needs: One part of the community may need a library, another might need sidewalks. I don't want a county where we feel walled off from one other. Folks in the rural areas provide taxes to the tax base just like everybody else. ...
I got a question about how I feel about the (Byram-Clinton) parkway, which I support happily. But I feel the same way that I feel about the (proposed Jackson State University) stadium: It needs to be part of a comprehensive plan. What we have in our area is we look at one project at a time, whatever's proposed to us.
Is there a countywide comprehensive plan?
I don't know. I haven't seen it. And don't get me wrong: You have Vision 2022 that's going on with the (Greater) Jackson Chamber, but I want to make sure the board of supervisors has a presence there. So when folks come to you with an idea about what they want to do in your area, it needs to fit into a plan. Years ago, the Byram-Clinton corridor might have started as a part of a plan. But let's look at all the corridors and then see which ones to set the priorities for. Let's look at the west Jackson corridor, which involves the stadium, the zoo, Capitol Street and the Robert Smith parkway. Let's look at the corridor that feeds from the Fondren area into Belhaven.
Would you support the development of a new comprehensive plan, even if it cost the county millions of dollars to complete?
I wouldn't start out saying, "Let's just spend money." I would look at our budget and see how it aligns with the goals and priorities we set. I want to get the most bang for our buck. We're not growing the budget. We can't have $55 million for the last 20 years—when 20 years ago a gallon of gas was $.75, and today that same gallon of gas is $3—and expect to have better outcomes.
Does the county need its own lobbyist?
Yes. I say that adamantly. If I'm an extension of the Legislature, how in the world am I going to benefit fully from that relationship if I don't have somebody that's talking to them? I'm not talking about someone who's wining and dining, but we have to talk to (legislators). We have to get a buy-in from that body. Call any county that's working well and see if they're getting along well without a lobbyist.
What's the two-minute pitch for Gus McCoy?
I think Hinds County has an opportunity to move forward with a progressive plan for the county that does not mean taxing our citizens. (The board has) a legacy of strong leadership. What I'm committed to is making sure we meet the needs of every citizen in the county. Where we are right now is people feel like services are not being met, that they're not receiving bang for their buck and that the environment that is being created is not being progressive enough for the problems that we have.
My promise is that even though we might not solve every problem that we have immediately, every need will be addressed. People want to be listened to, but at the same time they want services. That's my commitment—that we meet their needs, but also that we provide the services their tax dollars require.
More stories by this author
Support our reporting -- Follow the MFP.