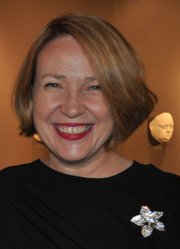 It's not every day that a TV ad during a football game kicks me in the stomach, but it happened last week.
Todd and I were on vacation at the beach, which in addition to boating, cooking, reading, walking at sunset, and even going out to play pool and video games (yes, I shot zombies and enjoyed it), it meant watching Saints games and not a small amount of SEC football. (Hail State, baby!).
I think it was during the nail-biting State-Kentucky game that I first saw it. It was a new version of Mariska Hargitay's "No More" ad. The earlier ad had a line-up of celebrities, of both genders and various races, speaking out against domestic abuse and sexual assault. It was great.
This one, though, was all NFL players, from Cris Carter to Jason Witten to Mississippi's adopted son, Eli Manning. In all, 18 current and former NFL players appear seriously on the screen, repeating phrases like "No more 'what's the big deal?'"; "No more 'it's just the way it is'"; "No more 'he just has a temper"; "No more 'boys will be boys'"; "No more 'but he's such a nice guy'"; "No more 'but he has such a bright future'"; "No more 'not my problem'"; and "No more 'I'll say something next time.'"
For someone who has been writing and talking and wheedling and arguing and advocating and holding events now for more than a decade to get people, including and especially men, to reject the "boys will be boys" excuse for violence against women, this was a watershed moment.
Of course, I'm also a football fan and always have been. I've loved the Saints and my Bulldogs through the bad and, increasingly, the good years. But it can be damn hard to be a woman and support the NFL, SEC and other conferences and teams if they do not take violence against women seriously, especially by their own players. And for better or worse, these men become role models for younger men and boys. (I imagine no small number of Daks and Denzels are being conceived in Mississippi this fall.)
Both what football stars do, and what they do not do, has a remarkable influence on other males, our culture in general and even on the way many women approach domestic abuse. Put simply, we need these powerful men on our side. And we sure don't need them working against us, whether by engaging in abuse or by helping cover it up in the name of the game and the money it brings in. (Ahem, Roger Goodell.)
You can just watch the cycle unfold. You have men like Ben Roethlisberger, who gets to "settle" a rape allegation and keep playing ball, and Ray Rice, whom the NFL slapped on the wrist for punching his fiancee's lights out, leading the way for the next generation of men who also, apparently, think it's their right to assault women and even yell obscenities at them on campus. Florida State University alone is a textbook example of the "boys will be boys" mentality at its worst.
In many ways, I believe tackling domestic abuse in the football arena is the exact right place to focus. It's hard to imagine a more macho sport where power is the goal. If we can engage this issue in such a space, we just might have a real shot at changing the culture. And I believe we can.
Yes, it should have happened a long time ago. No, men accused of raping and abusing (including children) should not be Sportscenter heroes. And, yes, I have a special exception for just how hard I think defenders can and should hit Roethlisberger.
I've written before and very honestly about being a victim of sexual assault in high school. He was a football star at my school and a big man on campus. It never crossed my mind to report it because he had the societal power, and I didn't.
We have to change that reality. Men and women must join together against abuse of all kinds, including the kind that disproportionately affects women. Real men don't abuse, and they don't rape. And the best men, the ones of true character, stand up and stop other men from abusing their power and taking what they think they want. They stand up and say, "No more."
Please join me and the JFP staff, the Mississippi Coalition Against Domestic Violence and the men behind the Stand-Up effort this Saturday night, Nov. 1, in Hal & Mal's big room, restaurant and brewpub.
The doors open at 5:45 p.m. for our Rooster Sports Pub with college football on multiples screens and great (free) food by P.J. Lee in the brewpub/patio. Then, the JFP Chick Ball Masked Jam kicks off at 7 p.m. with live music, DJ Phingaprint and Southern Fried Karaoke hosted by our own Todd Stauffer. Just $15 ($10 if you wear college insignia) gets you into all that (or $5 gets you in to dance to Phingaprint). What better way to face down this problem in our state than with great food, football and great music? It's Mississippi at our best.
See you there. Oh, and HAIL STATE!
More like this story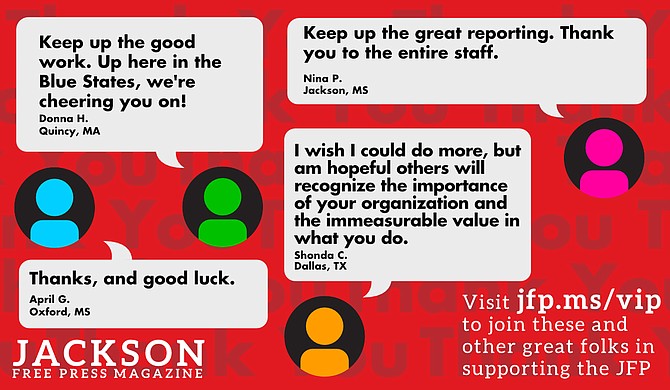 Thanks to all our new JFP VIPs!
COVID-19 has closed down the main sources of the JFP's revenue -- concerts, festivals, fundraisers, restaurants and bars. If everyone reading this article gives $5 or more, we should be able to continue publishing through the crisis. Please pay what you can to keep us reporting and publishing.