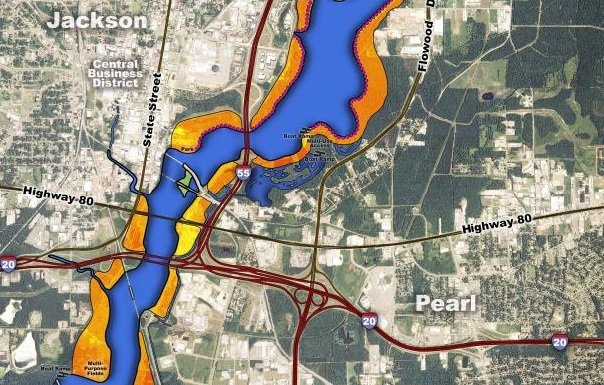 A draft of a plan to curb flooding and promote tourism in Jackson is now in the hands of the U.S. Army Corps of Engineers. Mayo Flynt, the president of AT&T of Mississippi and the chairman of the lake-development committee of the Greater Jackson Chamber Partnership's Vision 2022 initiative, says developing a waterfront in downtown Jackson will transform" the region.
"It's time for people in this region to believe, after 30 years, that this lake will be developed," Flynt recently told a gathering of Vision2022 supporters at the Jackson Convention Center.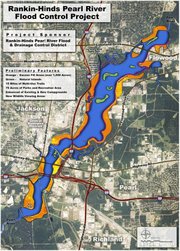 Drawings unveiled in the Vision 2022 presentation show plans for 15 miles of mixed-use trails, 70 acres of parks and recreation area, natural islands formed by flooding the Pearl River and new wildlife viewing areas near a proposed 1,500-acre lake.Chamber officials compared the project to 843-acre New York City's Central Park as potential tourist destination.
Flood control has worried locals since two floods, in spring 1979 and again in 1983. Ever since, groups have floated a procession of flood plans. The Two Lakes plan is a recent example. John McGowan and his company McGowan Working Partners, several of whom owned land in the proposed project footprint, originally advocated building two lakes on the Pearl River that would have inundated Mayes Lake, located in LeFleur's Bluff State Park in Jackson, and a portion of its surrounding land.
Opponents to the Two Lakes plan said that, even if the engineering would work, it would cost too much and disrupt the Pearl's fragile ecology. Infighting among members of the Rankin-Hinds Pearl River Flood and Drainage Control District, or the Levee Board, and the Jackson Free Press' reporting of potential conflicts of interest among developers helped sink that proposal.
Subsequently, McGowan put land he owns in the development's footprint into a trust, promising to donate it to the Levee Board should the plan come to fruition.
McGowan scaled the plan back in 2011 and formed a nonprofit called the Pearl River Vision Foundation to promote a revised lake project. The development of what is being called One Lake has been less controversial so far, but has not been without criticism. Downstream communities along the Pearl, particularly in Louisiana, have expressed concern over how much water their communities would receive as a result and how that flow would affect their ecologies.
Lake-development officials estimated the plan to cost $1.75 million, $1 million of which came from the Mississippi Development Authority; the Greater Chamber Partnership provided $200,000. So far, $350,000 of the earmarked funds have been expended, information from the chamber shows.
The biggest price tag would be for construction. Congress authorized $133 million to help fund lake construction in 2007 as part of the U.S. Defense Department budget, but earmark-leery Washington lawmakers have not appropriated the funds.
Dallas Quinn, a project manager and spokesman for PRVF, said after the U.S. Army Corps of Engineers completes its review by the end of the year, the draft environmental impact study will be available for public comments, which will include a town-hall-style forum with Levee Board officials.
More stories by this author
Support our reporting -- Follow the MFP.