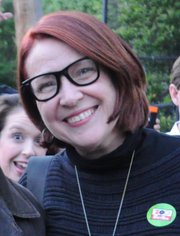 I had just finished giving an Overby talk on doing powerful journalism at Ole Miss when several young women stuck around to meet me. One was a short brunette woman who shook my hand enthusiastically and told me that she was "inspired" by my comments—which had been straight talk about the media business, corporate-media competition, and our mission to embrace and encourage diversity.
Another was a tall student with long, straight blonde hair who reminded me of myself in younger years. She firmly shook my hand, looked me straight in the eye and told me a bit about herself and how she'd like to get involved with the JFP in the future.
I saw immediately that these were young women with the confidence and passion to be leaders, hopefully in doing meaningful journalism. Mission accomplished.
Before my lecture, I had tagged along with my partner Todd as he gave a talk to a digital-marketing class. It so happened that the entire class was female, except for one guy who had to leave early. They seemed focused and attentive. But at one point, expecting to see every hand go up, I asked them how many hoped to own their own business one day. None of the women raised a hand.
I was stunned. As a woman who became my own boss in no small part due to the sexism I encountered while working for other people, I know what lies ahead for many of them as they try to become leaders in their fields, if they even choose to.
Here's what could happen based on my personal experiences. If she openly shows ambition and tries to climb in her field, she will be called selfish, and God help her if she decides to delay or forego having children in order to devote herself to her calling. When she starts managing other people, many men and women will act differently toward her instructions and feedback than if she were male. She may well be called a "ball buster" or a "bully" because she responds decisively, including to an employee talking to her abusively because he or she doesn't like to be criticized (especially by a woman).
If she chooses to be direct and unapologetic about her management role—as men tend to be—she will be called aggressive at best and, often, a "bitch." I had three male bosses in New York City who called me a lesbian to another male editor who sat next to me (and who often pointed out how they treated me completely differently than him).
Some male and female employees will decide she is unlikeable and "difficult" simply because she is a woman in charge. (See Heidi/Howard, page 22.)
She will often be interrupted in meetings, and if she serves on a board, the chairman may cut her off long before the males. She may also have to endure dirty jokes or even be asked to go to a fellow board member's room to watch porn with him as one of my fellow board members, a powerful publisher, was at a convention we attended.
She may also fly across the country to interview for an editor's job and have the male interviewer try to get her to spend the night with him. If she has the courage to express her opinion in public, she will be called stupid and maybe a slut or a c*nt, and comments about her body will replace intelligent responses to her remarks. If she's really lucky, some blogger might post a drawing of her with a leash around her long-time partner's neck because, you know, he must be "whipped" to put up with her kind. People will, inevitably, lie about her.
And, perhaps my favorite, if she talks or writes publicly about all these sexist responses to her, she will be labeled bitter and angry.
See how this cycle works?
The truth is that I'm not bitter or angry about the misogynistic garbage directed toward me. I decided a long time ago that I didn't need anyone's permission to speak my mind or run a good publication with high standards. I have studied the research on gender-based double standards, and I'm Teflon about it at this point. (My mantra: "Excellent work is the best response.")
But I do worry about our young women and the messages they are getting—even now in 2014. I hate it when I speak to a class and the young women don't have the confidence to weigh in and ask questions. (Women will often wait around after class, instead, especially in classrooms where males tend to dominate, often with the help of teachers who call on them more.) I remember well not having the confidence to speak up in a class or weighing everything I was going to say before I said it. And I know how much that fear limits female potential.
I'm also saddened when girls use tiny little voices you can hardly hear and their handshakes are so meek that you can barely feel them. And it does make me angry that, here in Mississippi, people (and candidates) frequent and even advertise on websites that use violent language toward women (like one blogger who said he hoped a powerful female attorney's breast implants would explode—not that she had breast implants, mind you). So, what else will they support?
It's also extremely not cool that most other media outlets in Mississippi tend to have female columnists write about entertainment and being a mother, and allow their male staffers to write (often poorly) about politics and policy.
And we wonder why so many girls have tiny, fearful voices? They are being robbed of opportunities by our culture and our gender bias—and our community plays along.
I applaud Facebook executive Sheryl Sandberg for using her success and platform to draw attention to the cultural attempts to keep women in our places. Her book, "Lean In: Women, Work and the Will to Lead," and now her #banbossy campaign to get people to stop criticizing girls for being "too bossy" are needed calls to action to get women and men alike to pay attention to what our society is still doing to our girls: limiting their potential.
Ironically, much of the response to Sandberg proves her point. She, along with supporters like Beyonce, are slammed (including by women) for their "stupid" efforts; these people clearly haven't spent any time on the banbossy.com site to see what it's actually all about. Sandberg is also criticized for her success: Apparently, such a "privileged" woman cannot understand the plight of everyday women who are too busy feeding their kids to even worry about being called "bossy," or so they contend angrily.
But here's the thing: These kinds of words and reactions are an attempt to keep women "in our place"—in the boardroom or in the trailer park. This brand of sexism and belittlement of our success, on whatever level, makes it harder for women—whether Sandberg or someone who grew up in a trailer, as I did—to stay the course for women.
We must, however. Every woman must stay loud and be proud to be the boss and seek leadership roles in our community. We owe it to the young women coming up behind us to show how it's done. I suggest letting every attempt to silence you make you stronger. That, indeed, is the best response.
I promise.
Support our reporting -- Become a JFP VIP.
The news business has changed dramatically in the past year, and we need your help more than ever to keep bringing you important stories about Jackson and the Metro. Become a JFP VIP with an annual membership or you can Sign up as a monthly supporter. Thanks for anything you can do to empower our journalism!