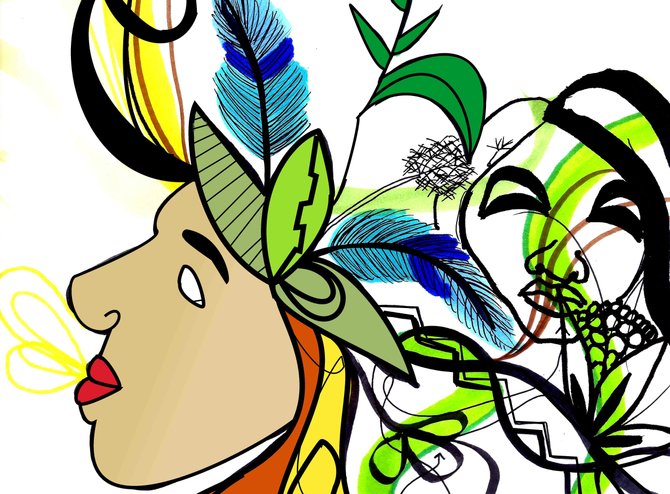 When I first came up with the idea of doing the JFP Chick Ball a decade ago, I was thinking about several things at once—how dangerous Mississippi always had been for women; why there weren't more local "girl bands"; how could we get more young people involved in philanthropy; why so many fundraisers were so dadgum boring and corporaty feeling. Not to mention, how we could really celebrate strong, loud women who are looking after themselves and demanding respect.
Not to mention, I'd taken back the word "chick" a long time back. It's one of those words I just love; in fact, a wind-up furry chick stares at me from the top of my desk lamp as I type this. There's much to be said for taking a word used to belittle and turning it into something powerful and sassy and, yes, maybe even a little bossy.
First, I asked my then-new friends at Hal & Mal's if we could have it there without really paying anything. They said yes, as they have to about everything else I've ever asked them, especially if it has to do with making the world better.
I asked someone—an intern, maybe?—to find me a domestic-violence shelter in the phone book to give the money to. I put together a small committee, and started asking female musical acts to perform. We asked businesses and artists to give what they could for the silent auction.
It just exploded from there. And women started showing up in droves, dressed in feathers and sequins and lace and denim. In the early years, men would shyly ask, "Can I come, too?" I'd look at them with one eyebrow raised saying: "Damn straight. It's a ball full of beautiful women. Where else you going to be?" They figured it out quickly.
After a couple of years, the Center for Violence Prevention started helping us plan the event, line up sponsors and much more. We started targeting the money each year to a particular related cause: a new "Freedom van" (a minivan to help families escape harm and mamas get to job interviews); legal funds to help keep abusers at bay; a (successful!) program to help train law enforcement to better deal with domestic calls; an initiative to stop sex trafficking in Mississippi; and an effort to curb sexual assault and to raise awareness about how prevalent it is, including of children.
Through this decade, our emphasis has grown beyond helping victims into stopping the cycle that allows and creates the abuse. One of my favorite effects of the JFP Chick Ball was seeding the area's first batterer's intervention program to help abusers stop abusing. This program can actually save an abuser's life; and considering that abuse begets abuse, this is a huge step in stopping the cycle.
Most touching to me has been all the calls, emails, letters, Facebook messages and tweets I've gotten over the years from victims who want to share their story with me. Or, a young woman walking up to me and Sandy Middleton of the center after we give a talk and asking for help. Or my high-school friend I haven't seen in 20 years writing me for help getting away from her abusive husband and being able to send her to Sandy. Or, being called to a closed restaurant one morning with about 10 other women to figure out how to save a woman's life whose partner, who had shot her when she tried to leave, was about to get out on bond. Or, a young hip-hop DJ showing up as we were decorating Hal & Mal's asking me what, anything he could do, with tears in his eyes.
The JFP Chick Ball matters to people who don't usually get asked to help with fundraisers. It gets everyone involved. It raises awareness. It gives a way to talk about abuse, even as it's one of the best and most stylish parties in town.
I'm proud to have birthed the Chick Ball. I'm proud of every person who comes to our office to drop off an item for the huge (and funky) silent auction, which provides the bulk of our funds each year. I'm proud of every performer, every restaurant, every local business, every survivor, every staffer, every intern, every person who has decided that we're going to stop all this interpersonal violence in our state, damn it.
Jackson, I'm proud of you. See you Saturday night.
JFP Chick Ball Line-up
6 p.m. - Silent Auction opens/Welcome
6:10 p.m. - 7 p.m. - Apache Rose Peacock
7 p.m. - Door Prizes
7:10 p.m. - 7:50 p.m. - Pam Confer
7:50 p.m. - Door Prizes
8 p.m - Best Dressed Awards
8:05 p.m. - 8:40 p.m. - 10th Anniversary Chicks We Love/Chick Ball Hero Awards: Prevent, Protect, Empower
8:45 p.m. - Pam Junior, spoken word
8:55 p.m. - Door Prizes
9 p.m. - 9:50 p.m. -  St. Brigid
9:30 p.m. - Silent auction closes
9:50 p.m. - Silent Auction Pick-up Announcement
10 p.m. - Silent Auction Pick-up starts
10 p.m. - Victoria Cross and The Formula
11 p.m. - Event Concludes
Save the Date!
Watch for the JFP Chick Ball Masked Jam, coming to Hal & Mal's (200 S. Commerce St.) in November. Watch for details at jfpchickball.com.
Why We Do This:  The 10-Year Mission for JFP Chick Ball
Combat domestic abuse and interpersonal violence in Mississippi with education, engagement, empowerment.
Highlight female musicians and bands; all performances must have a prominent woman as part of it.
Give younger people (starting at age 18) and those of various income brackets an entry point to philanthropy with a quirky, diverse, fun event.
Give locally owned businesses and artists a chance to show off their wares and be socially entrepreneurial by helping with such a vital cause in the area. 
Use proceeds to benefit a domestic-abuse organization in the Jackson metro that is working for systemic change.
Watch for the JFP Chick Ball Masked Jam (plus Southern Fried Karaoke) coming to Hal & Mal's in November!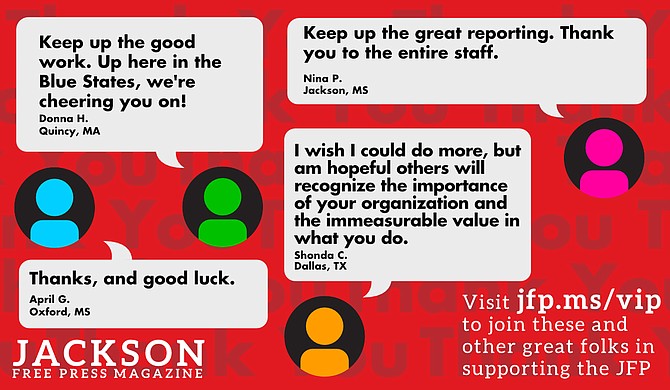 Thanks to all our new JFP VIPs!
COVID-19 has closed down the main sources of the JFP's revenue -- concerts, festivals, fundraisers, restaurants and bars. If everyone reading this article gives $5 or more, we should be able to continue publishing through the crisis. Please pay what you can to keep us reporting and publishing.