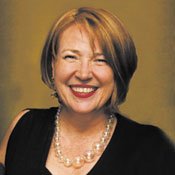 If you're not one of the lucky ones to whom I've shown off the 6-inch scar on my right upper arm, you might not know that I've spent the last three months recovering from shattered bones and surgery. (Sorry: No fabulous story behind it; I tripped in my kitchen the day before we moved into a new house.)
Having never broken a bone, had surgery or been under anesthesia, it was quite the adventure. I call it my achy-breaky summer. I also consider it a remarkable Zen practice, at least in its better moments.
While I was out, I continued working from home—thanks to voice recognition on my iPhone and a remarkable staff—and got to think, rest, comb the cats and plan a lot. With non-essential tasks (such as driving) by the wayside, and very few outings, I was able to ponder my life, this newspaper, our business and the community as I recuperated.
My accident gave me a reason to pause and reflect a lot about Jackson—where we've been, how far we've come, and the steps we need to take to help our city and state mend and grow.
When I moved back to Mississippi 12 years ago, it felt as if the majority of people I met, especially younger ones, constantly had one foot out the door in one way or the other. They were helped along by terrible corporate-media outlets that pushed crime, crime, crime and allowed Jackson haters (many of whom had fled the city, causing the problems in the first place) to control the narrative. It was as if the center of gravity had literally moved from mid-city to north Jackson, with many folks trying to push it even further out into the strip malls of Flowood or the columned gas stations of Madison, leaving Jackson a shell they could disparage.
This made no sense to me then or now.
It also is absurd to deny the problems of the past that caused these problems, but so many of our younger people hadn't even been told about those dark days, at least not in a way that wasn't somehow rationalizing them or blaming the victims for the problems that inevitably ensued.
Today, this is starting to change. So many creative and determined people of all ages—but especially those young and diverse urban warriors who hold the key to the city and state—aren't fleeing. They are digging in, renovating, creating, conspiring, networking and making cool things happen. I've watched some of them leave, and then come on back within a year or two. Something really wonderful is happening here if we'll notice (and ignore local news that always leads with bleeding).
This was so clear to me last Friday night sitting in the Art Garden downtown—really, my first social outing since June—watching the documentary "subSIPPI" debut on the big screen. The filmmakers, whom I met when they set up in a Metrocenter storefront during the Best of Jackson party last January, exemplify the change we're watching unfold as well as anyone does.
It was a beautiful film with what I like to call "European pacing." That is, it wasn't constant talk or action. They told much of the story through powerful images from around Mississippi—from farm workers to artists on the Coast to young people playing in front of abandoned houses in Jackson.
It is a hopeful story, but not a hopelessly naive one. When they asked to interview me for it (I'm in it briefly, and not the part to see it for), I was straightforward with them as I am with all documentary makers and media these days who want to talk to me about Mississippi: We are not either/or. We have not recovered from our past, but we are not stuck there, either. We are changing. We are a work-in-progress, and we must use every tool, every history lesson to help us complete this journey. And we can't let the fools run us off.
What I liked about these young Mississippians is the fact that they knew that already. They just wanted someone to say it out loud. I watched them tear up as we all talked about what our state has been through and what is left to be done. They believe in their homeland's potential, just as I do. And they know there is much work left to be done.
My favorite part of the film spotlighted African American boys growing up on a blighted street in Jackson. One had learned to garden, and the film shows him planting in front of an abandoned house—one of so many that we cannot seem to figure out how to tear down so young people do not have to grow up amid such hopelessness. He explains how gardening helps keep him out of trouble.
We later see him making art and talking about why art is meaningful to him.
"We are coming from nothing to something," one teen says to the camera.
Then he asks about the house behind him: "How is this empty? How is 
this available?"
How, indeed.
Three days after watching and being inspired by the film, which leaves the viewer to ponder solutions for herself, I read the story Tyler Cleveland wrote for this issue about the debate over the Jackson Zoo possibly moving from its location.
Why does it need to move? Because many people, especially white ones if we're honest, don't want to go to it any longer because it's surrounded by a "bad" neighborhood. The condition of that neighborhood is, of course, the result of all the worst parts of Jackson's distant and recent history. When I and many of you were growing up, Jackson's perceived (and "safe") center of gravity had not yet moved so far north and east because whites had not yet fled much of Jackson, taking wealth and caring about the entire city with them.
So white people fled. Fast forward a few decades, and now many people say the zoo is supposed to pick up and follow them. There are people who claim to care for the city who believe the zoo should be out toward the flood plains surrounding Lakeland Drive because, they tell us, people will go to the zoo there.
The right people, the implication is.
I dare say the new Mississippi way, the "subSIPPI" way let's call it, is to not pick up and move the zoo (and probably leave a huge abandoned hulk in an already-challenged neighborhood). The smart and compassionate approach is to support the zoo in whatever way we can exactly where it is. I've been there many times and have never feared the drive to and from (sure we're not talking about the "I see black people" problem here?). The zoo has security. And it's beautiful and historic.
Go for a romantic stroll at the zoo, take your kids, book a party there. It's time that we become the type of city and state that does not run from our problems, but stays, digs in and works together to repair them.
We can do this, Jackson. Together we heal.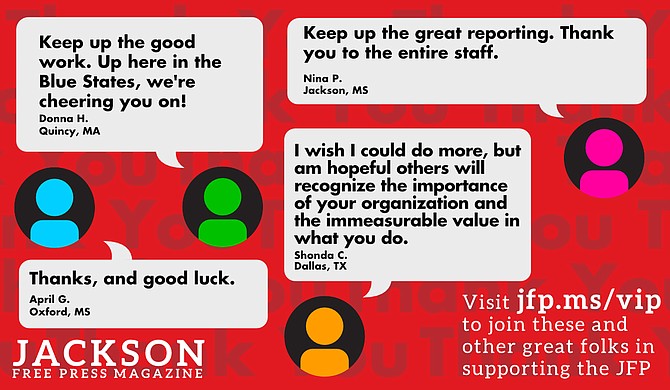 Thanks to all our new JFP VIPs!
COVID-19 has closed down the main sources of the JFP's revenue -- concerts, festivals, fundraisers, restaurants and bars. If everyone reading this article gives $5 or more, we should be able to continue publishing through the crisis. Please pay what you can to keep us reporting and publishing.