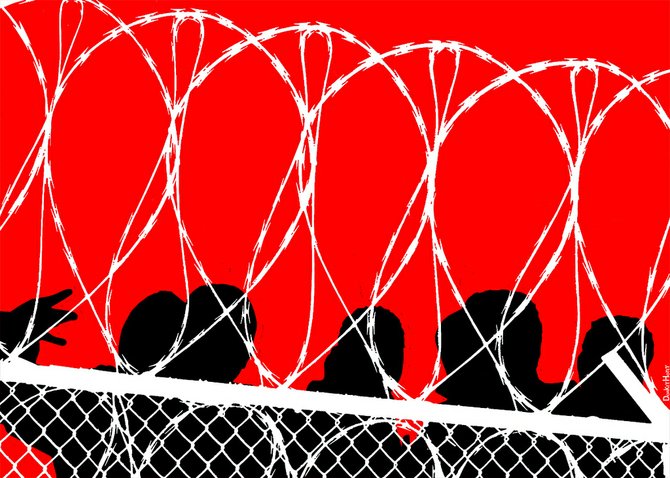 Last year, a woman—who asked that her name not be printed—drove 125 miles through a thunderstorm from her home in the Jackson metro to visit her son at Wilkinson County Correctional Facility in Woodville.
Even though she'd called the previous day to make sure the prison was allowing visits, when she arrived, prison staff informed her that visits had been cancelled.
"I sat at that desk and cried like a baby. I hadn't seen my son in three months. I drove 125 miles just to talk to him for an hour through the phone," she said.
The woman's son complained that the understaffed prison was often locked down, served poor quality food and offered little to no educational programs even though many prisoners are under court orders to work toward high-school equivalency diplomas.
"He would say, 'Mom, these people treat you like you ain't nothing,'" the woman said.
A Utah-based private-prison firm hopes that it can turn things around at the Wilkinson County facility.
Starting July 1, when the state's fiscal year begins, Management & Training Corporation will assume operations at the 1,000-bed facility under a five-year contract. Previously, Corrections Corporation of America held the contract to run the prison with the Mississippi Department of Corrections.
Issa Arnita, an MTC spokesman, said the company puts safety and security first but prides itself on its educational programming. He added that MTC, which is also the nation's largest contractor for the Job Corps program, has not yet made any specific plans for when it takes over at Wilkinson County.
In recent months, the Woodville prison has seen its share of problems. In April, a Jackson man, Demond Flowers, 21,was stabbed to death during a weekend disturbance. In 2011, Flowers was convicted of vehicle burglary and robbery in Hinds County and sentenced to serve 18 years.
Corrections Corporation of America, the nation's largest private corrections firm, operates the Wilkinson County prison, as well as the Tallahatchie County Correctional Facility in Tutwiler and the federal Adams County Correctional Facility in Natchez.
MTC runs East Mississippi Correctional Facility in Meridian, Walnut Grove Youth Correctional Facility in Leake County and Marshall County Correction Facility in Holly Springs.
Over the years, Mississippi has had a number of high-profile lawsuits resulting from the state contracting with private corrections firms.
In March 2012, lawyers representing a group of boys and young men who alleged abuse at Walnut Grove, then owned by Florida-based GEO Group, reached a settlement in the case. The suit charged prison managers with creating a violent and corrupt culture where staff sold drugs in the prison and engaged in sex with the youths they were charged with supervising.
In late 2011, MDOC allowed CCA to break its contract to operate the 1,172-bed Delta Correctional Facility in Greenwood. MTC recently won a contract from the federal Bureau of Prisons to run that facility in LeFlore County, but federal budget cuts have stalled plans to fill the prison with inmates.
Patrick Perry, a former correctional officer at a CCA-run prison in the Mississippi Delta who is now an anti-privatization advocate, started an online petition after Flowers' death at Wilkinson County, calling on Mississippi officials to halt further expansion of private facilities to protect prisoners and staff.
Despite MDOC switching management firms, Perry remains doubtful that conditions will improve.
"It's still a private prison company. It's still the same thing," he said. "CCA is the biggest one, and if they don't staff (the prison) like it's supposed to be staffed, and GEO didn't do it when they had Walnut Grove—and they were No. 2—I know MTC won't do it."
More stories by this author
Support our reporting -- Follow the MFP.