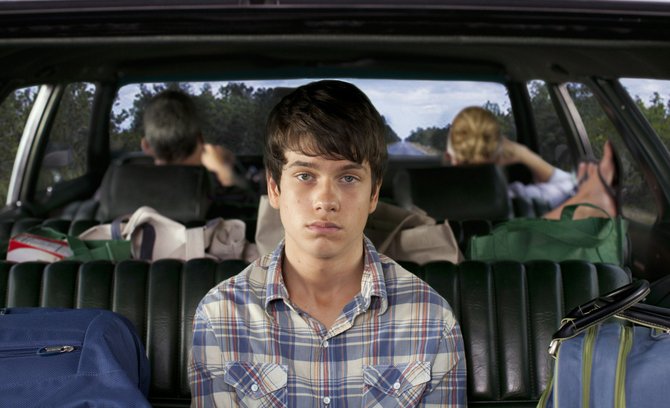 Tom Rice instinctively understood what he had in common with characters different from himself in "The Way Way Back," which opens nationally Friday. "Everyone in this film has his or her reasons," he said in a phone interview from his Hollywood office. The Mississippi native described the characters as multi-dimensional and "relatable to all audiences."
Duncan (Liam James), the film's 14-year-old protagonist, sits in the way, way back of a wood-paneled station wagon. He faces the wrong way, while the car moves forward, winding its way through the coastal community of Marshfield, Mass. Trent (Steve Carell), his mother's boyfriend, goads him: "On a scale of 1 to 10, what do you think you are?" "A 6," Duncan replies in the deadpan voice of woe-is-me adolescence. Trent doesn't miss a beat. "I think you're a 3! Since I've been dating your mom, I don't see you putting yourself out there, bud!"
Just a few minutes into the film, we know that Duncan is way, way out of the inner family circle.
"Duncan's a fish out of water, trying to be taken seriously while masking his insecurities," Rice said. "Trent bullies him, and Duncan's trying to understand and survive his mother's latest relationship."
Owen (Sam Rockwell) gives the kid a break and hires him to work at Water Wizz water park.
Rice and his partner, Ben Nearn, founders of Sycamore Pictures, look for the right projects to develop and produce. "I like producing so much more than directing," Rice said about his career since his feature-film debut of "The Rising Place," which won 16 film festival awards and took center screen at the Crossroads Film Festival more than a decade ago.
Rice and his team know what they are doing. "The Way Way Back" rocked Sundance crowds and was the highest-sold film at the Utah-based festival earlier this year.
Faxon and Rash, who wrote, directed and act in this film, brought Allison Janney to the project. Janney plays the riotously funny and inebriated summer neighbor. Sam Rockwell then joined the cast as the raffishly loveable water-park owner. Rockwell, a fine comic actor, gets the opportunity to let whole scenes play out wordlessly across his face, followed by long streams of 
vocalized consciousness.
The production team brought in kids from all over the country to audition for Duncan. "I wasn't originally convinced that Liam James was right, but I kept an open mind," Rice said. "Liam killed the audition. He nailed the comedic scenes and physically changed from a shoulders-hunched kid to a confident young man. Toni Collette, who plays Duncan's mom, was shooting "Hitchcock" and came in to do a chemistry read with Liam. That's when Rice knew they had their Duncan.
"Nat and Jim really wanted Steve Carell. They sent him a long letter," Rice said. But Carell couldn't sign on because their schedule conflicted with his summer family time in Boston. "The solution was to move the entire circus to Carell's backyard," Rice said.
On the first day of the location scout, Rice and his team found a water park named "Water Wizz" an hour south of Boston. The owner graciously signed on to the film because "Sam Rockwell reminded her of her husband, who had passed away," Rice said. The perfect beach house for the main action sat within a short walk of a house owned by Carell's in-laws. The cast and crew moved into Marshfield and, within a month, they shot the film.
Other than a couple of heavy thunderstorms, nothing marred the production. "Making a film is a business. It can be tired, exhausting work. But it is above and beyond so enjoyable," Rice said.
You won't see a better acted, and better cast, movie this summer than "The Way Way Back." The characters are slightly looney, the way we all are, but they're not weirdos. Their eccentricities are just offshoots of normal. The actors (and their directors) grasp how unspoken reactions can be funnier than dialogue or punch lines. This is a smart comedy without a speck of sitcom aggression.
More stories by this author
Support our reporting -- Become a JFP VIP.
The news business has changed dramatically in the past year, and we need your help more than ever to keep bringing you important stories about Jackson and the Metro. Become a JFP VIP with an annual membership or you can Sign up as a monthly supporter. Thanks for anything you can do to empower our journalism!