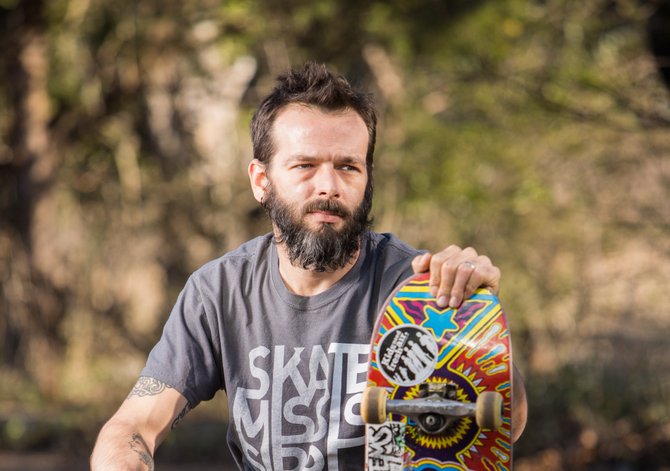 Skateboarding was born in California when surfers were looking for something to do when there were no waves. The sport broke away from the surf culture as it spread to the rest of the country (mainly urban) and moved to more areas that were unfamiliar with its surfing roots.
The sport reached undreamed-of popularity with the creation of the X Games by ESPN and skater Tony Hawk's breakthrough into popular culture. It went from being street skaters with a hoodlum stigma to mainstream athletic sport.
Mississippi and Jackson are no exception to the rise of skateboarding--plenty of skateboarders live in this area and in the state. What is missing for these athletes are free skate parks.
That is what Frank Henn and Austin Cannon are trying to provide through their organization, Skate MS. Cannon and Tate Nations founded Skate MS in 2001 in the form of an online forum, as a way to get other skaters to unite and express their needs.
"The online forum fell apart after a few years, but Skate MS found a second life after the closing the only local skate park," Cannon explains. "We saw the need for a public skate park and we restarted Skate MS as a non-profit foundation in 2010 to raise funds to build a free skate park."
The two men have been slowly building their dream of a Jackson skate park first by promoting their "Kids Need Fresh Air" campaign in April 2010. This campaign consisted of t-shirts, stickers and information-sharing about the benefits of skateboarding.
"Right now, there is no free place for kids to go where skateboarding is allowed," Cannon says. "The closest place is in Petal, Mississippi."
A proper skate park solves several issues. Injuries are associated with every sports but Cannon explains "there is a lesser chance of injury by a skateboarder, skating on something that was made to be skated on." Many communities also complain about skateboarders damaging property that is not designed to be skateboarded on. In addition, "concrete parks are durable and cost effective once they are built," Cannon says.
Cannon says that West Point and Vicksburg want Skate MS to be a part of building skate parks in those communities.
Since March 2011, Henn and Cannon have served as consultants and technical advisers, learning the ins and outs of trying to build a public skate park.
In Jackson, Cannon and Henn have been in talks with Midtown Partners about building a skate park in the Benjamin Brown Park expansion.
"We are trying to build interest in the community for Skate MS," Cannon explains. "In December 2011, one of our ways of doing this was praetorian with other local organizations to give out 50 skateboards and helmets to underprivileged kids in Jackson."
Several local skateboarders even came out to give the kids lessons with their new skateboards. They held a similar skateboarding demonstration and clinic last week.
Skate MS has a goal of raising $350,000 by December 2014 and a long way to go--the organization only has a few thousand dollars raised at this point. "We hope we begin to build momentum early this year and see monetary donations begin to grow," Cannon says.
"Currently we are trying to raise funds to build a skate park, even if we are not a part of the expansion of Benjamin Brown Park. We were lucky to get 40 local artists to help put together a double CD featuring various music genres."
The CD can be found on the Skate MS website with all the proceeds going to Skate MS foundation. Skate MS has partnered with the Community Foundation of Greater Jackson to become a non-profit.
Cannon has a larger view of a skate park if he and Skate MS can build it. "We are not building this skate park the kids who already skateboard, we are building this skate park for the kids who haven't experienced skateboarding yet," he says.
Anyone interested in bringing a free, public skate park to Jackson can contact Cannon and Henn via skatems.com. You can also donate money, keep up with what Skate MS is doing in the community and keep track of the park's progress.
More stories by this author
Support our reporting -- Follow the MFP.